Game Notes: Lakers at T-Wolves
Working with what they're given…
by Myles Brown
They hustled, they played together, they weren't scared and they never gave up. But they still lost. It's particularly difficult to keep a game competitive when the outcome is never in doubt, but the Wolves managed to do just that in Friday nights matchup with the Lakers. As cliched a notion as it is, for a growing team respect is still gained through revealing such character.
But if they are to truly become a winning team, Minnesota really needs to gain a center. And a point guard. Considering the past month of inspired play from Minnesota, it's much easier to chalk their impressive offensive performance up to talent rather than L.A.'s infamous stretches of defensive ineptitude. However it was difficult to see that talent fulfilling its potential unless it's properly utilized.
Al Jefferson is far and away this teams best player and probably one of the ten best players in the entire league at his position. That position is Power Forward. Generously listed at 6'10 and 265 lbs, 'Big Al' is hardly such matched up against most opposing centers, where he is primarily played . Larger and longer players are more capable of defending Al since they can recover more easily from his confounding fakes and provide an even bigger challenge for him on the other end. Now 34 & 13 aren't the numbers of a struggling player, but twelve of those points came during a fourth quarter rally that Andrew Bynum played only 3:27 of to Al's 10:16. When facing each other, Jefferson would jab step and pivot, pivot and pump fake, only to be smothered by Bynum who snuffed a couple of Al's normally evasive hook shots. Defensively, Jefferson literally was in over his head against both Bynum and Gasol, for whom simple pivots towards the basket were enough to extend over their flailinng defender. To play Al at his natural position probably wouldn't relieve him of much pressure offensively, but a true seven footer as the last line of defense would be a much more imposing presence.
However, Al Jefferson's defense really wasn't the difference in this contest, the Wolves were simply outmatched. The Lakers were too talented and too deep for Minnesota to stay with them for 48 minutes. An impressive effort from Ryan Gomes and Sebastian Telfair kept things close early, but couldn't be sustained in the second half. Telfair was all but overtly dared to shoot by a sagging defense and responded with several first quarter jumpers, making two of three consecutive 18 footers that opened things up for his teammates. Then Bassy went to work with five of the teams six assists in the quarter, two of those to Gomes, who in a frenzied fourteen seconds sank a three, blocked a shot, secured a rebound and finished a fast break with a three point play to take the lead. Both were crucial sequences that provided a boost of confidence and energy for a team that was trailing early. Both Telfair (3/7FGA, 6 PTS, 7AST) and Gomes (5/10FGA, 14 PTS) logged 15:36 in a surprisingly tight first half (64-60). Both of them disappeared in the third.
It should be noted that aside from Jefferson (3/6 FGA, 5/6FTA, 11PTS, 5RBS, 3BLK) the entire team played poorly in the third (36-25 LAL). But aside from Jefferson, only Gomes and Telfair played the entire quarter. I say this not to assign blame, only to point out that practically a perfect effort was required of two limited players playing extended minutes. Both are quality players of respectable skill and would undoubtedly be positive influences in any locker room. Both could even crack the starting lineups of a playoff team, if complemented by the right players. However both would find themselves struggling from time to time due to their limitations. Bassy (2/6 FGA, 4PTS) couldn't find the mark, which isn't exactly a surprise, but was rendered almost completely ineffective (0 AST) by his teammates misfiring as the Wolves made only 30% (8/26FGA) of their third quarter attempts. Gomes, normally the teams cerebral lynchpin, was completely ineffective (0/5FGA, 0PTS, 0 RBS, 0AST, 1PF). But you could say he had his hands full.
Kobe Bryant opened the third quarter (4/7 FGA, 12 PTS, 2AST) just as he did the first (5/8FGA, 12PTS, 1AST), scoring in bunches, diverting attention, then aptly dishing. To Gomes' credit, his defense effort cannot be appropriately quantified, but Bryant-always seeking a new challenge-relished the degree of difficulty. Gomes showed good footwork, didn't bite on any fakes and kept a hand as close to Bryant's face as possible. So Kobe just leaned back further and made the shot. Just as LeBron James is uncontainable through sheer power, Bryant is through both physical and mental dexterity. His mastery of footwork and angles of attack along with impressive range and body control make him a threat to score from anywhere on the court.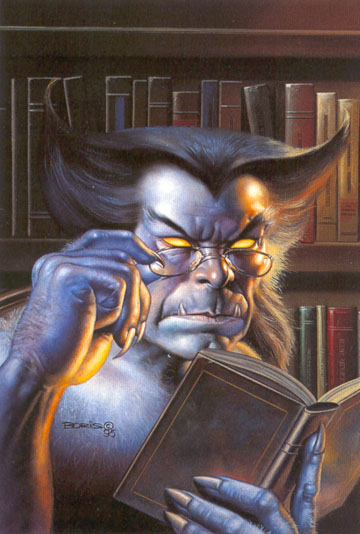 That was comparison 6,156,243 between Kobe Bryant and LeBron James.
Great players are endlessly compared with their peers and Kobe is as familiar with this pastime as anyone. Intially bombarded by questions of whether he could surpass Jordan's legacy, it's become questionable if he's even the best player right now. Fans have their ideas, as does the media, but it could be argued that the only opinion that matters is that of the players. How do players measure each others value? By ability? Achievement? What else? I asked him postgame.
"I don't.  I look at what he's doing for his team and how I can take that away.  So I look at it from purely a matchup standpoint and me doing what I can to help us win and trying to 'cut the head of the snake off' so to speak. "
Even if the debate doesn't involve you?
"I don't know.  I don't get into those debates to be honest with you because it's all subject to opinion and everybody has their own opinion.  So it's pointless for me to get into those type of things.  This summer in the Olympics, all we did was compete against each other.  We talked trash to each other and stuff like that, but it was never, 'This guy is better than that guy'.  We all understand that what we do for our teams is different.  What LeBron has to do in Cleveland is different from what I have to do here.  Along with D.Wade and vice versa.  So we respect what each other does and we leave it at that."
It's hard to believe that a player as competitive as Bryant wouldn't want to be the best in the league, but perhaps it really is a matter of him simply being the best player he can be. Even control freaks know what's beyond their grasp.