It's a sentence every New Jerseyan is familiar with, "Not New York, not Philadelphia—proud to be New Jersey!" Slightly corny? Maybe. But that local radio station is onto something with its tagline. We may not broadcast it in those same words, but we Garden State residents know deep down inside, we love the fact we're from New Jersey.
One Central Jersey native hailing from New Brunswick (home of Rutgers University—what up, alma mater!?) put that love for his home state into every piece of apparel he designs for his brand. Ramsey Sudah, the creative mind behind sport and street brand Jerz, gives a strong nod to New Jersey through his clothing line.
Though Jerz officially launched in 2012, Sudah labels the brand as "established 1987" to honor the year of his birth and era of influence. The movies, the television, the sports—the everything—from the late '80s and early '90s serves as his inspiration. Jerz is his way of showing the world, "Jersey produces a lot of talent, whether it's in art, fashion, sports, music."
SLAM caught up with Sudah about how he started Jerz, where he plans to take it, and what it's like being the founder, owner and official outfitter of the "team" he created for his brand—the New Jersey Natives.
SLAM: So I take it you're from New Jersey?
Ramsey Sudah: Yeah, I'm from here. The New Brunswick area, central Jersey. It's a pretty diverse state when you get up North and down South. It is like two different worlds, almost. Up North, you see a lot of Giants fans, a lot of Jets fans, Yankees fans. Then you go down South, you see a lot of Eagles fans, Phillies fans, Sixers fans.
SLAM: Can you tell us a little bit about your brand?
RS: It's a sports/streetwear-inspired line out of New Jersey. Everything I do is in reference to the Garden State in some way. I'm trying to get it out there that there's more to us than what you see on TV, like the Jersey Shore lifestyle and all that.
SLAM: Did you create the designs yourself?
RS: Yeah, I started—I guess you could call it a team—New Jersey Natives. I use that for different sports, whatever I decide to run with for that season. Like I did track last fall, and I'll do designs that are inspired by something that happened in sports history or a sports team, or sometimes I'll make something up that's totally out of the blue.
For the spring collection that just dropped, it was based off the Nets. I called it "The Home Team Collection 2." When I first released the line, my first full collection [of the same name] was another Nets theme, but it was more along the Brooklyn line. It was right after the Nets went to Brooklyn, so it was like taking our team back. And then I revamped it with the newest one.
SLAM: Have you always been a designer?
RS: I used to mess around with Photoshop in the MySpace era, and I took classes in high school. I left it alone for a while and started working full time. Then there was a contest with HBO for the show How to Make It In America. They had a contest on Facebook—design a shirt for the show [see the design below]. That was when I first started working on my brand and it was my favorite show, so I was like, I have to win this contest. I ended up winning it, and I won $5,000 from it. So I used that to back everything financially in the beginning.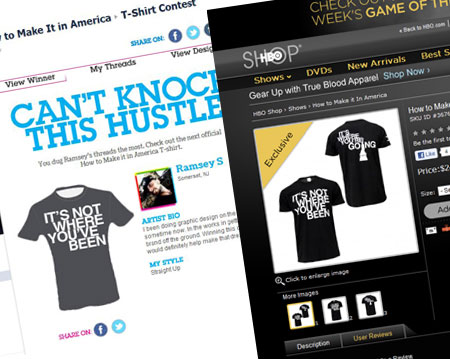 SLAM: That contest tipped off you taking the business a little more seriously?

RS: Yeah. I still work full time. I'm a full-time chef, but I don't want to be top chef. I enjoy seeing people enjoy my food, but I'd rather design. I like seeing people enjoying my designs also. It's still somewhat creative at the end of the day. Engage with other artists, whatever genre it is, whatever medium you choose.

SLAM: New Jersey gets hate from what feels like every other state in the country. Do you ever get hate from people that aren't from New Jersey about your stuff?

RS: Not really as much hate—I think people just don't get it. But some people outside of the state can still appreciate it. I get good feedback from people that aren't from the area. Eventually, I'd like to make a different brand that's not just catered to a certain area. I'm using [my brand] as a stepping stone to learn the game, meet people, and try to have fun doing it.

SLAM: The Nets vibe is definitely visible in your gear. Is that the team you root for in basketball?

RS: For sure. I don't know about now actually. Ever since they went to Brooklyn, they look like a different team. It's a lot of rotating players and what not. I used to be able to tell you the whole Nets bench, all the players that didn't even get any time. Now, I don't know if I could tell you the starting five. I still like 'em—but I lost interest, I'll be honest.

SLAM: How'd you feel when the Nets left New Jersey?

RS: I was pretty pissed when they left. They announced it so many years ago, so it was expected. But it at least brought attention to the franchise. I was still supportive of the franchise regardless of whether they were playing here any more or not. Toward the end, they played in the Prudential Center, and that's not even far. Newark is so easy to get to. I don't really wanna travel all the way to Brooklyn.

SLAM: Going back to the brand…do you have a line coming out for the summer?

RS: This summer, I'm kind of going easy. I'm going to do a basic summer collection, like logo stuff and keep up with the Nets theme. Then I have a few collabs coming out with Mr. Throwback in New York. He reached out to me after he saw The Home Team Collection. He wants to do a New Jersey versus New York theme. I don't wanna give too much away, but we came up with "Cross River Rivals" with Mr. Throwback [representing] the Knicks, and Jerz [representing] the Nets. It should release some time this summer. It's coming along pretty well, so I'm excited.

266

[ngg_images gallery_ids='790' display_type='photocrati-nextgen_basic_imagebrowser']