SLAM Collabs with SUPLMNT on Exclusive Water Bottle Collection That's For the Culture
The connection between water and the game might be an obvious one—athletes need it to stay hydrated. But really, it's bigger than that. Think about the way the game has evolved into what it is today. Think about Stephen Curry's three-point shooting greatness, which we once wrote has evolved from a single droplet to the all mighty ocean. Think about the Splash Bros. Think about the post-game water cooler celebrations. Now, think even deeper: all the sweat, and tears, that are shed onto the entire hardwood. Water is everywhere.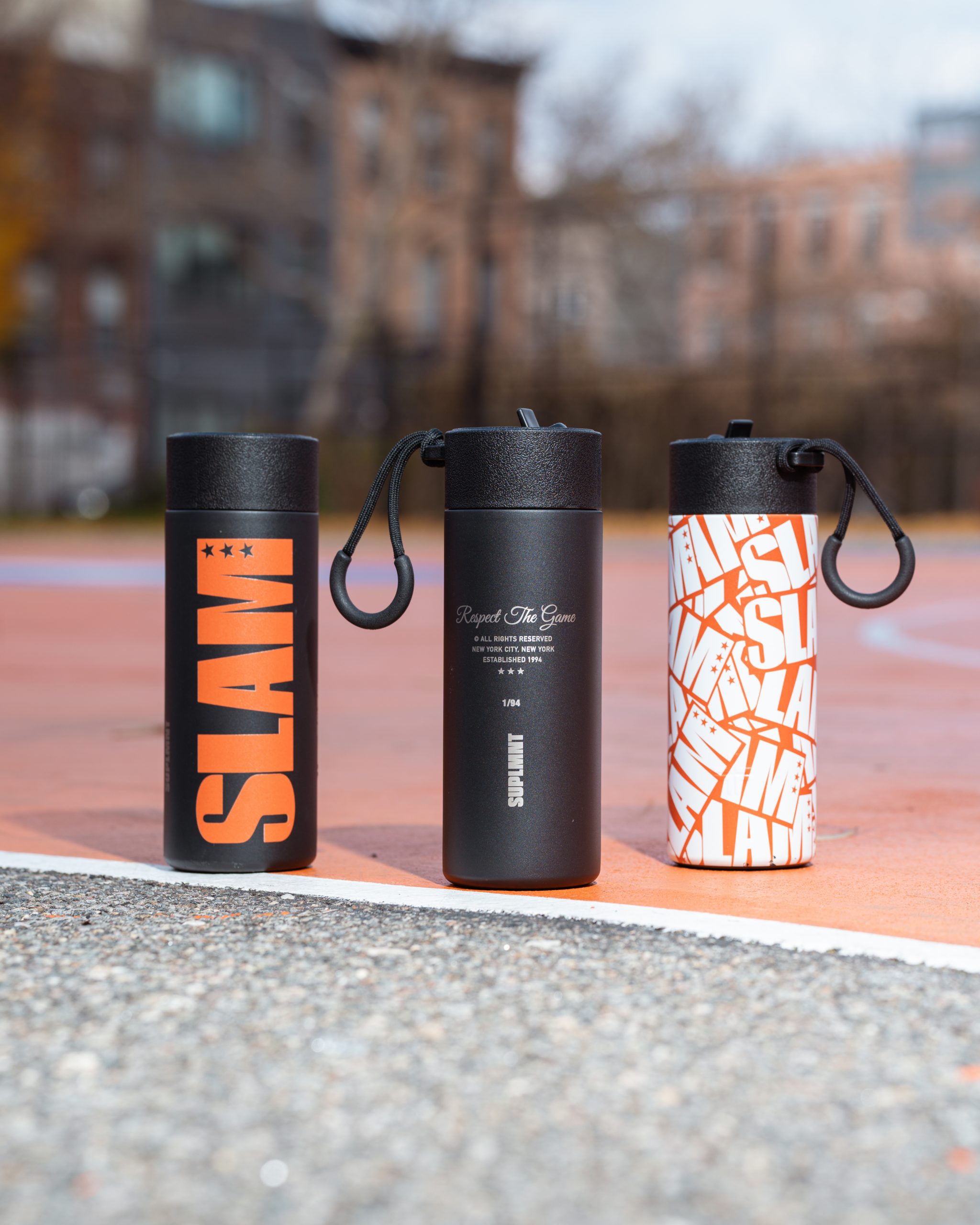 The SLAM x SUPLMNT Water Bottle Collection is available now.
And yet, the very act of consuming it, or even having access to an insulated water bottle, isn't the norm everywhere. In some parts of the world, water is a commodity. It's that sentiment, specifically within communities of color, that Jairus Morris set out to change when he founded the brand SUPLMNT. Growing up in South Philly, and eventually Jersey for high school, he admits that drinking water wasn't even reinforced in his own household, and as he's grown older, he's had to watch those around him get sick and deal with different health issues. That's when it hit him.
"I was like, Man I'm not trying to grow up and live like that," he says over Zoom. "It's like a term that you always hear, like, Oh, this runs in my family. And I realized that I mean, it's, it's really not true. It's really the bad habits that we get passed down. Where we're putting a bunch of sugar in your juice and drinking Kool Aid and never drinking water, or over salting your food and only eating fried stuff. Those different things are what get passed down. So from there, I really wanted to make a change."
Flash forward to 2018 when Morris decided he wanted to start his own business that was "vision-focused and could impact the culture." That's when he stumbled upon the highly-profitable market of selling insulated water bottles—except, there was one problem: he wasn't seeing anyone at the time marketing towards a demographic that looked like him. "[People of color] are not marketed to because we're not really seen as the people that do outdoorsy things. Water bottles were kind of created for being outdoors, being in the mountains. You need your stuff to stay cold or hot for a certain amount of time…. But in a way, we do go outside, we don't [just] sit in the house. We commute, we go outside, play basketball, go to festivals, cookouts and different things."
That's where SUPLMNT steps in. With a mission to change the game in urban communities when it comes to hydration, the brand has created a product that's more than just a water bottle. Inspired by Morris' upbringing and love of sneaker culture, every aspect of a SUPLMNT water bottle reflects the brand's ethos, Where Hydration Meets Culture. The rubber foot grip at the bottom of the bottle mimics the sole of a sneaker, while the loop is made from a shoestring. Then there's the texture of the bottle—gritty and resilient, just like the community Morris grew up in—and the SUPLMNT logo, which symbolizes how hydration can not only bring the block together, but communities everywhere.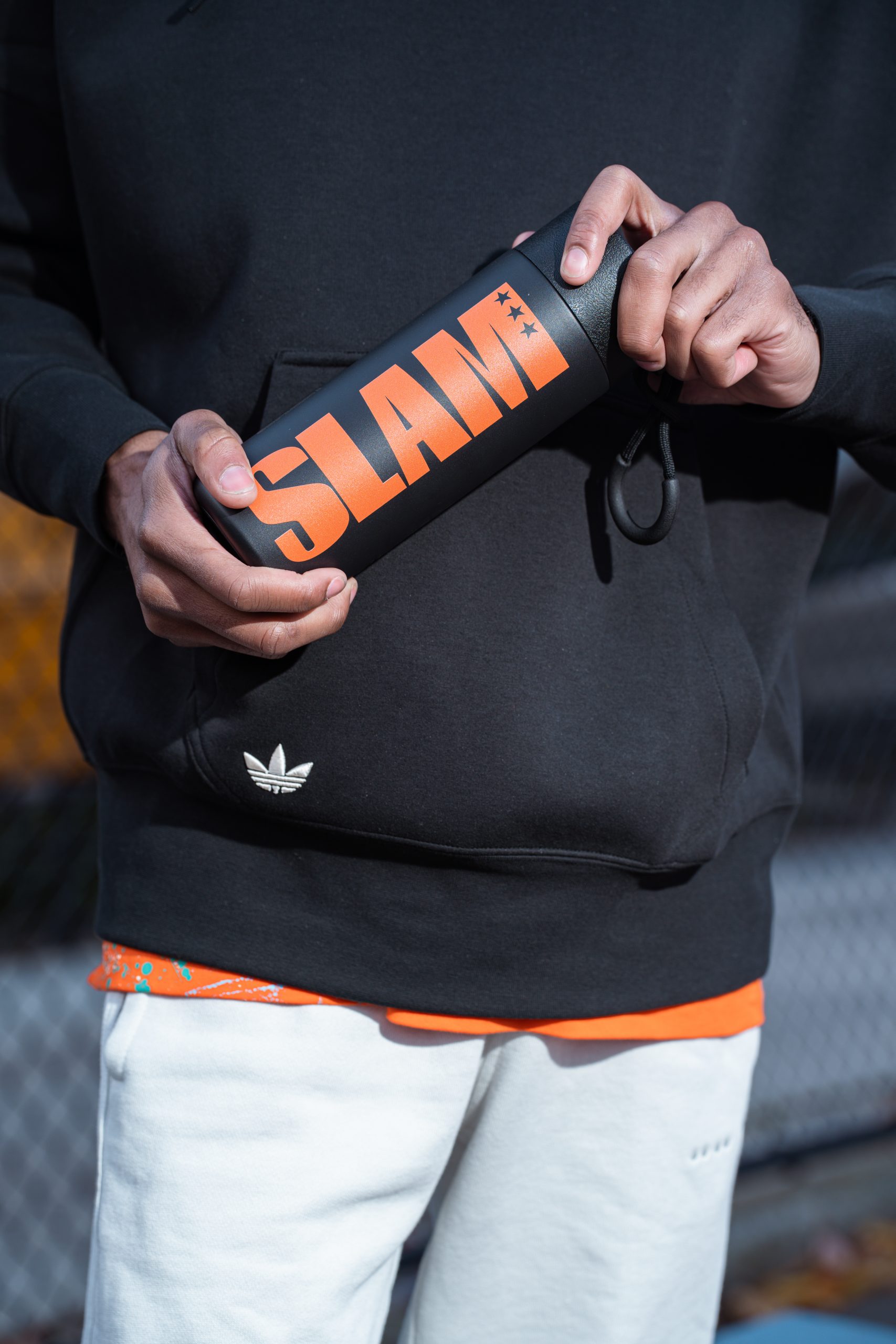 SUPLMNT's recent collaboration with SLAM is a merging of the elements—from basketball and sneaker culture to hydration, all while keeping that same mission at the top of mind. The SLAM x SUPLMNT water bottle is available now and comes in three different colorways, including an all-over print bottle with the SLAM logo, an all-black bottle with a vertical SLAM logo, and a laser-etched RESPECT THE GAME lockup. The 24 oz insulated bottles not only keeps drinks cold for 24 hours, and hot for 12 hours, but is meant to keep you looking even cooler with its sleek design and insulated functionality. Just like a pair of kicks, the SLAM x SUPLMNT collection can be rocked anywhere, and everywhere.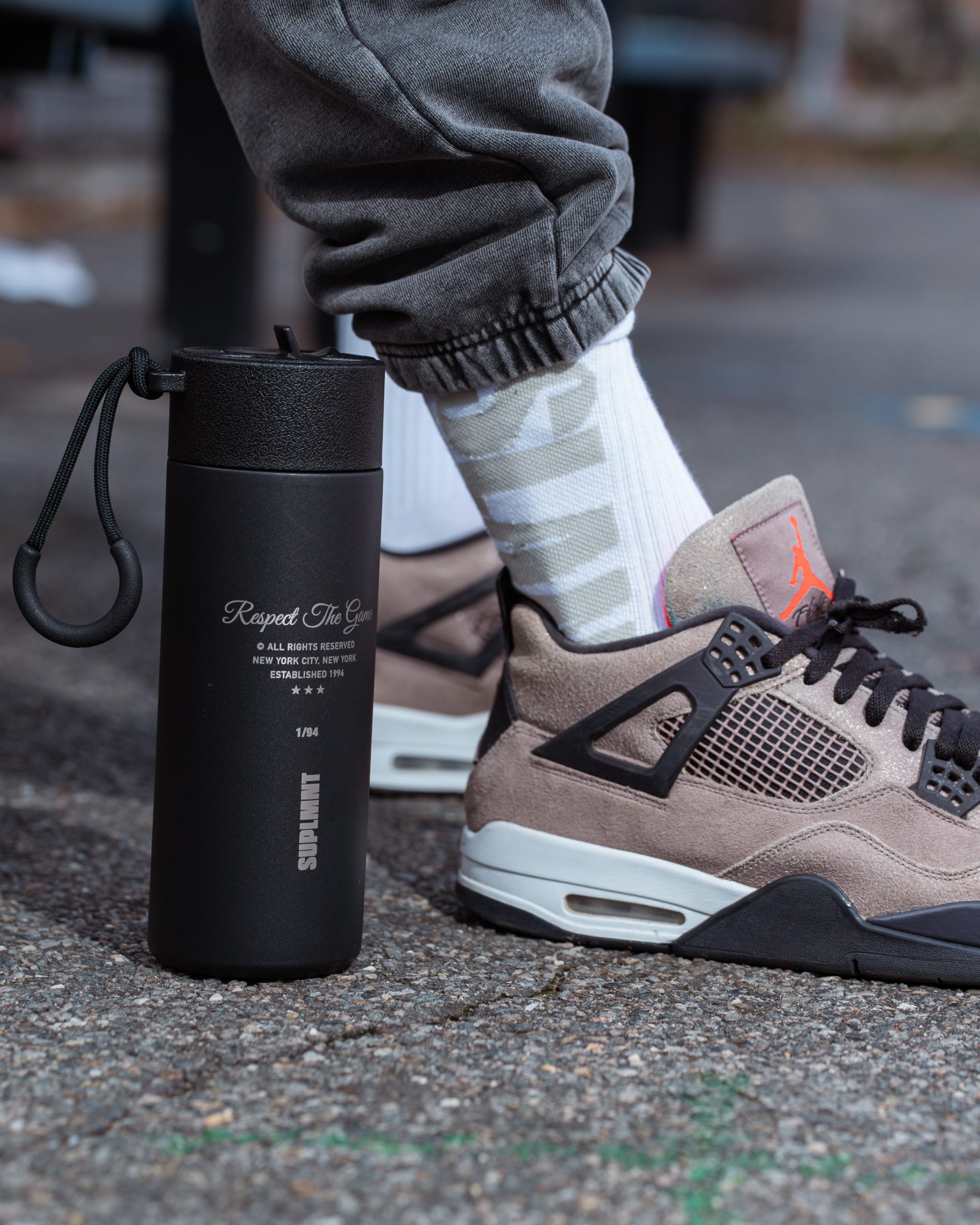 "I feel as though we have the same audience," Morris says of the collab with SLAM. "A lot of NBA players and basketball players kind of resonate with that same exact story that I [mentioned] earlier, with growing up in the same kind of environment [and] not having those resources or people telling them about health and wellness or even drinking water… SLAM is basketball and sneaker culture, and it just made sense [to collab]. It's like the dots connecting. Us creating together and coming up with the design, everything just worked."
Looking ahead at the future, Morris envisions the brand evolving into the definitive water bottle for the culture. That includes raising awareness and spreading their message—Morris even mentions wanting to create a fund to give back, while also building hydration stations and hosting giveaways within urban communities.
Just as the game has the ability to unite, SUPLMNT is doing so, too, with health and hydration at the forefront. Now, that's a mission for the culture. Respect.