The 4th Annual "Big Strick Classic", one of the nation's premier high school basketball showcases, will return to New York City on Saturday, August 9.
The Friday scrimmage and Saturday game will once again be held at Gauchos Gymnasium in Bronx, NY. The event is a memorial to legendary streetball player John "Franchise" Strickland, featuring some of the top high school players from around the country—the USA team—against the top players from the Tri-State area—the NYC team. Admission to the game is free and open to the public.
SLAM has been a proud sponsor of the event since its inception, covering the inaugural game in 2011, as well as the following years. The 2014 showcase projects to feature the same kind of elite talent.
Stay tuned for more coverage of the upcoming event on SLAMonline.com—we will be there every step of the way. For now, below is the official press release, followed by the rosters, courtesy of our friends at the Big Strick Classic:
The 4th Annual "Big Strick Classic"  Memorial high school basketball game will be held on Saturday, August 9th , 2014 @ Gauchos Gym at 478 Gerard Ave Bronx, New York.Admission to the game is free and open to the public.

There will be free giveaways for the fans who attend the game.  This game is sponsored by  Left Hand, Right Hand, LLC, Metal Sales, The Rock Basketball, The Profender, Facade Technology, KicksUSA, Bounce, Protege Sneakers and Slam magazine.

On Friday, August 8th, the players will be at the Gauchos Gym, starting at 10:00am (Media) 12:00pm (General ,  for a workout and press day, which will be open to the public.  That evening, the players will scrimmage starting at 4:00 PM.  The atmosphere will be electric when the top players from around the country invade New York City!!!

On Saturday, August 9th, the doors open at 3:45 p.m., and the event starts at 4:30. Again, admission is free. We will also be giving away 500 tee-shirts from Anaconda Sports to the 1st 500 fans that come to the game.  The players will participate in a 3-point shootout sponsored by The Profender followed by a Dunk Contest Sponsored by KICKSUSA before the main event.

THE BIG STRICK CLASSIC gives the New York area basketball fan a chance to see these up and coming stars in person.  Where were you when Archie Goodwin went up against Kyle Anderson? Were you there when Jordan Mickey made the game saving block on Schoochie Smith? Were you there when Isaiah Briscoe led team NYC to a 50 point fourth quarter to earn the nickname "Must See TV"? You don't want to miss this event!!!

Just look at the rosters and you'll see what we mean.

12:00PM FRIDAY, AUGUST 8th, 2014 @ Gauchos Gym at 478 Gerard Ave Bronx, New York.

4:30 SATURDAY, AUGUST 9th, 2014 @ Gauchos Gym at 478 Gerard Ave Bronx, New York.

FREE ADMISSION

TEAM USA

1.  Dwayne Bacon 2015 Oak Hill Academy, VA
2.  Jaylen Brown 2015 Wheeler High School, GA
3.  Kobi Simmons 2016 St Francis School, GA
4.  Carlton Bragg 2015 Villa Angela-St. Joseph High School, OH
5.  Malik Beasley 2015 St Francis School, GA
6.  Mario Kegler 2016 Arlington Country Day, FL
7.  Miles Bridges 2016 Huntington Prep, WV
8.  Ladarrius Chester 2015 Arlington Country Day, FL
9.  Stephen Zimmerman 2015 Bishop Gorman High School, NV
10. Damon Wilson 2015 Our Savior New American School, NY
11. Jordan Harris 2016 Seminole County High School, GA
12. Corey Sanders 2015 Kathleen High School, FL
13. Lamar Stevens 2016 The Haverford School, PA

Cannot play due to injury

Ray Smith 2015 Las Vegas High School, NV

TEAM NYC

1.  Derrick Jones 2015 Archbishop Carroll High School, PA
2.  Antonio Blakeney 2015 Oak Ridge High School, FL
3.  Rawle Alkins 2016 Christ The King, NY
4.  Mustapha Heron 2016 Sacred Heart High School, CT
5.  Moustapha Diagne 2015 Pope John XXIII High School, NJ
6.  Jessie Govan 2015 Wings Academy, NY
7.  Omari Spellman 2016 The MacDuffie School, MA
8.  Steven Enoch 2015 Norwalk High School, CT
9.  Tremont Waters 2017 South Kent Prep, CT
10. Unique Mclean 2016 The MacDuffie School, MA
11. Temple Gibbs 2016 Seton Hall Prep, NJ
12. NyRhique Smith 2016 Quality Education Academy, NC
13. Rashond Salnave 2016 Cardozo High School, NY

Cannot play due to injury

Isaiah Briscoe 2015 Roselle Catholic High School, NJ
Prince Ali 2015 The Sagemont School, FL

All players have connections with the side they are playing on regardless of where they go to school.

Featured Speakers:

Jonathan Hargett — Legend from Richmond Virginia in 2001 Was projected to be first point guard ever drafted straight from High School.  Allen Iverson with a 45 inch vertical. Famous for lobbing the ball off the backboard to himself as a 6'0 guard. Pros like Tracy McGrady and Vince Carter stole his moves and incorporated in their games.

Lloyd "Swee' Pea" Daniels – Living legend from NYC. His story has impacted thousands and is true meaning of a LEGEND.

Kenny Satterfield – One of the Greatest ever out of Rice High School in NYC. Former McDonalds All American played in the NBA for Denver Nuggets and Philadelphia 76ers and spent a number of years playing pro ball overseas and in various leagues..

Brent Watson – Financial Advisor and money investor for large companies.

Mike Dean – Man behind the scenes with Kenny Smith's All Star Weekend Activities. Also has worked with other greats such as Kenny Anderson.

Adrian Walton – Streetball Legend,  Attended Fordham University, Famous for legendary Streetball games against Vince Carter and Stephan Marbury where he dropped 35 and 42 respectively.

For more information, please visit:  http://www.bigstrickclassic.com/

Alternatively, you can contact Don Sparks at 646-247-8100, Chris Richardson at 914-879-6476, or Bobby Bates at 931-209-5385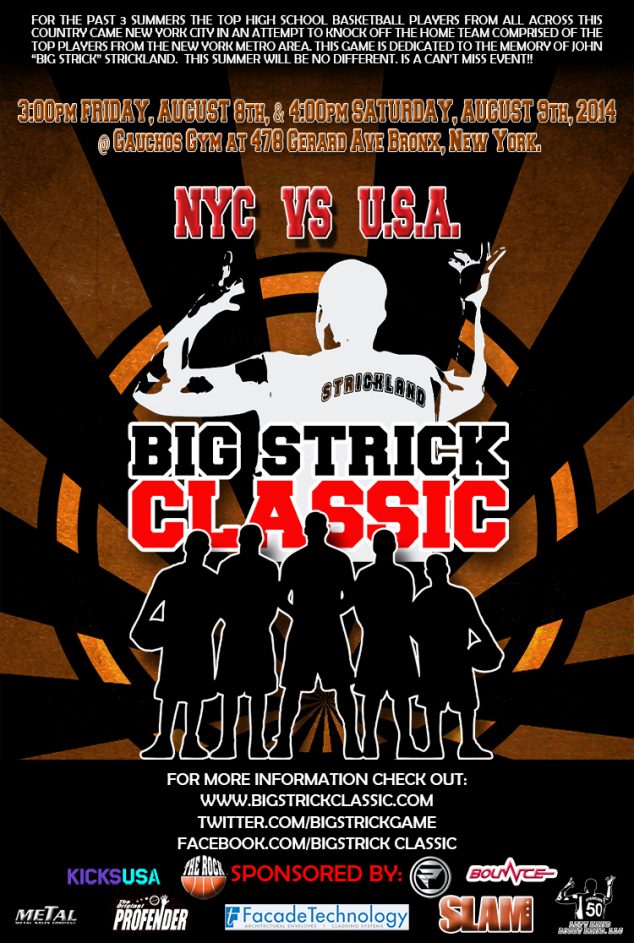 111