The game of basketball is a place where the old saying "don't judge a book by its cover" is unfortunately often ignored.
Whether you're using the classic schoolyard pick-up rules to decide teams at the park or studying your next opponent on the hardwood, trying to determine someone's athletic ability or skill solely off their appearance can quickly leave you sitting in a pool of regret.
For members of Amp 1 Basketball, that idea could not be more true.
Amp 1 is partners with Ability360, a non-profit corporation with offices across Arizona that encourages people with disabilities to be self-sufficient and motivates individuals in their everyday lives.
The Amp 1 team is comprised of stand-up amputee athletes that travel across the United States using basketball as a platform to help educate students and groups of all ages about using prosthetics. The athletes also set an example for fellow amputees that there is no limit to what an individual can accomplish when the proper attitude and mindset is set forth.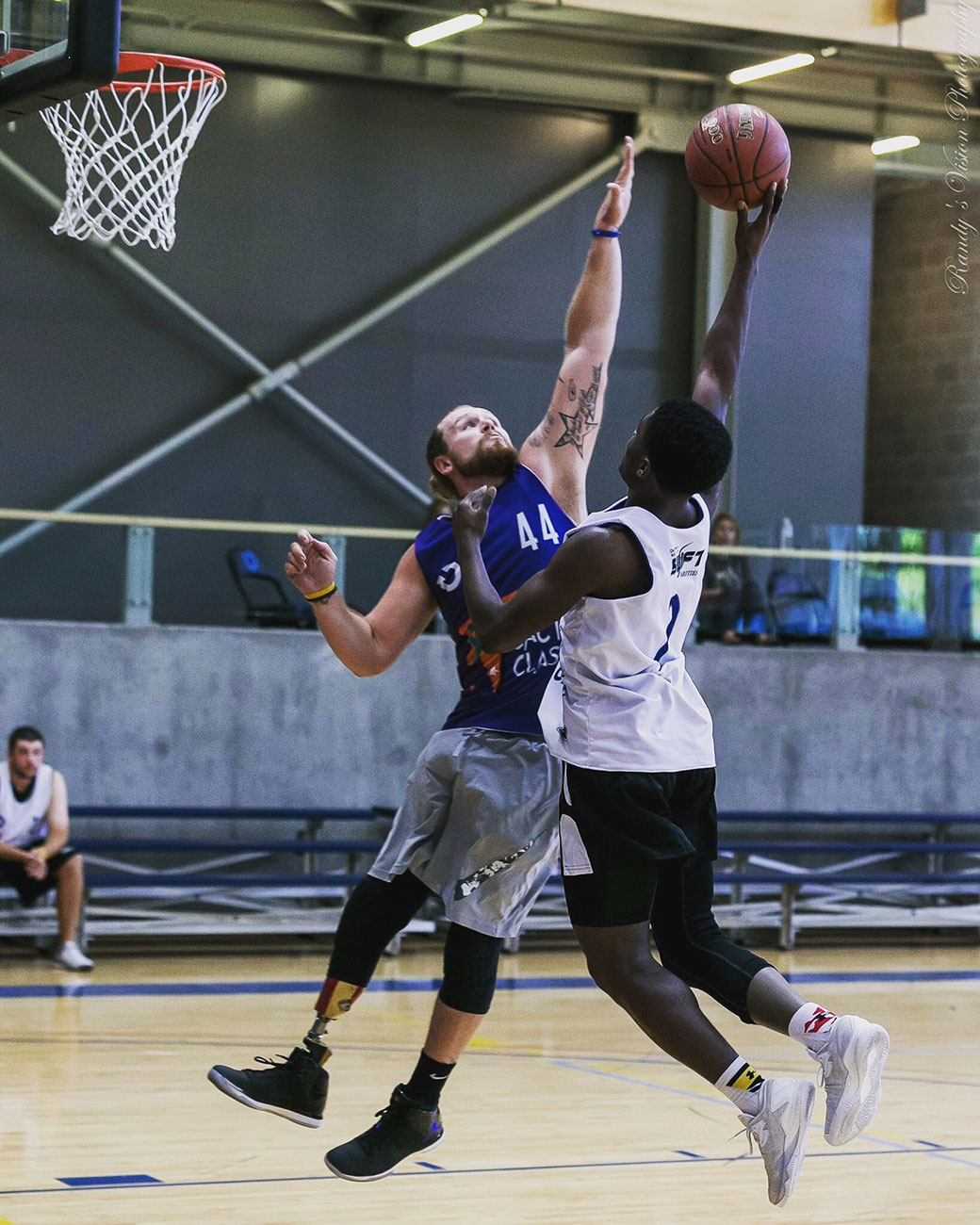 Nick Pryor is just one of the many Amp 1 athletes who exemplifies that exact idea and when it comes time to lace 'em up, he's definitely getting buckets.
"Nick, he can dunk," says Gus LaZear, President and General Manager of the Ability360 Sports and Fitness Center. "When he lost his leg at four and he started using a prosthetic leg, none of his friends went easy on him. He played regular sports. He played baseball, basketball, football and everything. So he's an athlete that just happens to use a prosthetic leg to get around."
Pryor lost his leg in a shotgun accident just a month before his fifth birthday, but refused to let his disability define him and instead immersed himself in everyday competition at the age of six.
Although some may have considered the injury to be a major setback towards participating in competitive sports, Pryor used it as fuel and outworked everyone else to ensure that he could continue to play the sports he loved.
Pryor found out about Ability360 many years later and joined Amp 1 when he visited the non-profit's Sports and Fitness Center as a teaching assistant for one of his classes at Arizona State University. That is where he first met LaZear, who encouraged him to come out to the stand-up amputee pick-up games that took place on Wednesday nights.
This was uncharted territory for someone whose willpower never allowed himself to question his own capabilities.
"I didn't really know what to expect because growing up I just played with everybody else," says Pryor. "When I first met the other amputees I was super nervous because, of course, I didn't know anybody and I wasn't sure how other amputees could move and all of that."
While the pick-up games brought Pryor and other amputees together, the passion and competitive drive they each possessed had them eager to play for something greater.
After all, taking the easy road isn't exactly a course of action for these athletes, who initially rejected the idea of wheelchair basketball to play standing up.
"The first time we had eleven or thirteen players and it was really cool," LaZear explains. "There was a lot of comradery and peer mentoring. It was just a neat environment. Then what ended up happening was you could see the attendance slowly go down and it wasn't that they weren't having fun or anything, but they were just playing hoops, which is fine, but there was no goal. So we decided to have the amputee basketball tournament."
Pryor quickly became a regular at the facility, where he soon caught wind of Ability360's first Cactus Classic Stand-Up 3 on 3 Amputee Basketball Tournament, but knew that his conflicting summer camp job would prevent him from attending the event. LaZear, Pryor's now supervisor, felt that his presence at the Cactus Classic was needed and decided to offer him a part-time job at the facility so that he could participate.
Fast-forward to 2018 and Pryor is now Ability360's Tournament Director for the non-profit's fourth annual Cactus Classic Tournament, which took place last month.
With both competitive and recreational groups available to play, all amputee athletes are encouraged to participate in the event.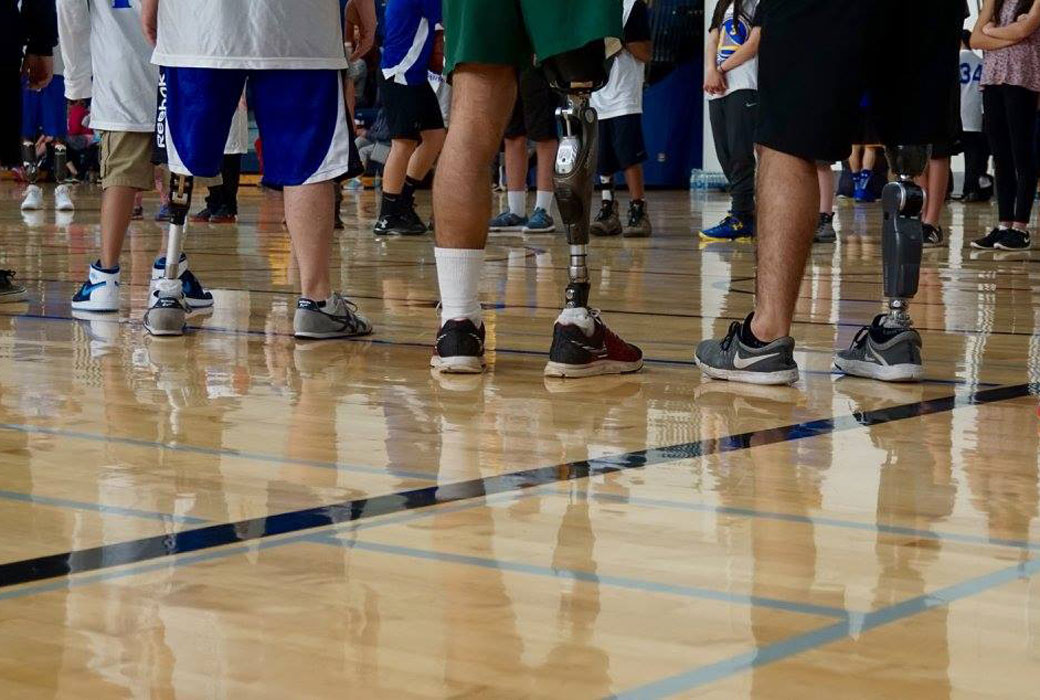 "We [had] a ton of new players which is really my favorite thing about the tournament because it's just exposing the players to what we do," Pryor explains. "You're going to see anywhere from beginners to guys like myself and [Richard Ramsay] who have played competitively our whole lives. We really strive to be the best amputee players in the country and that's what we're really doing."
A fellow Amp 1 member and friend of Pryor, Ramsay has also overcome numerous obstacles that followed being born without his left arm and rejected the idea that his circumstance would limit his participation in sports. Ramsay models his own game after NBA great Steve Nash and has always welcomed any challenge and every form of competition.
"I'm from Phoenix, Arizona, so I grew up playing basketball, football, track, soccer and baseball," says Ramsay. "Kind of everything that I could play, I did, because to me, sports was my way of fitting in, so to speak. It was my way of showing I am just like everyone else, one arm or not."
Ramsay and Pryor are widely considered to be two of the more skilled players at the Ability360 Sports and Fitness Center and have extended their knowledge to other amputees at the facility also looking to play stand-up basketball with their prosthetics.
Although playing with fellow amputees was foreign for the two at first after growing up competing in sports with everyone else, playing alongside like-minded individuals who share similar experiences has helped form a strong sense of comradery.
"Everyone always talks about having great friends and how awesome it is to be able to do the things you love with your best friends," Ramsay explains. "In the adaptive space when you meet another amputee basketball player, friendship only begins to scratch the surface of what it really is. We're a band of brothers for sure and being able to do that with Nick, someone who's passionate, very athletic, educated and well spoken, it definitely brings a whole new level to be able to achieve that common goal of bridging that gap."
With athletes like Ramsay and Pryor serving as trailblazers for other amputees looking to better themselves through the game of basketball, it's their hope that more amputees will follow in their footsteps and acknowledge that no limitation can ever be placed on one's hard work, will and determination.
"I'm a kid that didn't know any of this existed my whole life and now I have the opportunity to be a resource to others and to get them involved," says Pryor. "That's my main focus—just to let them know that this exists. There's people here that are doing it and there's opportunities for everybody."
—
Jared Anderson is an Intern at SLAM. Follow him on Twitter @JAnderson_383.
Photos via Ability360.