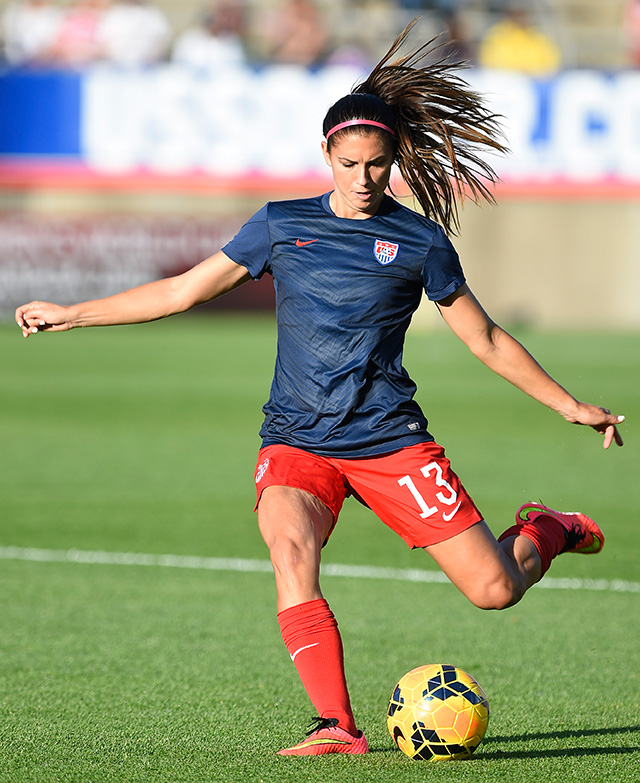 Alex Morgan, the 25-year-old star of the US women's national soccer team, doesn't need anyone to remind her that the 2015 FIFA Women's World Cup starts in June. And trust, the Southern California native is fully aware of the pressures that come with playing such an important tournament so close to home in Canada. So when we got the chance to kick it with the NWSL's Portland Thorns star and Instagram sensation (@alexmorgan13), we hope you'll understand why the convo revolved more around her other favorite sport.
SLAM: Do you have a favorite NBA team?
Alex Morgan: I grew up in L.A., so the Lakers were always my team growing up. Obviously, I've ventured out. I live in Portland a bit. I've lived in Houston. I follow a couple of teams. But the Lakers are what got me started when I was young.
SLAM: Since you play with the Portland Thorns, we're guessing you have love for the Blazers.
AM: For sure. I went to one of the Playoff games last year and that was fun. I kind of follow them a bit. Hopefully, I'll get out to some more games [this season].
SLAM: You like international basketball, too?
AM: Yeah, I actually went to both the semifinal and the final match for the US basketball team [in the 2012 Summer Games]. That was one of a kind. It was so much fun seeing all of the best players. It was unreal the amount of talent on the court at that time.
SLAM: Which players do you like watching most?
AM: Since I grew up in L.A., I grew up watching Kobe. Lately I've really enjoyed watching Kevin Durant. He's so much fun to watch on the court and he seems like a really cool guy off the court. LeBron is awesome. We've actually met a couple of times at photo and commercial shoots. I went to a couple of Miami Heat games as well. He's amazing to watch on the court. He's strong and quick. It's pretty cool to see such a tall, big guy be so agile. For me, on the soccer field, I can respect the hard work these guys put in every day.
SLAM: The German national team is like the San Antonio Spurs—they're always around when the money's on the line. How is the US women's team going to approach them and Japan this time?
AM: Two years ago, before the NWSL (National Women's Soccer League) was a league, we talked with US Soccer and asked, 'What will give us an edge to make us even better than other countries?' We thought having a league playing week in and week out would help develop the women's game in the US and help us keep that No. 1 ranking. We've had two years under our belt in the NWSL. Another key component is making sure individually we all do our part for the better of the team. We have a pool of probably 30 players and every player needs to play their part. They need to make sure they're as fit as possible. You have teams like France and Japan—a couple of years ago they were nobodies. You had Japan winning the World Cup almost right out of our hand in 2011. You have those teams raising the bar and we need to stay above that bar.
DeMarco Williams is a SLAM contributor. Follow him on Twitter @demarcowill.