The saying art imitates life rings true when it comes to most creative minds. But for the 29-year old South Jersey native Billy Joe Michel, art doesn't reflect life, it actually gives her something to live and strive for.
"I've always been artsy, but when I got pregnant with my first child (in 2009), I had a lot more free time on my hands and I started painting. I got most artistic in high school, but then I went to Temple (University) for psychology because I wanted to help people."
The self-proclaimed tomboy, has an appreciation of family, love, balance and sports. Her art provides deep meanings, and vibrant colors.
"When I started painting to pass the time, I started to like it. I didn't paint a whole lot over the years—a painting here, a painting there—because I was too busy making a family, and following the father of my children to different countries, and around the US. We lived in two different parts of Belgium. We lived in Dallas, TX, and Erie, PA, when he played in the NBA D-League.
"Virginia, Philly, another part of Dallas because he was there two separate times. And I wanted to paint my feelings, and sports had a lot to do with it because I was moving around for sports. My feelings about sports came out in my art…so I painted my feelings."
One of her most outstanding pieces is titled JUMP MAN!, which reflects the business side of basketball on the professional level. Using her signature 3D style, she articulates the game like many others haven't.
Typically a basketball depiction is one of glory and fame, but through her experiences, she has a different view. And while she still loves the game she once played, the not-so-friendly business side compelled Michel to take the road less traveled and speak out against common practices by some teams, and organizations.
"Overseas…there wasn't a lot of time for family. The team had to practice four times a day for one game per week. I'm exaggerating a little bit, but I didn't feel there was much focus on the family from the organization. I did the painting with the robot arms, reaching up for a basketball. They're players but all you see is the hands and the ball, like they're jumping for it.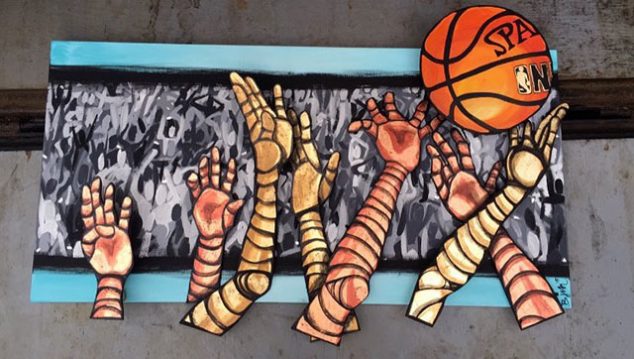 "I painted it for symbolism. It looks really cool, when you look at it—the foils are flashy, like the gold, the glitz and the glam. The audience is cheering. But in some cases, they are just robots being controlled by the teams, owners and general managers. I don't want athletes to be thought of as robots. I want the people in management to think about the player's feelings, lives, families and their longevity. My paintings…a lot of times when I use robots, it's to signify that something or someone might not be acting upon their own influence. Sometimes we are under the influence of money, a job, or a team owner. We get caught up thinking we have to act a certain way to impress someone."
Billy Joe continues to pour her heart into her family and artwork, as she wants the best for the world. She is using her work to help put things in a better place, and to give people inspiration to do and live better toward themselves and each other.
"I want to continue to make smart art. I want to make people feel and make people conscious of what they're doing, and doing to other people. I know people don't think about the ripple effect. Not the first ripple or the second ripple—it's the long term, down the road that I want them to think about."
Sports have a way of uniting people, and drawing attention to things in a way that need some light cast upon it. Billy Joe Michel is doing her part to heal the world one painting at a time.
Follow Billy Joe Michel on Instagram @miss_billyjoe.
Photos courtesy of Billy Joe Michel.