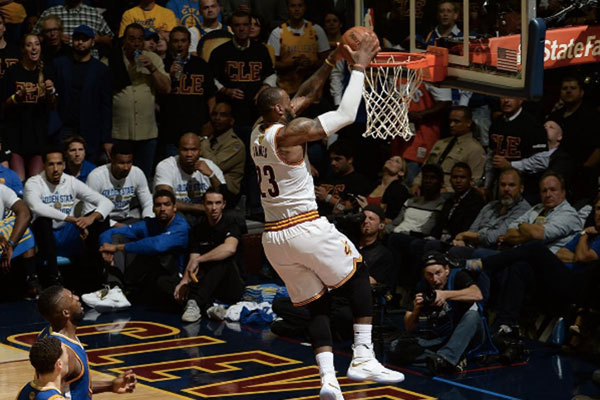 CLEVELAND — Last year, the Warriors defeated the Cavs in Game 6 on June 16 in Cleveland to win the NBA championship. So when Game 6 rolled around this time — once again falling on June 16 in Cleveland — one couldn't help but wonder if this would be deja vu all over again for an organization, and city as a whole, that has become accustomed to the same old heartbreaking results for decades.
Not tonight, though.
LeBron James wasn't going to let the Warriors pop champagne in his home arena for a second consecutive year and that was evident from the tip.
After jumping out to a 6-0 lead to start the game, the Cavs never looked back. Cleveland led throughout the entire contest, at one point on top by as many as 24 points. James would finish with 41 points for a second consecutive game, while also dishing out 11 assists and grabbing 8 rebounds. Another performance for the ages for LBJ, who is now just one win away from giving the Cavaliers franchise its first ever NBA title.
"I give a lot of credit to my teammates and my coaching staff to put me in position to be successful," said James after the Game 6 victory. "I mean, without the ball moving, without the screens being set, without the coaching staff putting out the game plans for us offensively then, what I've been able to do, it doesn't happen. So those guys definitely get the credit."
On this night he would receive help from Tristan Thompson, who finished with a stat line of 15 points and 16 rebounds, and from Kyrie Irving, who chipped in 23 points. Also with a major contribution was JR Smith, who sunk a team-high four 3-pointers on his way to 14 points.
For the Warriors, who for much of the first half struggled to get their shooting percentage over 30% (held to 11 points in the first quarter; didn't get their first basket until five minutes into the game), it was lack of help from anyone not named Stephen Curry or Klay Thompson that ultimately led to their defeat on Thursday night.
Curry finished with 30 points on 8-20 shooting from the floor (6 of his 8 field goals were from behind the perimeter) before being ejected (for the first time in his career) after throwing his mouthguard following a play that ended with him being called for his sixth personal foul. Thompson finished with 25 points on 9-21 shooting from the floor. Aside from the Splash Bros, only Leandro Barbosa finished with double-digit points — scoring 14 points on 4-6 shooting. Everyone else on the Warriors scored 8 or less.
"I mean, we have to show some fire for Game 7," said Curry after the game. "It's a great opportunity for us at home in front of our fans to, again, try to win a championship. So we're going to need some emotion and some grit and toughness for that game."
Added Thompson: "We've just got to come Sunday with the mindset of leave it all out there, every man on this team. No hero ball, just do it as a team like we've been doing it all year."
In the history of the League, no team has ever come back from a 3-1 series deficit in the Finals. On Sunday evening, it will either be James and company doing what has never been done before or the Warriors repeating as NBA champs after coming so close from losing it all.
As fans of the game, we couldn't have asked for a better finish.