During the Grizzlies' 112-109 loss to Portland on Friday, the Blazers' trolled Chandler Parsons on twitter with a GIF of him shooting an airball with the caption: "To be fair, the NBA 3-point line is really, really far away from the basket."
Parsons clapped back at the Blazers, saying, "Good luck in the lottery show this year." (Portland currently is a half-game back from the 8-seed.)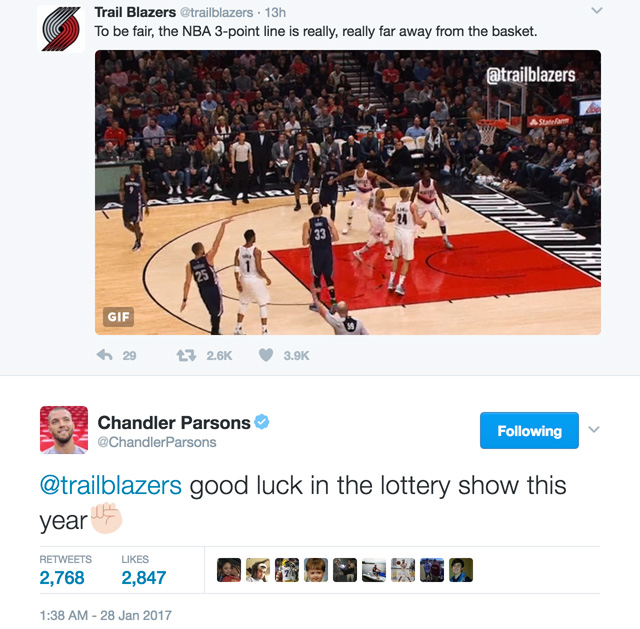 CJ McCollum, who scored 18 points on 7-11 shooting, then ripped Parsons with a Hall of Fame-worthy tweet: "We hit the lottery by not signing you."

The shot left McCollum's teammates shocked.
— Damian Lillard (@Dame_Lillard) January 28, 2017
These tweets are for the ages. I think both participants should shake hands after this. I'm just speechless. Unbelievable https://t.co/fQ1FWboLDY

— Evan Turner (@thekidet) January 28, 2017
— Pat Connaughton (@PlanetPat5) January 28, 2017
Parsons signed a four-year, $94.4 million deal with the Grizzlies in July, but has appeared in just 20 of Memphis' 48 games this season.
He looked to get the last word with his response to McCollum: "Stop it. Technically, I hit the lottery."

RELATED:
David Fizdale Says Chandler Parsons and LeBron James Have The Same Skill Set
193