Draymond Green does not buy Kristaps Porzingis' assertion that his tweet about the Clippers was caused by a hack.
On Saturday, a tweet was sent from Porzingis' account that said, "LA Clippers" and was accompanied by three smiley faces.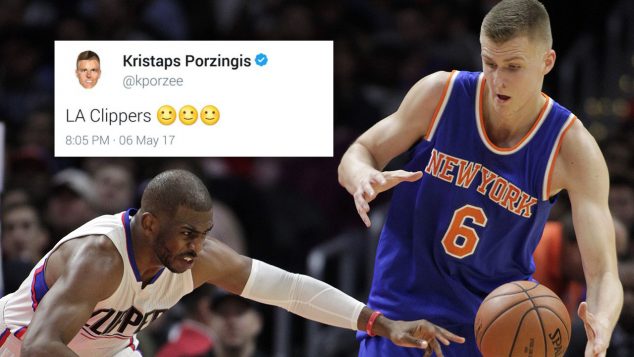 While on his "Dray Day" podcast, Draymond said that he was in a similar predicament last summer in Rio.
Green posted an explicit photo on Snapchat and said his account was hacked before eventually apologizing. Starting around 22:45:
"Listen, man. I had an episode on social media this summer and the first thing I said was that I was hacked. Then I thought about it and I said, I wasn't hacked.

"Kristaps, I'm sorry, but no one believes you. You weren't hacked. You're trying to go to the Clippers.

"Kristaps, you lyin' bro. You weren't hacked. Maybe you was drunk, and your true feelings came out, and you tweeted your true feelings. But you weren't hacked my man. Trust me."
Porzingis is currently in Latvia getting ready for the European championships, after having skipped his exit meeting with Knicks president Phil Jackson.