The ABA, American Basketball Association, was renowned for its flashy play that was a favorite amongst basketball fans back in the league's heyday. The rival to the NBA featured legends like Julius "Dr. J" Erving, Dan "The Horse" Issel, Rick "The Miami Greyhound" Barry, all of whom are in the Hall of Fame. In short, the ABA was basketball entertainment at its finest during the nine years it was around.
In '76, the ABA merged with the NBA, but only the four most successful franchises were welcomed into the Association. Those four franchises were the Denver Nuggets, Indiana Pacers, New York (now Brooklyn) Nets and the San Antonio Spurs. While some players found success in the NBA, the merger left plenty of ABA guys high and dry. These ballers didn't have any pension benefits and fell into difficult financial situations.
This is where the Dropping Dimes Foundation comes in.
This not-for-profit Foundation was founded by Scott Tarter and Dr. John Abrams in an effort to lend a hand to many of these old-school ballers.
A few years ago Tarter was working with documentary film producer Ted Green when he met Abrams, who is a local doctor in Indianapolis and the Pacers' eye doctor. While both of them were supporting Green, they found out that they had a mutual love for the ABA. They ended up working with a lot of their ABA heroes who would always talk about a lot of lesser-known players who needed help. After doing research, Tarter and Abrams found out that there aren't any programs that help with getting ABA players back on their feet. Noticing that there is a void, the two linked up and started the Dropping Dimes Foundation.
"These guys were being contracted in a range of $12,000-$50,000 a year," says Tarter. "There were no established or viable healthcare or pension plans. They were at a huge disadvantage."
One of the great aspects of Dropping Dimes, besides the work they do to assist old ABA players, is that its advisory board is filled with ABA and NBA legends. The advisory board consists of ex-players like Bobby Leonard, Issel, George McGinnis, Reggie Miller and ancillary members of the basketball community, such as renowned sportscaster Bob Costas. All these guys go above and beyond to volunteer with the foundation.
"I got a call from the guys who started the foundation. It was trying to find a way to help some of those guys who played in the old ABA," says McGinnis. "[Scott] talked to myself, Bob Leonard, Mel Daniels, Darnell Hillman, Billy Keller, and a few other people. We all got on board with it and that's kind of how it all started."
Dropping Dimes doesn't just help out these ABA players financially, they do much more. For example, Ron Thomas who played for the Kentucky Colonels during the '70s lives in a nursing home and Tarter and some of the advisory board members paid him a visit. They gave him shoes and clothing. Another gift they gave him was a blown up Topps basketball card. Tarter says they do that for every player and if the player doesn't have a card, they make one for them. After that, they just hung out with him and Thomas was loving it.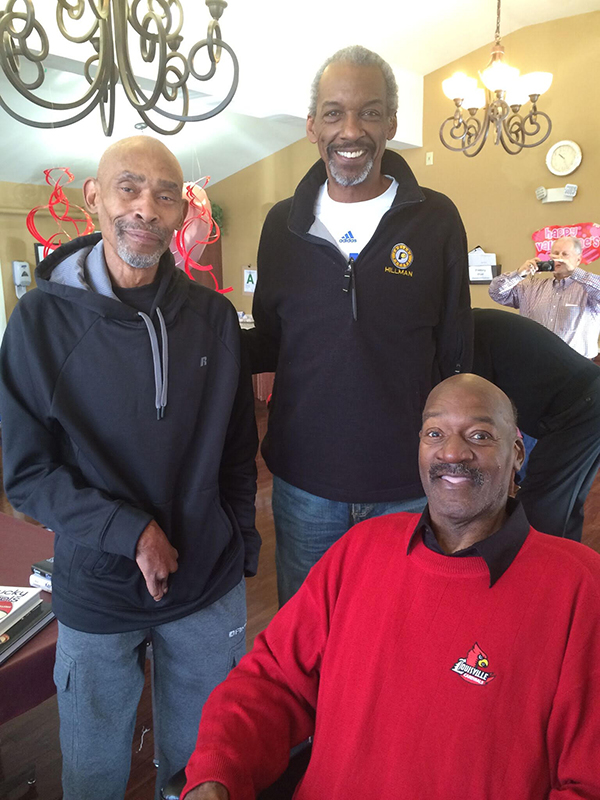 "There are a lot of ABA players that didn't make a lot of money," adds Issel. "Some of those former players need some help right now. I have very fond memories of me in my ABA days. It was a fun league and we had a lot of exceptional talent. My ABA days hold a special place for me."
Tarter's hopes to help as many ABA players as he can so that in a few years this Foundation won't be necessary.
"We've got some guys here who are great people. There's just a lot of people involved,"Leonard said. "When you can help somebody else, especially guys that you knew and coached against. You want to do that."
For more information on the Dropping Dimes Foundation, check out droppingdimes.org.
Photos courtesy of Scott Tarter