Duke's starting five is in a 2-3 formation at center court of Cameron Indoor Stadium. Trevon Duval and Gary Trent Jr are upfront, while Grayson Allen, Marvin Bagley III and Wendell Carter Jr hold down the rear.
It takes only a minute for Allen—Duke's captain, lone senior and only non-freshman starter—to begin ribbing the youngsters. As the jokes roll, the group breaks out in laughter and Trent Jr drapes his right arm around the fourth-year veteran in playful solidarity.
That's what brothers do. They laugh together, they compete together, they fight together—sometimes with each other, but always for each other.
Duke's brotherhood defines its program and goes back decades. The Brotherhood—yes, known as #TheBrotherhood on social media—is a relationship forged by bond, not blood, but it runs just as deep
"What The Brotherhood means to me is, simply, unity and togetherness," Trent Jr tells SLAM. "Being part of something that's bigger than yourself, fighting for someone other than yourself, just always looking out for the next man and your brother."

"The Brotherhood is basically the bond that is Duke Basketball," Allen says. "It's former players from 20 years ago to guys now and to future commits. It's the whole thing. You share a common experience of playing here, playing at Duke, playing for Coach."
"Coach" is Mike Krzyzewski, the center of it all. The HOF bench boss, now in his 38th season at Duke, has amassed over 1,000 wins, five National Championships, 12 ACC regular season titles and 14 ACC Tournament crowns.
Hundreds of players have come through Coach K's program, and this season alone there are 19 former Blue Devils on NBA rosters [20 if you include Boston's Semi Ojeleye, who finished his collegiate career at SMU—Ed.], including Allen's former teammate and roommate, Justise Winslow, a third-year forward with the Miami Heat.
Allen and Winslow remain tight until this day, forever linked by the 2015 National Championship banner hanging from Cameron's rafters. Winslow attests that The Brotherhood extends all the way to the League.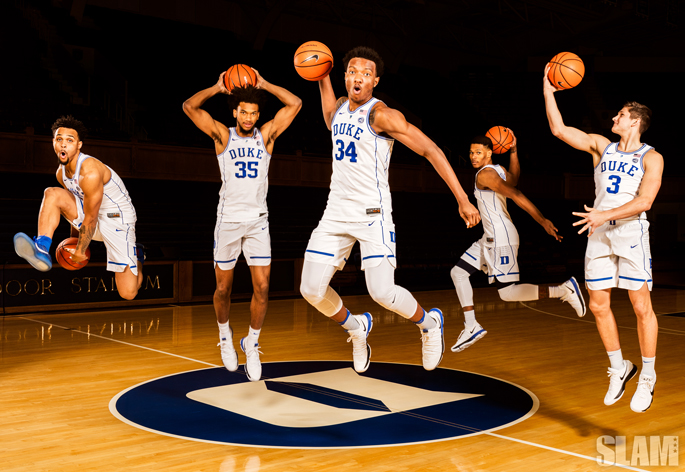 "Everyone from the coaching staff, trainers, the entire Krzyzewski clan, Sam the chef and the players make it feel like a family," Winslow says. "But, to be honest, I started feeling more a sense of The Brotherhood once I got to the League. Seeing guys on different teams, regardless of age, you know you can go and talk about anything, whether it's Duke-related or not."
Winslow makes it back to Durham on occasion and his presence has had an impact on Allen's current roommate, Javin DeLaurier, a 6-10 sophomore forward from Shipman, VA. DeLaurier wears Winslow's old number (12) and says the NBA forward and other former Duke players regularly give him tips on the college game and "life in general."
"I think the thing most people don't understand is that it's all-inclusive and lifelong," DeLaurier says. "Guys that played before I even picked up a basketball come back and treat me like we've known each other forever. I think that's the most under-appreciated thing about it."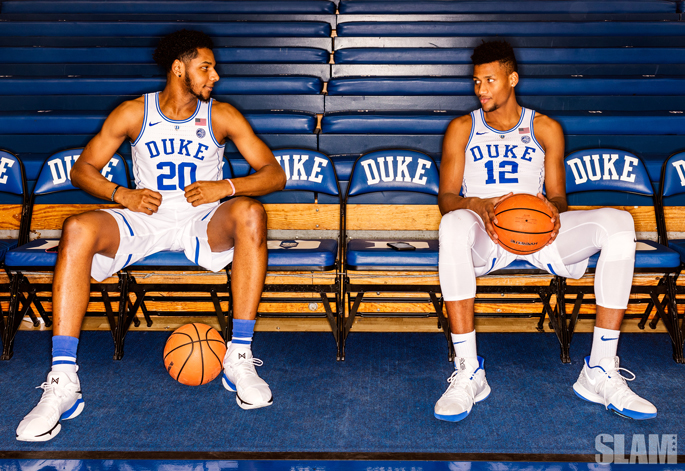 On a wall behind Krzyzewski's desk hangs a photo from February '09 of Jon Scheyer and Gerald Henderson as they walk off the court at Maryland's Comcast Center after a thrilling 78-67 win over the Terps.
The former Duke standouts are both smiling, Henderson's left arm wrapped around Scheyer's shoulder. It's a specific time and situation, but it conjures up the image of Allen and Trent Jr's own interaction during our photo shoot. Two guys with different stories, from contrasting backgrounds, bonding through Duke basketball.
Krzyzewski lauded the photo in a Duke Basketball video published before the season, "Gifts of the Game: Brotherhood."
"The picture with Gerald Henderson and Jon Scheyer is one of my favorites because it's really what I want every young man who plays for me to experience and that is the feeling of The Brotherhood," Coach K says in the vid.
Scheyer, who helped Duke capture its fourth title in 2010, currently serves as an assistant coach for the Blue Devils. That's no coincidence. All of Scheyer's colleagues—Associate Head Coach Jeff Capel, Assistant Coach Nate James and Special Assistant Nolan Smith—have played for Krzyzewski. It's culture by design.
This collection of former Duke players-turned-coaches help serve as connective tissue from past generations to the present. It provides a continuity that Krzyzewski's current team is trying to learn. The 2017-18 Blue Devils are not your typical band of Duke brothers.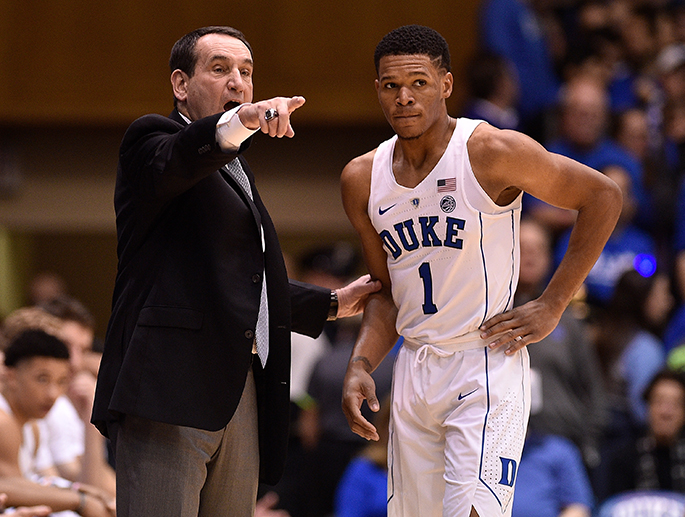 After losing four of his top five scorers at the end of last season—three to the NBA and one to graduation—Krzyzewski hauled in a heralded quartet of five-star freshmen, including two elite bigs in Bagley and Carter Jr, a ready-made scorer in Trent Jr, and Duval, an explosive PG to pair with Allen. All are likely one-and-done prospects.
Despite a dramatic loss in offensive production and experience, Duke and its reloaded roster entered the season No. 1 in the AP poll for the second consecutive year and ninth time overall.
The young Blue Devils matched early expectations by reeling off 11 straight wins to open the 2017-18 campaign, including notable victories over then No. 2 Michigan State at the Champions Classic and then No. 7 Florida in the championship game of the Phil Knight Invitational.
Bagley, a walking double-double who graced our SLAM 212 cover, became the first player in Duke history to register consecutive 30-point, 15-rebound outings. The 6-11 forward leads the ACC in scoring (21.4 ppg) and rebounding (11.2 rpg) and has already claimed six Conference Player of the Week honors.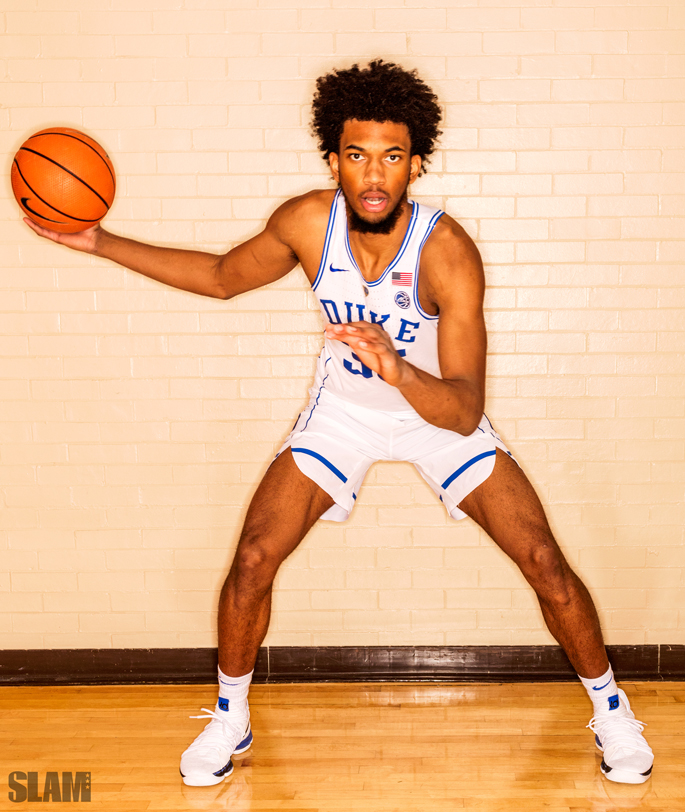 Allen, the Jacksonville, FL, native and Final Four hero his freshman year, is having a solid senior season, averaging 14.5 ppg and a career-high 4.4 apg.
His backcourt mate, Duval, is chipping in 11 points per while doling out an ACC-best 6.0 dimes and has demonstrated the ability to take over games down the stretch. Fellow freshmen Trent Jr and Carter Jr have made immediate impacts, each averaging double digits on a nightly basis.
Through their first 23 contests, the Blue Devils are the only team ranked among the NCAA's top 5 in scoring, rebounds and assists per game. True to its size and spirit, Duke is third in the nation in rebounding margin and first in offensive rebounding rate, claiming nearly 40 percent of its own misses.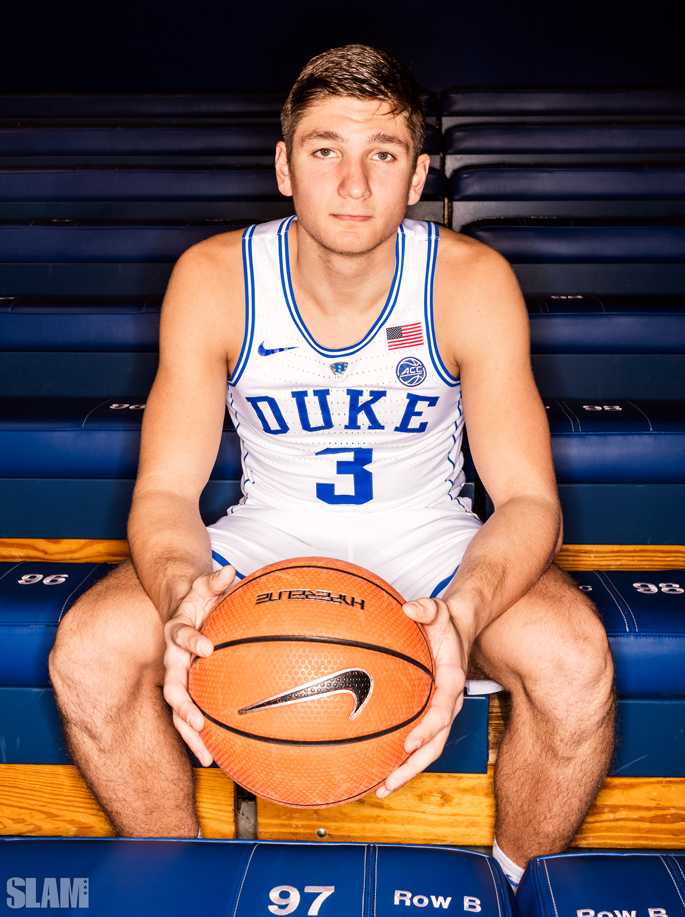 But with youth comes challenges.
Due to sluggish starts, the team has trailed opponents at halftime in seven of its games, and Duke is ranked 69th in defensive efficiency while allowing an average of 79 points to ACC opponents. Defense requires trust and fluency in Krzyzewski's detailed man-to-man principles. Both of those elements take time, and with four freshmen, they don't have that time.
Duke came out flat at Boston College in their ACC opener, resulting in their first blemish of the season. Eagles guard Ky Bowman probed and poked holes in the defense all afternoon, running a pick-and-roll clinic to the tune of 30 points and 10 assists, while the team shot a blistering 57 percent from beyond the arc (15 for 27) to upset Coach K's crew 89-84.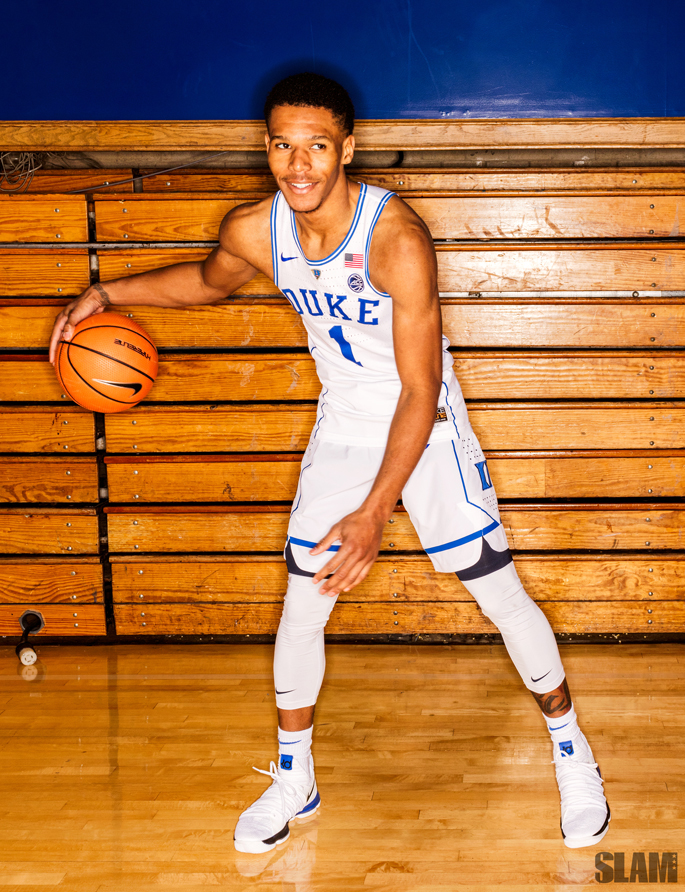 After taking care of business against Florida State at home, Duke gave up an alarming 96 points in a road loss to unranked rivals NC State, dropping the Blue Devils to 15-2 overall and 1-2 in ACC play, their second defeat in four games. Duke shot 51.7 percent from the floor but hit just 3 of 15 treys and never led in the second frame.
Following the loss, Duke went on to win six out of its next seven ACC games, but on an early February afternoon at Madison Square Garden, the Blue Devils fell 81-77 to St. John's—losers of 11 straight up until that point. Following the game, Coach K was incensed, telling reporters after the game that his young team was "very frustrating group to coach" during the game and that the level of play was, "disgusting, really."
In every loss there's a lesson. And this Duke team is still learning.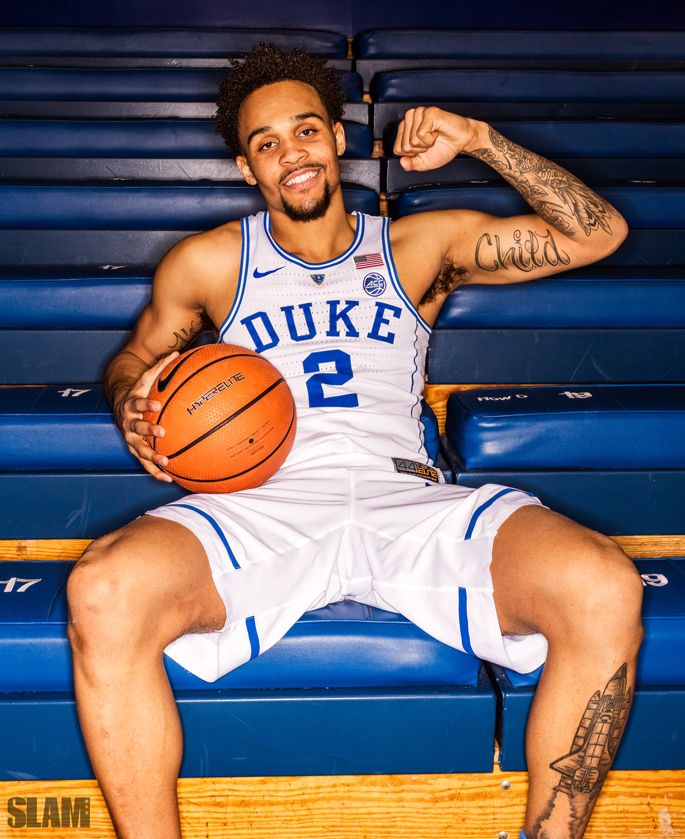 "We hate losing, and we don't want to accept it, and I feel as if all of us, we have a will to win," Duval says. "Whenever we're down, whenever we're going through adversity, we always fight back and try to figure out a way to win."
"We're learning as a team and [Coach K is] learning as a coach about us individually," Bagley says. "Everybody is still learning, and I feel like once everybody knows everyone more, we can take this to the next level."
"I want to come every day and give my all to win a National Championship with this group of guys," Bagley says.
Whether Duke cuts down nets in April depends on work, growth and some luck. What is known, however, is that no matter how far this team goes, wherever its players end up, and whenever someone is in need, they will always have Krzyzewski and The Brotherhood. That's a given.
—
Peter Robert Casey is a washed-up Division-III JV point guard who occasionally writes about the game he loves. Follow his Twitter musings at @PRCdotwork.
Portraits by Jeremy M. Lange