Dylan and Dakota Gonzalez Talk Foregoing Senior Seasons at UNLV, NCAA Restrictions, 'Take 1' EP and More
As far as their careers are concerned, Dylan and Dakota Gonzalez are on to the next one. With one year of eligibility left, the two decided to forego their final seasons at UNLV and pursue their professional music dreams now that they are no longer under the NCAA's watchful eye. Less than one month after graduating (Dylan and Dakota transferred from Kansas after their freshman years and have one season of eligibility left—Ed.), the twin sisters have dropped their debut EP Take 1 on SoundCloud and are working on music videos that are set to drop in the coming months.
The release of Take 1 doesn't necessarily mean they are closing the doors on their basketball careers—the twins still have major game even though they won't be donning Runnin' Rebels uniforms next season. Dakota led UNLV in scoring the past two seasons; Dylan dropped a defender at last year's Ludaday Game. The twins are still considering professional opportunities abroad.
We got a chance to chop it up with Dylan and Dakota about what they've been up to since graduation, their new album, and the restrictions that were placed on them by the NCAA.
SLAM: What's been going on since you two graduated and decided to forego your final seasons at UNLV?
Dakota Gonalez: It's been an interesting ride thus far. Everything is at a much faster pace now that it is over. In previous years, it was a little more chill, but now that it's done, we have to get things going fast. We've really just been pursuing music and entertainment. Now that we're finally able to do it, it's crazy.
SLAM: Basketball has been a huge part of your lives. Now that your college careers are over, have things been a little more exciting? Or have they been bittersweet?
Dakota: It's been very bittersweet because ultimately, we love basketball. We're still going to play and we're still going to continue to train. This isn't something that we're just cutting out of our lives because it's something that we love so much and it's all that we've known up to this point. We are going to continue to pursue basketball in other ways, but at the same time, our passion is music and we do not want to have any restrictions to keep us from being able to fully put our efforts into that as well.
SLAM: The decision that you two made to skip your senior seasons was largely due to the opportunities, or rather lack of opportunities, brought on by NCAA restrictions, to pursue other interests in life. How does it feel to potentially be the poster women for college athletes as far as taking a stand against the NCAA?
Dylan Gonzalez: Initially it's scary because you understand in the back of your head that you're going up against something that's bigger than you. We definitely tried to challenge the system a little bit to make both music and basketball work. At the end of the day, the only thing they would allow us to do was sing the national anthem at a game and make music in our home. It just became this fight as to why we wouldn't do anything outside of basketball without all of these ticky-tack regulations coming into play. It just became so stressful. At the end of the day, Dakota and I hope that other women are given the freedom to pursue things outside of their sport. Unless you're in the system, you really don't understand that this is a job. Playing a collegiate sport is a job that you don't get paid for like a job. If you're trying to build a foundation for yourself in another avenue, it's nearly impossible because you don't have the time to do it, nor are you allowed to do it.
SLAM: How much of a factor was the NCAA in your decision not to return to UNLV for your senior seasons?

Dylan: It was a good 90-95 percent. Dakota and I were very much committed to coming back for our senior years, but as things were unfolding with the NCAA, it became a nightmare. E-mails that were like, 'If you're going to do this, then this is going to happen' kept coming. You almost start to feel a little threatened by them.
Dakota: Another thing that might be difficult for people who have not played under the NCAA's umbrella to understand is that you have this great opportunity to get an education and play the sports that you love. But, to be very blunt, a lot of people don't see the behind the scenes type of actions that go along with it. People always ask why no one has spoken out if it is such a big problem. My challenge to that is, let's say that you have a job and are working to survive, why would you go start slandering your boss? So you can get fired or have some consequence come your way? You're just not going to do that.
Dylan: At the end of the day, we wanted to play and we wanted our degrees, even though the majority of people [who play sports] don't actually end up with their degrees. It's quite ironic that people always say that it's about the 'student' or the 'athlete' and 'X' percentage of people never get their degrees. 'Kota and I were fortunate enough to get our degrees. We have a lot of friends who are football and basketball players who have never graduated. It's crazy because graduating is preached so much, but it is not really upheld.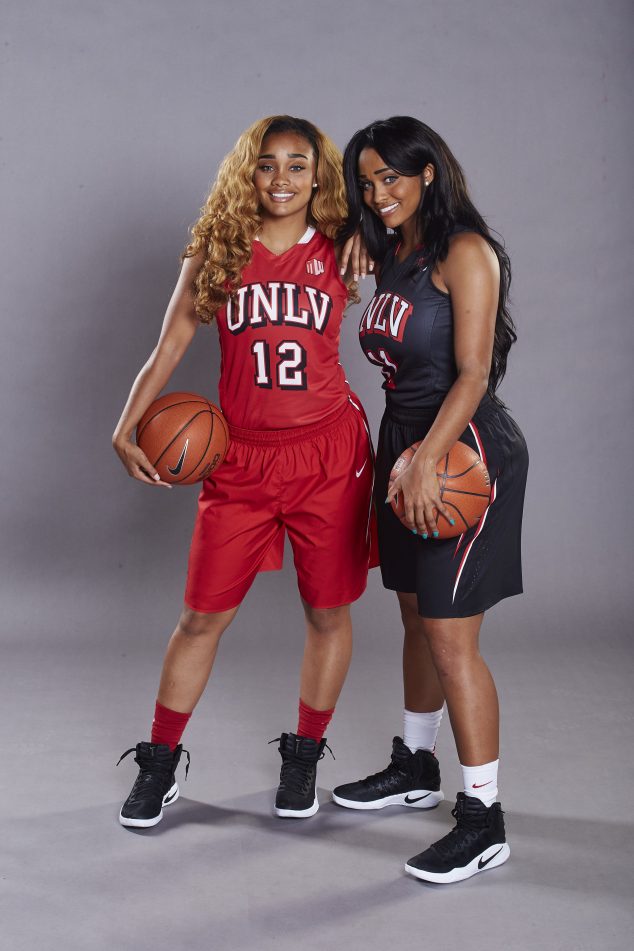 SLAM: You've made it clear that the basketball isn't over for you two. What's up next for you guys in that realm?
Dakota: There are definitely a lot of clinics and a lot of training for us coming up over the next few months. I think that a lot of the motivation for that is for potential overseas careers because that is something that fascinates us and is more intriguing to us than the WNBA. The WNBA is great in itself and isn't something that you can just walk into, but for us, we've always had more interest in overseas careers if we were to play professionally. The reasons why are to stay in shape, which is the realest thing I can say, and take everything we've learned playing basketball and give back to others via clinics.
SLAM: You dropped your debut EP two weeks after graduation. Have you just been in the studio non-stop since the season ended? Or is this something that you've had in the works for a minute now?
Dylan: We've been wanting to pursue music and have been wanting to make it happen for ourselves. It's been a grind, but we've been continuing to push it and have been continuing to work as hard as possible to make it happen because that's what necessary to get to the places that we're trying to get to. Leading up to our EP drop, we were going to the studio during the season and were trying to do both. We really did try to make it work this past year [with both basketball and music], but once the season ended, we just really cranked it up to another level. We finished like 25 songs out of our pocket with the help of some really awesome people. Not even big name celebrities, either. Just good people that we met along the way who believed in us. Our engineer, Josh Conley, is someone that we're so appreciative of because he's been there with us all along this journey. We've cranked it up in the last couple of weeks here, but have been familiarizing ourselves with creating a sound for ourselves.
We're really excited that our EP is out so that we can get some feedback from people on our first couple of songs. We're not putting everything out on this one (a second EP entitled Take 2 is coming out later this summer–Ed.) to see how people connect with that vibe.
SLAM: What influenced your sound on this EP? What type of feel are you going for?
Dakota: This EP is definitely a blend of things and not focused on one specific style. We didn't want every song to sound the same. There are definitely some urban pop and R&B feels to it. There's a 90s vibe and a little throwback cover song that we did on there, so there are a bunch of different sounds. We really wanted there to be no pressure behind this. We just wanted to make music that we enjoyed making, felt good about, and liked listening to. We want to give it to the people and see their reaction to the different sounds. As important as making the music is to us, the feedback is just as important to us. We really like to keep our fan base involved with what we're doing.
SLAM: We know that you two are cool with Drake. Can we expect an appearance on any upcoming songs?
Dylan: The only cover that we did was "Sean Paul." We're so grateful for all of the incredible people we've been in contact with and become friends with like Drake, Flo-Rida, Boosie, and Lyrica Anderson. For our first project, we wanted to do something ourselves. I think that when you use a lot of features, you kind of lose your own sound and don't present yourself as a strong artist. We wanted to be able to stand on our own two legs without another big time artist. We want to grow ourselves in the most organic way. However, being friends with all of these incredible artists is definitely inspiring because we get to see what we're trying to do and how we're going to get there. It's inspiring to see people's work ethics and how they go about their craft, which just helps us gain more knowledge.
Related
UNLV's Gonzalez Twins Are Chasing Hoops, Music Dreams
Rodger Bohn is a contributor to SLAM. Follow him on Twitter @rodgerbohn.
Photo in text via UNLV Athletics/Top photo via Gonzalez Family