To grow up a hoops fan in New York in the '90s meant to know the name Luis Felipe Lopez. This athletic scorer from the Bronx by way of the Dominican Republic had it all: a back story, a great name and game for days. A product of a time when schoolboy legends put in work at the AAU, high school and playground level, Lopez traversed the tri-state area, wowing overflow crowds (I was often a part of them) with his high-flying act. The whole package was enough to warrant Lopez' inclusion in SLAM No. 1 as the very first "In Your Face" in mag history. By then, the Rice High product was known simply as Felipe, and wasn't far from committing to local college, St. John's, where he'd have a solid four-year career before graduating to the NBA. It was an absolute honor to have Felipe in our office last month to catch up.
SLAM: What are you up to now?
Felipe Lopez: I've served as an NBA Cares Ambassador for over seven years, and on the side, I do some community work for the New York Knicks. I spend a lot of my time in New York and then I do a lot of traveling internationally, for the simple fact that I am from the Dominican Republic. I work with a lot of the Spanish-speaking countries—Mexico, Puerto Rico, Columbia, Venezuela. I'm looking forward to going to Peru and Bolivia sometime this summer. It's all about contributing to the game of basketball, whether through the NBA or independent work I do through my foundation, Ministry of Faith, which uses basketball to spread the word of God.
SLAM: How much basketball had you played when you arrived in New York at age 14?
FL: I was one of those kids that right after school, we'd go right to the playground. It was my safe haven. I picked up basketball because it was the one sport that everyone did around my neighborhood in Santo Domingo. We didn't have the grass or space to have a baseball field. But we did have basketball. And that was not the reason I came here. We came to the United States because my father, through my grandma, was given an opportunity to move here to improve the lifestyle of us.
I have a funny story. After we moved here, to 142nd and Brook Avenue in the Bronx, I would play basketball around my house. Because I didn't know how to count in English, I felt cheated a lot. You would ask for the score and you can tell when you're scoring a whole lot of points, but you're still down 4. How is it that I'm down 4 but I'm scoring more than everybody here? I couldn't fight it. That pushed me to learn how to count a little bit quicker. It also pushed me to learn how to call my own fouls.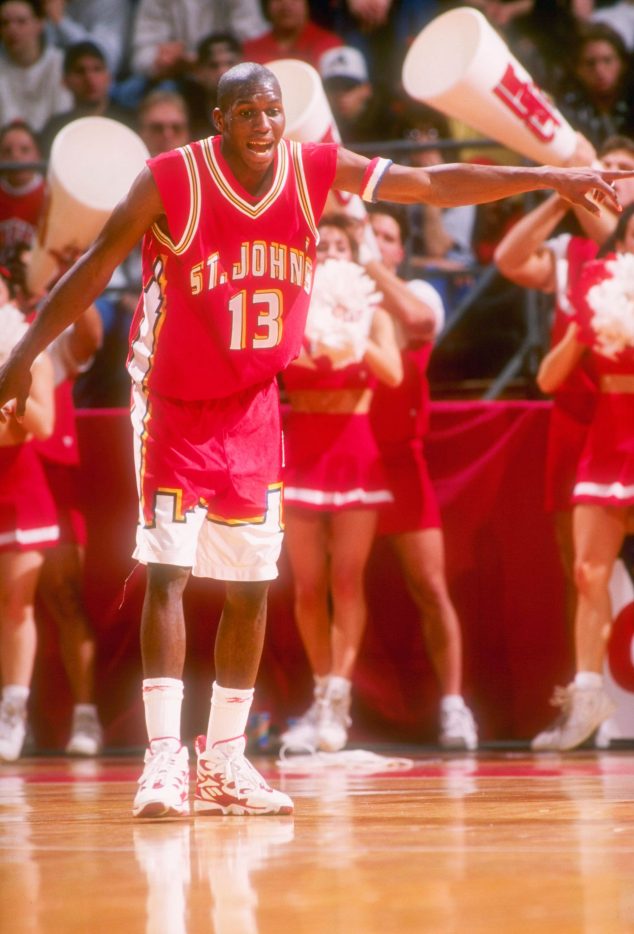 SLAM: How did you quickly grow from some new kid in town to one of the best players in the city—and country?
FL: It was being introduced into the Gauchos program. Coaches Dave McCullough and Dave Jones built a foundation with me for the work ethic and gave me a lot of opportunities. We had a team of players that used to go to different high schools and they were the best players. I was thrown into the mix playing with these guys and we went all over to play in different tournaments outside New York City and even though I wasn't a starter, I was able to learn a lot from these guys. When I got in a game, I didn't have that responsibility of scoring. It was more having fun, playing with those guys. That really helped me to build confidence. So when I ended up going to Rice, I was already playing at a varsity level, and that created great buzz. Then I went to Nike Camp and played against Jason Kidd, Jerry Stackhouse, Baron Davis and Randy Livingston. A lot of those top players from all around the country really helped push my name at an early age, not just in New York City but all over the US. I always wanted to play against the best guys.
SLAM: What do you remember about being the first In Your Face in SLAM's 200-issue history?
FL: The shoot was done at Gauchos Gym and it is one of my favorite photos, along with the Sports Illustrated one (Felipe famously posed for the cover of SI before his freshman year at SJU). But this one was a really awesome time of my life. Thinking about this now brings me so many great memories. To be the first one posted in SLAM Magazine is an honor. I'm sitting here just smiling because of what it meant to me around that time and what SLAM has meant to the basketball world throughout all those years that it has provided service, information, promoted players. It's awesome.
SLAM: How would you sum up your four years at St. John's?
FL: It was great. The only thing I would've wished for myself and my teammates is that we could have won more.
SLAM: Did you feel relieved when you made the NBA?
FL: In a sense I was relieved that I was leaving college and I really enjoyed the process of making it to the pros. I got drafted 24th. I felt pretty comfortable being drafted and unfortunately my career got cut early because of injuries. I tore my ACL. But at the end of the day, I really enjoyed the process. I became the first Dominican to be drafted in the new era of basketball, where the commissioner gets to call your name and he gets to know who you are because he called you out. I'm kind of emotional a little bit because I was with Karl Towns yesterday. He got drafted by the Timberwolves, which was the last team that I played for. He told me he's having a jersey made with my name that he's going to wear when he's walking around Minneapolis. That really touched me because of how far can we go with inspiring somebody. That's what basketball has done for many of us.
—
Ben Osborne is the Editor-In-Chief of SLAM Magazine. Follow him @bosborne17.
Photo via Getty Images.