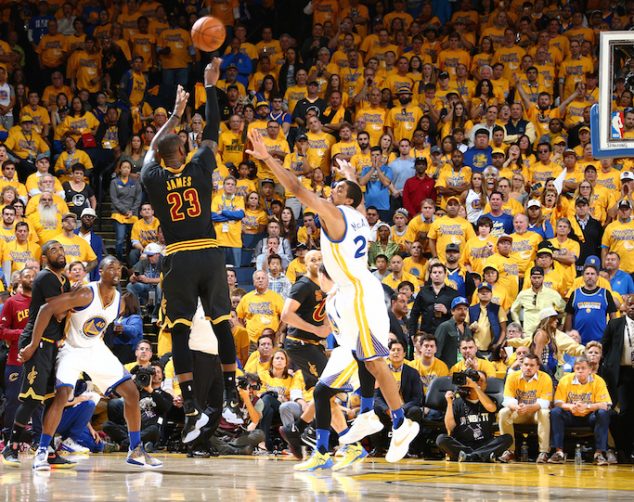 OAKLAND— Amidst talk of "taking the high road" over the last two days, LeBron James is now trying to take the road less traveled and help the Cavs become the first team in League history to come back from a 3-1 deficit to win an NBA Finals. Facing elimination, LeBron and the Cavs are one step closer after beating the Draymond Green-less Warriors, 112-97 at Oracle Arena to force a Game 6 in Cleveland.
In his career, LeBron James has averaged an NBA-history best 31.9 points in elimination games. In Game 5, James added another masterful performance to his resume with 41 points, 16 rebounds and 7 assists in front of a hostile Warriors crowd. With chants of  "Free Draymond" and "LeBron's a bitch" raining down, the King showed he's not ready for the offseason just yet.
"We just had a mindset that we wanted to come in here and just try to extend our period and have another opportunity to fight for another day," said LeBron. "And that was our main concern, and we were able to do that."
After an epic first half that saw LeBron and Klay Thompson battle back and forth to the tune of 25 points and 26 points respectively, the Cavs came out in the third quarter and took control.
Once Andrew Bogut went down with a gruesome knee injury, the Warriors—already without Green—became even more thin inside and Cleveland started taking advantage by working the ball into the post and driving to the basket. For much of the Playoffs, the Warriors have dominated in third quarters, but the Cavs flipped the script and outscored the home team 32-23 in the frame to take a 93-84 lead into the fourth quarter.
In the fourth, the Cavs held tight as the Warriors attempted a comeback. The Dubs cut the lead to six with 7:30 left, but were soon dismantled by Kyrie Irving. The thrilling point guard went on his own 7-0 run down the stretch to put the game out of reach. Uncle Drew finished with 41 points and 6 assists.
"You've got a guy like this who is very special, it's probably one of the greatest performances I've ever seen live," LeBron said of Kyrie's night. "To put on the show that he did, you just go out and follow the keys and play winning basketball, and we did that tonight."
No team has ever come back from a 3-1 deficit in the Finals in 32 tries, but few teams in the history of the NBA have had a player as good as LeBron James.
Game 6 is in Cleveland on Thursday night.
—
Photo via Getty Images
132