In the early 2000s, the Minnesota Timberwolves were one of the best teams in the west. Led by All-Stars Kevin Garnett, Sam Cassell and Latrell Sprewell, the Wolves were two wins away from clinching a trip to the 2004 NBA Finals. Meanwhile, a young Gary Trent Jr was innocently roaming the team facilities and playfully crashing team gatherings.
His dad, Gary Sr, was a forward for the Wolves who started 34 games while playing for the late Flip Saunders from 2001 to 2004. A bulky 6-8 big out of Columbus, OH, who earned the nickname "Shaq of the MAC" at Ohio University, Gary Sr was selected 11th overall in the 1995 NBA Draft by the Bucks, ultimately playing nine years in the League.
Fast forward some 13 years and Gary Jr, regarded as one of the top 10 recruits in the Class of 2017, is playing in front of NBA scouts during high school all-star games. Unlike his dad, who didn't take a serious interest in basketball until he was 15 years old and wasn't heavily recruited heading into college, Gary Jr is a five-star prospect slated to suit up for Duke in the fall.
Touted as one of the next blue chippers in line to hoop for the legendary Coach K, Junior is getting closer and closer to joining the elite company he was unconsciously surrounded by as a young kid.
"With my Uncle Kevin, [me] jet skiing on his lake—it's really motivating," Trent Jr says, referring to Garnett. "You see the position they're in, what they can do and how they can change lives and you want to be a part of that. Every time I go over to his house, it's just a reminder that if you work hard, this could be you. This is what you're working for."
—
Listen to Gary Jr. and Gary Sr. talk about their journey on the debut episode of the "Blue Chips" podcast:
—
The talent and skill set was obvious from an early age, with the 6-6 shooting guard playing HS varsity at Apple Valley (MN) since the 8th grade. For two of his four years there, he played on a team that included former Duke standout and current Wolves PG Tyus Jones. Then last fall, Gary Jr left Minnesota and transferred to Prolific Prep in Napa, CA—the same program that top 2017 draft prospect Josh Jackson attended—in order to play in a national schedule.
With a dad who experienced first-hand not only what it takes to make it to the League but also what it takes to stay there, Junior recalls his early hoop lessons not having much to do with an actual hoop.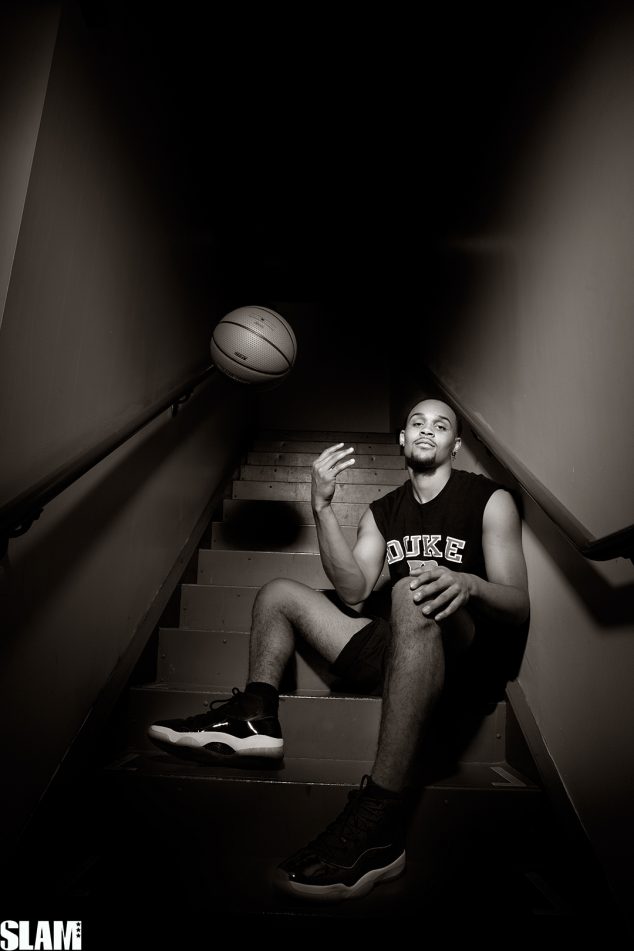 "My dad simply came up to me and asked, 'Do you want to play basketball and do you want to be good at basketball?'" recalls the younger Trent. "So one day he took me to the track and we started dribbling. We just dribbled a mile's worth, and at every 100 meters we did 10 push-ups and 10 sit-ups. So that ended up being 160 push-ups and sit-ups. This is at the age of 5 or 6. We did that for the first year. I was always wondering, Why are we [just] doing dribbling? And he simply had to explain to me that if you can't dribble the ball up the floor you won't be able to get your shot off."
In the end, with the opportunity to play ball at any collegiate program he desired, it was culture and heritage that landed him in Durham.
"As I sat down and buckled down with my dad on which schools could help in the long run, on and off the court, Duke came second to none," says Junior. "Just everything behind it is great. When you hear Duke, it opens eyes. It's a brotherhood."
—
Franklyn Calle is an Associate Editor at SLAM. Follow him on Twitter @FrankieC7.
Portraits by Justin Borucki