Chyna Thomas, the sister of Isaiah Thomas, was killed at the scene of a car accident early Saturday morning, according to the Washington State patrol.
NBA star Isaiah Thomas' sister killed in Federal Way I-5 accident https://t.co/wUVFRQhejy

— KIRO 7 (@KIRO7Seattle) April 15, 2017
According to ESPN, Isaiah was informed of his sister's death Saturday after practice.
Chyna Thomas, 22, reportedly veered off Interstate 5 around 5 a.m. PST this morning, vaulted over a jersey barrier and crashed head-on into a metal sign post.
She was not wearing a seatbelt.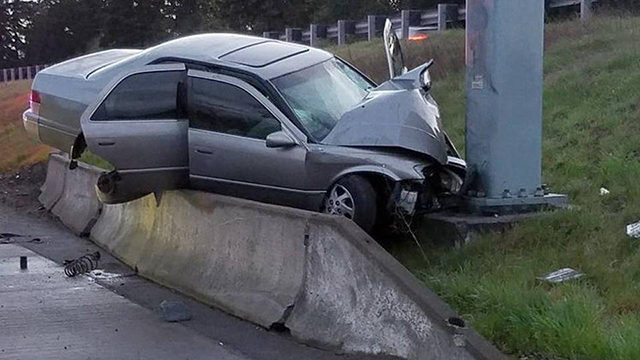 More from the Tacoma News Tribune:
"All of a sudden it started to drift very casually onto the left shoulder," State Patrol spokesman Trooper Nick King said.

The car traveled about 50 feet partially off the roadway until it hit a Jersey barrier.

"That vaulted the vehicle head-on into the sign post," King said.

The car came to rest on top of the barrier and against a large metal pole holding a carpool sign on the shoulder of the freeway.
On Saturday evening, the Celtics and NBA players alike tweeted their condolences to Isaiah and his family:
We are terribly saddened by the tragic loss of Chyna Thomas. The thoughts & prayers of the entire organization are with Isaiah & his family.

— Boston Celtics (@celtics) April 16, 2017
Prayers sent up for @Isaiah_Thomas and his family 🙏🏽🙏🏽🙏🏽

— Karl-Anthony Towns (@KarlTowns) April 16, 2017
Man my heart goes out to @Isaiah_Thomas an his fam. Damn bro head up!

— JR Smith (@TheRealJRSmith) April 16, 2017
Prayers up @Isaiah_Thomas 🙏🏽 my condolences to you and your family

— CJ McCollum (@CJMcCollum) April 15, 2017
Prayers sent up to @Isaiah_Thomas and his family

— Nicolas Batum (@nicolas88batum) April 16, 2017
Prayers out to @Isaiah_Thomas and his family !!!! 🙏🏼 RIP

— Goran Dragić (@Goran_Dragic) April 16, 2017
Prayers go out to @Isaiah_Thomas and his family 🙏🏽🙏🏽🙏🏽

— Michael Carter-Willi (@mcarterwilliams) April 16, 2017
Prayers up to @Isaiah_Thomas and his fam!! 🙏🏾

— Garrett Temple (@GTemp17) April 16, 2017
Prayers sent up ! @Isaiah_Thomas sorry for your loss bro !

— Thomas Robinson (@Trobinson0) April 16, 2017
Prayers up to @Isaiah_Thomas and Family! Heart goes out to them.

— Quincy Pondexter (@QuincyPondexter) April 16, 2017
Prayers 👆🏾 to you & yours bruh! @Isaiah_Thomas

— TP (@taureanprince) April 15, 2017
Rest in peace Chyna Thomas. Prayers for IT and the family.

— The Needle (@spencerhawes00) April 16, 2017