James Harden plays with a certain level of swagger.
So when adidas was tasked to showcase his new signature line, Harden Vol. 1, in Houston this past weekend, one thing was clear: It had to be an event that brought that same level of grandiosity.
In a word, it had to be unfukwitable.
And to that I say, the good folks over at Three Stripes accomplished that and then some.
WOW.
To start things off, there was the unveiling held at one of Houston's preeminent intimate live music venues, Warehouse Live.
But it wasn't so much of an unveiling as it was a multi-media experience.
Once patrons walked past security and the velvet ropes, they were privy to an incredible graphics display of Harden and artistic portraits of the bearded superstar in action, punctuating the tagline, "Wake the game up."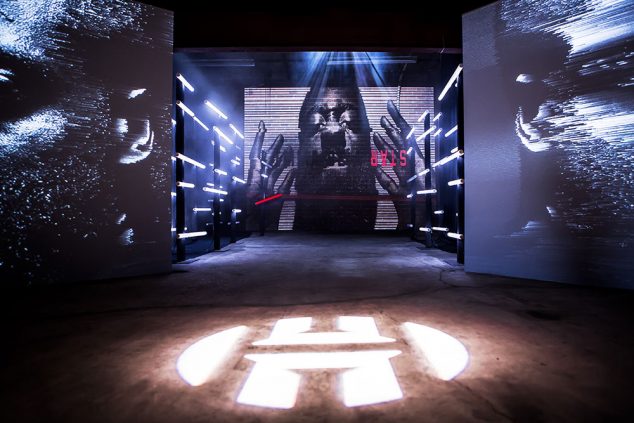 There was dim lighting and a misty fog, ominously foretelling the surprises the brand had in store for those lucky to be in attendance.
The team's designers were on hand to discuss the creative process, as well as the man himself, giddy like a kid with a brand new bike to showcase to his best friends, sharing his delight at checking off one of his childhood dreams: having his own signature shoe like the Kobes and the Jordans.
"This was my first time creating a shoe from the ground up. With adidas, we wanted to stand for something different, be true to who we are and that's how we separate ourselves," Harden said. "This was a once in a lifetime opportunity and all the work we put in together is what makes this genuine. We're open to each other's opinions and we weren't going to just put shoes on the shelves and say, 'This is James Harden.' It's built for how I play and you'll see my style, different moods, the little details and stories that represent who I am."
Harden added, "People always ask me, 'How are you different?' It's hard to explain how you're different but the shoe explains it for me."
But as the saying goes, seeing is believing.
So to that end, there was a fashion show, complete with Harden's own glitterati in the front row. There was the jeweler to the stars, Ben Baller, hip-hop's latest West Coast maestro, YG, there was the fashion outlaw, Young Thug and, of course, the Houston Rockets general manager, Daryl Morey, and a collection of his teammates like Nene, Patrick Beverley, Corey Brewer, Ryan Anderson and Eric Gordon.
While the crowd waited for the models to strut the runway, Houston's go-to deejay, DJ Mr. Rogers, hyped the crowd up with a litany of hits.
Harden emerged draped head to toe in his new line and kicked off the show, which featured male and female models showcasing different pieces.
After the show, guests were treated to surprise performances from Houston's own Slim Thug and Z-Ro, as well as the energetic and sonic Tasmanian devil Travis Scott, who also debuted a video featuring Harden for the song, "Way Back."
Scott and Harden sat on the stage watching the video as though they were grade school buddies watching Saturday morning cartoons.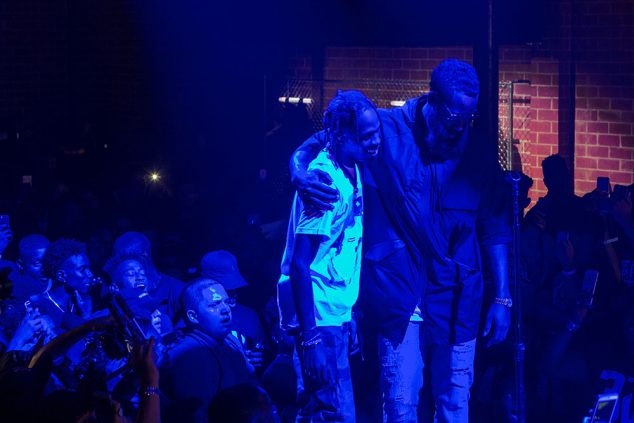 All throughout Scott's kinetic set, the fire marshall tried to shut everything down, but the event showrunner, Brittany Haswell of Girl Code, Inc., wouldn't let him stop the reign.
Later on that evening, there was a private wrap party hosted by Harden at the swanky downtown Houston nightclub, Prohibition.
There was a bevy of Houston beauties on hand, as well as close friends, family and teammates celebrating Harden, who was in his element, enjoying the fruits of his labor as one of the NBA's most gifted—and crafty—scorers.
Again, there were performances, but in the smallish club setting, it was more celebratory than performance. Artists engaged the crowd and invited Harden to perform with them, making for the kind of experience fans would gladly pay for but would never see from artists of their caliber.
First up was Nipsey Hussle, who ran through his classic street anthems as Harden eagerly sang along to with his friends.
Then there was YG, who got the crowd to shed its etiquette in favor of good, clean debauchery. Even "9-to-5-ers" were encouraged to let loose.
Nip Hussle was invited back onstage for YG's "F—k Donald Trump," a song that really engaged the crowd and prompted the Bompton MC to single out a security guard who wasn't rocking with the chorus as someone who must be voting for Trump.
"F—k Donald Trump," he shouted at the guard, laughing.
Next up was Young Thug, who awaked all of the ratchedness in the throng. The party was a real stone-cold groove now.
Lastly, there was Travis Scott.
If he was somewhat dialed back at the earlier show, there was no holds barred this night.
He jumped, he threw drinks, he jumped again and he bounded to and fro on stage as if he were on a pogo stick.
But the standout moment came when it was time to perform, "Antidote."
He ran off the stage, up the stairs and jump over the balcony banister to literally hang from the banister with one arm and rap into the mic in the other. Even his security team were flummoxed by the move, trying desperately to keep the rapper safe as he rapped the song's refrain.
Don't you open up that window

Don't you let out that antidote

Poppin' pills is all we know

In the hills is all we know (Hollywood!)

Don't go through the front door (Through the back!)

It's lowkey at the night show

So don't you open up that window

Don't you let out that antidote
After Scott's incredible set, the party began to level off. But as all of the guests streamed out of Prohibition and into the night, they knew that they had witnessed something that might never be topped and certainly something that they'd never forget.