There's a good chance that John Y. Brown didn't have the million. It's almost guaranteed. Even though Brown's Kentucky Colonels had finally won an ABA title after seven years of disappointing finishes that included two finals losses and other heartbreakers, the owner still had to sell off one of his most prized assets to stay out of debt.
But that was the ABA for you. Always go big. You finally won a title? Why not issue a million-dollar challenge to the best of the best? A seven-game series for a seven-figure payout. There's a sweet symmetry to it.
"We would have killed them," says Dan Issel, a Colonel for five years.
If that was the case, then Brown was safe. Even though his Colonels were sagging financially, along with the rest of the ABA, the product on court was still stronger than Kentucky center Artis Gilmore, a sequoia of a man. Issel, Gilmore and Louie Dampier comprised the nucleus, and all three are in the Hall of Fame. It's not at all crazy to think they would have dispatched the '75 Warriors, who weren't exactly the '95-96 Bulls.
"We won [the finals] in five games, and [playing Golden State] would have been another five-game series," Issel says.
We never found out how the teams would have fared against each other, because it made no sense for the NBA to agree to such a meeting. When you are big brother, you don't give the kid a shot at your title.
As it turns out, that 1975 championship season was just about the last moment of glory for the franchise, one of the original ABA teams and certainly one of the two or three most stable. One season later, the league merged with the NBA, sending four teams (San Antonio, Indiana, Denver and the Nets) to the big time, while Kentucky joined St. Louis and Virginia—not to mention Utah and San Diego, which died early in the '75-76 season—to the graveyard. ABA players were distributed to NBA teams like assets, and all that was left were red, white and blue memories.
"We were all in it together," Issel says. "You might take a swing at a guy during the course of a game, but you might go and have dinner with him later on."
The Colonels were a steady force in the ABA, and Issel, Gilmore and Dampier was as potent as any trio, no matter the league. Playing in Louisville's Freedom Hall and capitalizing on the state's affection for the University of Kentucky, the Colonels built a fan base and were rocks on a landscape that was always shifting. Sure, they had classic ABA moments, like when they used a female jockey (briefly) during a game and hired a pediatrician to be the team doctor, but everybody in the league did crazy stuff. The ABA began its existence in '67 with 11 teams, and only four made it to '76 in their same cities. Kentucky was one of them.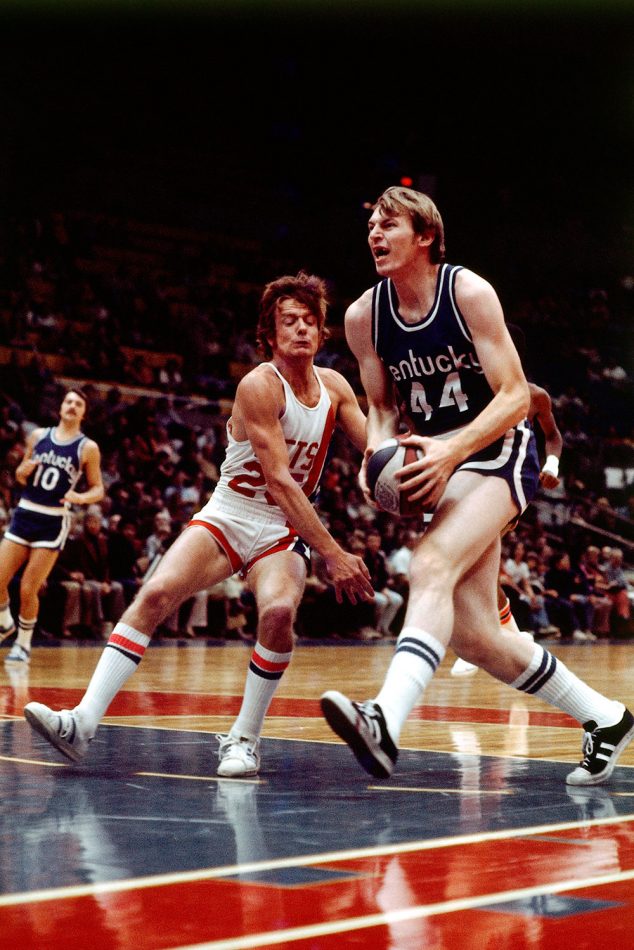 "I thought the team was first class in every way," says Darel Carrier, who teamed with Dampier for five seasons. "We stayed in the best motels and ate well. You'd hear stories of roofs leaking and other things, but I didn't see that.
"We had some really good basketball players."
***
The idea was to get more women to Colonels games; that's why Brown installed an all-female "board of directors." It was ceremonial, of course; he ran the team. But by appearing friendly, he hoped to increase attendance. His wife Ellie was the chairman, and one day during the '74-75 season, she and her fellow board members opened practice, but only to women. Issel estimates 300 people were in the stands when Hubie Brown, then a first-year coach, convened the workout.
Today, people know Brown as a TV analyst who breaks games into bite-sized portions that are easily digestible by viewers. When he stormed up and down the sidelines running teams, he was as caustic as could be, with a direct approach that included liberal doses of profanity. When he noticed the audience wasn't taking interest in the proceedings, he stopped everything and issued a stern warning.
"I wasn't excited about you being here," Issel remembers him saying. "If you can't be quiet and pay attention, you can get the fuck out of here."
That did it. "Not another word was spoken," Issel says.
Brown's arrival was the final ingredient in the Colonels' championship quest. They had the players but lacked the kind of leadership provided by Brown, one of the first coaches to pay attention to advanced statistics and apply them during games. He later called the Colonels the best he ever coached.
"When it came to coaching games, Hubie was the best I ever played for," Issel says.
It wasn't always that way. Not that the Colonels were mismanaged. No team, no matter how talented, could have enjoyed the success Kentucky did with people on the bench who didn't know what they were doing. After stumbling in the Eastern semifinals their first two years, the Colonels reached the conference championship round in 1970. The next year, new GM Mike Storen hired UK legend Frank Ramsey, who helped the Wildcats win the 1951 national title and had generally been accorded deity status in his home state. Though somewhat reluctant to assume the reins, he did so to help the struggling Colonels, although some wondered if it was a good idea.
Kentucky only went 32-35 under Ramsey, who took over 17 games into the season. But once the playoffs started, things changed. The Colonels dumped Florida and Virginia to reach the finals with Utah, which had won 58 games during the regular season, 14 more than Kentucky had. The series went the distance, but Utah prevailed. That was it for Ramsey, who resigned after the season. It didn't matter. Gilmore was on his way.
The Jacksonville University standout was technically a territorial property of the Floridians, based in Miami. The ABA, in an attempt to help attendance, encouraged teams to sign players who attended college close by. That's how UK stars Dampier and Issel, not to mention Carrier, a Western Kentucky standout, ended up with the Colonels. Since the Floridians were one year away from extinction and were giving off the aroma of road kill, the idea of sending Gilmore to the franchise was ludicrous. The league held a meeting at which teams presented sealed bids for Gilmore. Storen pledged $3 million, a ridiculous figure for either league, but one that scared off other GMs. Kentucky got Gilmore and signed him to a 10-year deal worth $1.5 million, even though it was announced at $2.7 million. The numbers didn't matter. What was important was that Gilmore was a Colonel.
"He was unbelievable," Issel says. "His thighs (27 inches around) were almost as big as his waist."
The arrival of Gilmore cannot be understated for both the Colonels and the ABA. He would have easily been the top pick in the NBA Draft, ahead of Austin Carr and Sidney Wicks. Though he played just two years at Jacksonville, he averaged 24.3 ppg and 22.7 rpg and led the nation in rebounding twice. He helped the Dolphins to the 1970 NCAA Championship game, where they fell, 80-69, to UCLA.
Standing 7-2 but looking far more imposing with a five-inch Afro, Gilmore was something of a mythical figure by the time he reached the NBA in '76. He led the ABA in rebounding four of his five seasons and averaged 5.0 bpg as a rookie. With Gilmore protecting the rim, Kentucky could push way out on the men they were covering, secure in the fact that if they were beaten, A-Train was there.
"Defense was an area I placed emphasis on," Gilmore says. "I prided myself on making a contribution."
The '71-72 Colonels won an ABA-record 68 games but somehow lost in the Eastern semis to the Nets in six. They reached the finals in '73 but lost to Indiana in seven. It seemed ridiculous that a team with so much talent couldn't win a championship. The Colonels certainly had offense. Issel scored 25 or more each of his first four seasons. "Dan was a special, unique player," Gilmore says. "He was able to stretch the floor and knock down shots from the perimeter. He could also put the ball on the floor." Gilmore was a regular 20-plus ppg sccorer, while also providing defense and rebounding.
Then there was Dampier. The Kentucky product was instrumental in Issel's desire to join the Colonels, thanks to their friendship at UK when Dampier was a senior and Issel a freshman. Barely 6-0 and a lean 170 pounds, Dampier wasn't going to overwhelm anyone. Give him six inches, however, and he could squeeze off a shot anywhere. The all-time ABA leader in points scored, three-pointers made, assists and games, Dampier is one of the most underrated players in history, simply because the bulk of his career came in a league that received little national attention.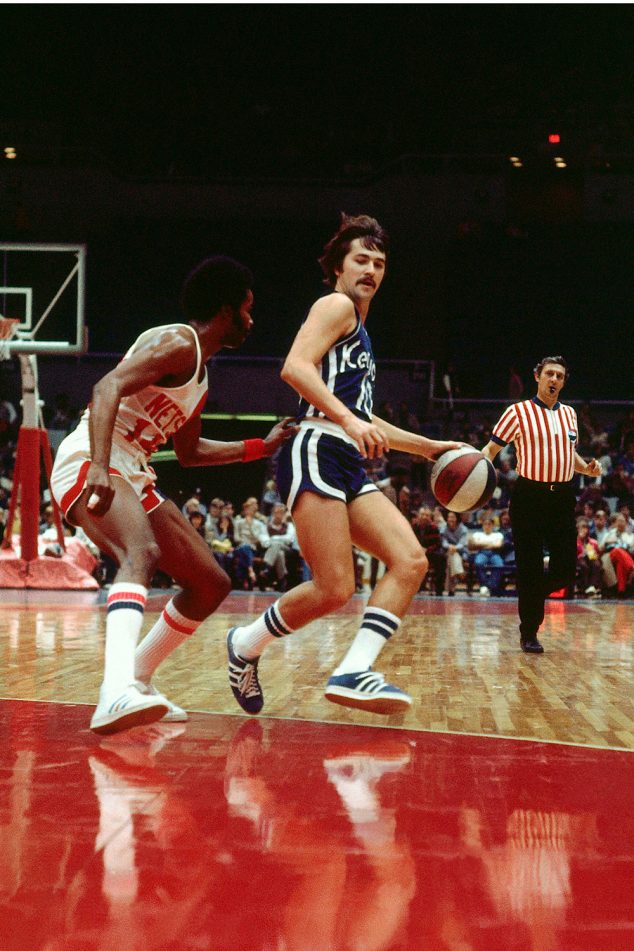 "The second time I coached the Nuggets, I talked him into being one of my assistant coaches," says Issel, who presented Dampier at his 2015 Hall induction. "Even at 60, he was the best shooter in the gym. Not only was he accurate, he could get his shot away so quickly. He couldn't jump, but when he came off a pick, if he had a sliver of daylight, it was going in. And Darel Carrier was a close second in terms of shooting."
Carrier came to the Colonels from the AAU ranks, where he played for the Phillips 66 team, which gave its players 20 gallons of gas for every three-pointer. "I told Louie I never had to pay for gas," the marksman says. "But I split it with my teammates." Carrier spent five years with the Colonels, leaving after the '71-72 season for Memphis, before a torn Achilles ended his career.
The ABA's end came in 1976, but Kentucky's demise started a year earlier when owner John Brown decided to jettison a prime asset to save money. "It was either me or Artis," Issel says. "Someone told him Artis was going to have a longer career than I would, so I was sold to the Baltimore Claws." The Claws never paid up, so Brown shipped Issel to Denver, where he played 10 more seasons.
In 1976, the Colonels lost a semifinal series to Issel and the Nuggets, who went on to drop a memorable finals to Dr. J's New York Nets. That was it for the ABA. Denver, San Antonio, Indiana and the Nets paid the $3 million fee to join the NBA. Brown declined. Gilmore was drafted by the Bulls; Dampier went to the Spurs.
Issel has a picture from the day Gilmore was inducted into the Hall, with Issel, Moses Malone, Erving, George Gervin and David Thompson, all ABA alums.
"There was a camaraderie that didn't exist across teams in the NBA," Issel says.
Kentucky was a big part of it.
—
Images via Getty