Following up on the success of the inaugural Kick & Roll Classic last summer, our friends at the Kiel Colon Cancer Foundation are running it back this summer.
This year, the event is on July 25, and participants will get a chance to take home some great prizes (scroll through above to check out some of what's up for grabs this year), including a free issue of JORDANS Vol. 2 and a three-sock Stance package for the first 40 spectators in attendance.
Got skills and dope kicks? The Kick & Roll Classic is for you. Get your 3-on-3 squad together and get to Austin, TX! Register right now by clicking here.
Here's the official press release, from our friends at the Kiel Colon Cancer Foundation:
The Kiel Colon Cancer Foundation, founded by NiceKicks.com's Editor-In-Chief, George Kiel – the face of Kicks On Court, Sneak Peek and Sole Access – will hold its second annual Kick & Roll Classic 3-on-3 Basketball Event on July 25, 2015 from 12p-6p CST. The event, which will be held at the Round Rock Sports Center in Austin, TX, will help raise awareness of the disease, honor colon cancer survivors, educate the youth about the affliction, generate revenue for colon cancer, and encourage people to live a healthy lifestyle.

During the event, participants will compete in a sneaker-themed 3-on-3-basketball tournament. Teams are grouped into two age divisions, 15-17 and 18+. Winners then go on to an elimination bracket within their division after pool play. Participants and spectators are highly encouraged to bring out their hottest sneakers on and off court, as prizes from the likes of Foot Locker, Stance Socks, Nike and adidas will be handed out to the participants who wear the best sneakers on court. In addition to holding a basketball tournament, participants will be educated about the disease through many creative ways on event date.

Kick & Roll Classic recently launched "Prize Week" on all social media platforms. Everyday starting May 18th at 7pm CST, prize details for every award given at the event will be announced. Prizes include a seven-item package for our "Shoe MVP" award, which features a Nike Kyrie 1 "2015 Kick & Roll Classic" iD, a "2015 Kick & Roll Classic" miadidas D Lillard 1 and a "Free-Stance Socks-for-a-Year" voucher.

Kiel Colon Cancer and the Kick & Roll 3-on-3 Basketball Event has sparked several NBA players' interests. "I think what George is doing hasn't been done before in that capacity," said Rudy Gay, forward for the Sacramento Kings. "He has taken something we all love – shoes – and turned it into something positive and amazing. I look forward to seeing what else he does – even without the shoe aspect – with the foundation because it has so much potential and people rarely talk about colon cancer."

Since the first affair, Kiel Colon Cancer and Kick & Roll Classic have increased outreach to over 125K supporters and is working to become a global movement. The foundation anticipates raising $5,000 through its "Project V-A" objective to support Texas State University and Dr. Michelle Lane's colon cancer research program.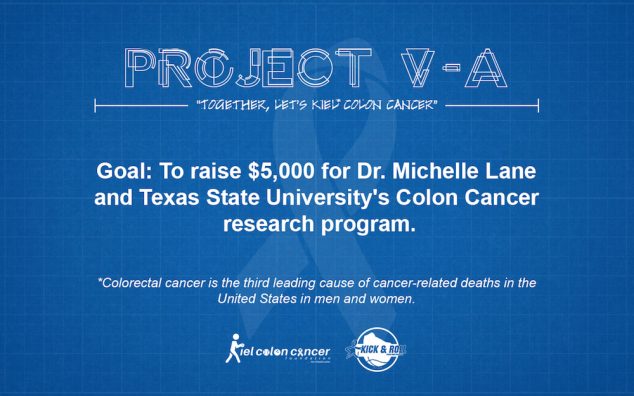 91

[ngg_images gallery_ids='742' display_type='photocrati-nextgen_basic_imagebrowser']