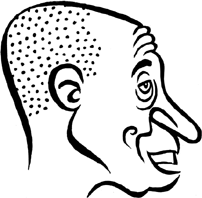 Real Madrid 2 Athletic Bilbao 1
Ronaldo and Roberto Carlos (caricature to your left) turn back the clock.
Sid Lowe on Bilbao's problems:
If Athletic's fans, crammed into the top corner of the north stand and used to a spot of Bernabéu Basque-baiting, could cope with the flag-waving chorus of Y Viva España and the boing-boinging "he who doesn't bounce is a fucking Basque!", another chant rang out which was altogether harder to swallow – almost as hard, in fact, as the allegedly "raspberry flavoured" worm medicine that haunted this column's childhood. Never mind the politics or the nationalism, what really stuck in Athletic throats was the Bernabéu's rendition of "¡A Segunda, oé! ¡A Segunda, oé!".
Which was hardly surprising, really. After all, "¡A Segunda oé!" is the Spanish equivalent of "Going down!" and nothing hurts like the truth, and Athletic are in serious danger of being relegated for the first time in their 108-year history – a tragedy for a unique club, and one of only three in Spain (alongside Real Madrid and Barcelona) to have never played outside the top division.
Leo Franco is fantastic! And come on, Atleit highlights set to Limp Bizket that advertise a website that doesn't even exist: PRICELESS. I was doing backflips.
You only get the Deco goal because Youtube doesn't care about Levante.
La Liga Loca on this match:
The first in this selection was blooming lucky to be on the pitch at the end of Barça's 1-1 draw with Levante, after his accidental block / WWF body slam on the marauding Kapo. The second filled the shoes of the absent Ronaldinho very well and put in one of his best games for the Catalans – topped off with a cracking free kick, his first goal of the the season.
While there was much debate in the Spanish press as to whether Frank Rijkaard wasn't taking the game seriously by resting his star player ahead of Werder Bremen, the truth is that his chosen eleven was more than capable beating Levante – not the scariest of prospects, in their current form.The one thing Levante are though, is fast and powerful, from Riga in the middle, to Courtois on the left. It's a shame they still have one small, but rather crucial problem to overcome as identified by their manager, Juan Roman Lopez Caro with his all too familiar lament – "it's the same problem. We can't put away the chances that we create".
 
Other Results:
Espanyol 2 Sevilla 1 
Recreativo 2 Valencia 0 
Villarreal 2 – 0 Nastic
Real Sociedad 0 Getafe 0
Deportivo 0 Racing 0 
Osasuna 2 Real Zaragoza 1 
Mallorca 2 – 2 Celta
Important Champions League matches involving teams from Spain:
Barca advances. Thank goodness. So Rijkard rested Ronaldinho for a good reason, eh?
Real Madrid and Valencia also advance to the knockout phase.