It's a Tuesday afternoon in early September and Michael Porter Jr is enjoying the tranquility of a deserted Mizzou Arena while sitting by himself, courtside. The stands are completely empty and the bright lights that usually illuminate the 15,000-seat facility from the rafters are off. Dark and quiet, the only hint of light inside comes from the sunset glare brimming through the large glass panels on the sides of the arched-roof façade.
Although the natural light fails to reach the hardwood floor and lower seating bowl, it does shine over a portion of the upper deck. Porter, looking up while sitting to the left of the scorer's table, notices the coincidental angle in which the sunlight comes in.
He begins smiling while pointing to an upper corner of the arena, where the sun's reflection shines brightly on a wall, illuminating a couple of signs that bring back clear memories of 2010.
That's the year Porter first set foot in the arena.
"I remember sitting all the way up there in section 208 with two strangers sitting next to me," Porter says. "Since my dad worked here, we'd get free tickets and I would come by myself sometimes. I remember coming to these games and Mizzou Arena was packed."
Porter's dad, Michael Sr, accepted a Director of Basketball Operations position with the Mizzou women's basketball program in 2010. And so the family relocated from Indianapolis, IN, to Columbia, MO, just as Porter Jr wrapped up fifth grade.
He wasn't feeling the move at first. Like the majority of his seven other siblings, Porter Jr was homeschooled up until high school. And so the challenge with relocating at that age wasn't necessarily about adjusting to a new school system, new teachers or new classmates. Instead, unlike in the Indy area—a hotbed for basketball—finding friends through hoops in Columbia turned out to be very challenging.
"It took a couple of years for it to feel like home—to meet new friends, because I was homeschooled," he recalls. "Back home my friends were my basketball friends and then coming here, there wasn't too many basketball players in the area. So I found myself alone a lot. But then that also worked to my advantage because I found myself in the gym a lot because I didn't have many friends. That was a tough adjustment, but eventually Columbia became home."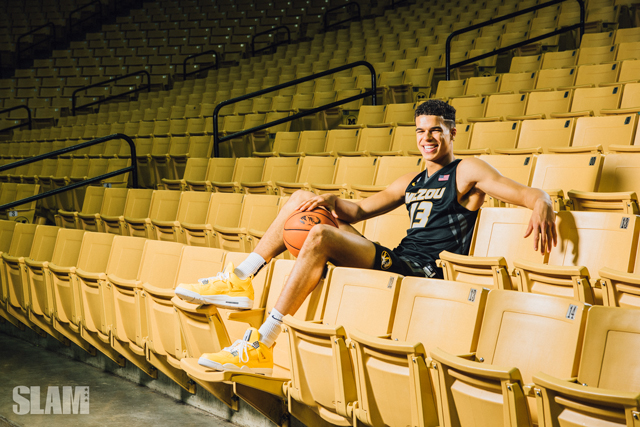 While Columbia didn't have the same kind of hoops culture that Indiana offered, with his dad on staff, Porter Jr did have access to Mizzou's facilities, basically at will. He'd shadow the team around the facilities, experience the home game atmosphere from section 208, and would work on his jumper on the arena's hardwood.
"I was able to come here whenever I wanted to, really. The strength coach for the women's team would put me through some strength training at a very young age," he says. "I was able to get in here and shoot on the gun. I remember shooting a thousand shots a night. I just loved it. I loved basketball. I couldn't think of anything better. I felt like I had everything here to reach my goals."
One night—while still in the sixth grade—after Porter Jr finished his usual shooting workout at the arena, then- Mizzou men's head coach Frank Haith offered him a scholarship on the spot. Only fitting that the Tigers would become the first D1 program to offer him a scholarship, right?
But his journey to wearing a Tigers uniform was anything but a simple one. The hometown hero will suit up for the state school this season only after initially committing to playing for Washington in the Pac-12. That was until a series of March events led him back to where it all began.
After three years as Director of Basketball Operations, Michael Sr was promoted to assistant coach of the women's team at Mizzou in 2013. The following year, the oldest of the eight Porter siblings, Bri (a 6-3 forward), joined the Tigers' program. In 2015, Cierra, a 6-4 forward and the second oldest Porter sibling, also joined the Tigers. With dad on the bench and Bri and Cierra on the floor, the Porter family appeared to be on their way to a full-blown Missouri hoops takeover.
"We've been naturally gifted and realize that you can make change if you have a platform, and basketball is a great platform," Cierra says. "That's what drives us."
Meanwhile, after being homeschooled up to that point, Porter Jr enrolled in Columbia's Father Tolton Regional Catholic HS for ninth grade in 2013. There he led Tolton to its first basketball state title as a junior, averaging 28.5 points, 11.8 rebounds and 3.4 assists that season.
But in 2016 a new opportunity was presented to Michael Sr. Washington head coach Lorenzo Romar offered him an assistant coaching position with the Huskies' men's basketball program in Seattle. Senior ultimately decided to accept the offer and the Porters found themselves relocating once again.
Romar and Michael Sr had actually known each other since the 1980s, when the two were teammates for Athletes In Action, the sports arm of Cru (then called Campus Crusade for Christ) a non-profit, non-denominational ministry organization. Romar eventually became Porter Jr's godfather years later.
While Bri and Cierra stayed put in Columbia, Porter Jr transferred to Nathan Hale HS in the Emerald City for his senior year and committed to the Washington Huskies soon after.
In Seattle, Nathan Hale had just hired former NBA All-Star Brandon Roy as its new head coach. Joining MPJ at the school was his younger brother, Jontay, who was coming in as an 11th grader, and their younger brother, Coban, who was entering his freshman year.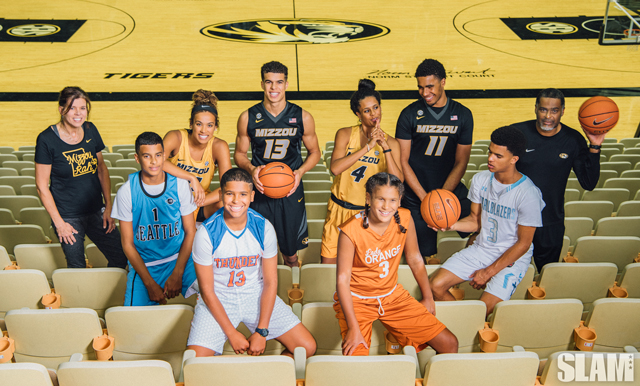 The prior season, Nathan Hale had a dismal 3-18 record, but with MPJ and Jontay (who was a top-30 national recruit in his class and had committed to the Huskies for 2018) coming in, and with Roy bringing in other pieces like top-50 Class of 2019 recruit PJ Fuller, expectations were high.
The results? Nathan Hale went undefeated for the season, finishing 29-0 while capturing the state title and the No. 1 spot on MaxPreps' national team rankings. The sharp-shooting MPJ averaged a ridiculous 36.2 points, 13.6 rebounds, 5.0 assists, 3.2 steals and 2.7 blocks, ultimately earning National Player of the Year accolades.
While the Porter brothers enjoyed a perfect season, their father had a completely different experience at Washington in his first year. The Huskies went 9-22, losing a school record 13 straight games and finishing 11th in the Pac-12 with a 2-16 record in conference play—missing out on the NCAA Tournament for a sixth consecutive year. The tough season ultimately cost Romar his job at Washington, where he coached for 15 years.
Call it fate or pure coincidence but on the very same day that Romar was fired at Washington—March 15—Mizzou announced the hiring of Cuonzo Martin, who had just resigned as Cal's head coach a few hours earlier. Mizzou had fired head coach Ken Anderson just 10 days prior.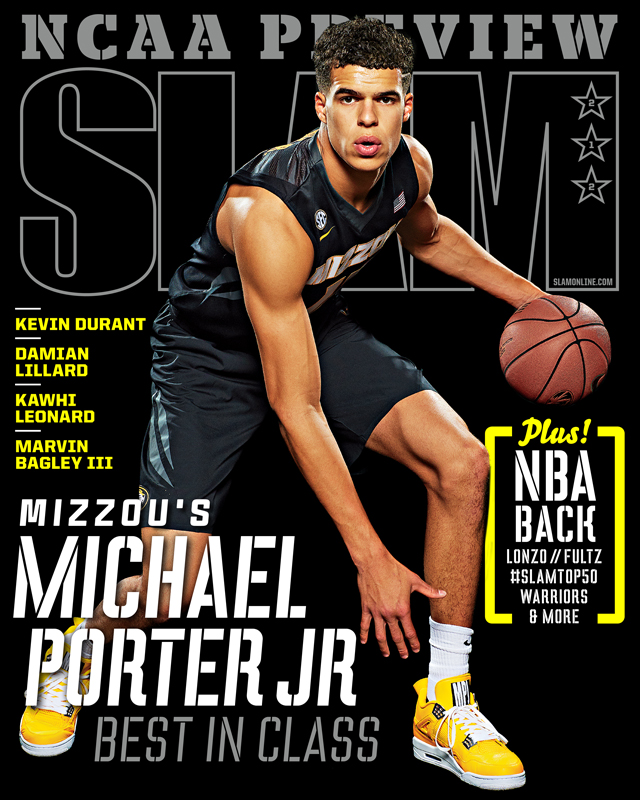 And so with MPJ's godfather no longer at the helm, the Porters saw no reason to remain committed to the Huskies and thus found themselves looking for a new home immediately.
After some talks with Martin, both Michael Jr and Michael Sr had announced that they were coming home—returning to Columbia to join the Mizzou men's basketball program. Two months later, Jontay announced that he'd do the same by reclassifying to the Class of 2017.
The grand return to Columbia is a family reunion of all sorts. Bri and Cierra are now in their junior and senior years, respectively, and still members of the women's basketball team, while MPJ, Jontay and Michael Sr (men's assistant coach) will look to take care of business on the men's side for the Tigers.
Oh, and for those keeping score of the Porter family tree within the Missouri program, you can add Robin Pingeton, the women's basketball head coach, to the list. She's the Porter siblings' aunt—sister of their mother, Lisa.
"It's been surreal so far," Jontay says of his first month on campus with his brother and sisters. "Not everyone has the opportunity to be in college with three other siblings. So it's a once in a lifetime opportunity."
Adds Bri, "This is probably our last year all in one place, kind of living life together, and so that's what we talk about. The basketball [side], everyone obviously has an expectation to succeed and excel in that area, but I think what we've focused on more is having fun together."
MPJ and company will look to turn around a program that hasn't been able to surpass 10 wins in each of the last three seasons. The team has also failed to get more than three wins in conference play in each of those three years. The Tigers haven't been to the NCAA Tournament in four years and haven't been able to get out of the first round of the Big Dance since the 2009-10 campaign.
"As time went on, the men's team just wasn't what they used to be," MPJ says, comparing the last few years of the program to when he first sat in section 208 in 2010. "The crowds just got smaller and smaller until this past year they didn't really have too much of a crowd at games. And so when I left Seattle and committed here, I was really just looking to renew the Mizzou atmosphere that I knew was possible. Coming back here, it was basically a dream come true. I kind of viewed it as God putting the pieces in for me to come back here. It was the perfect situation."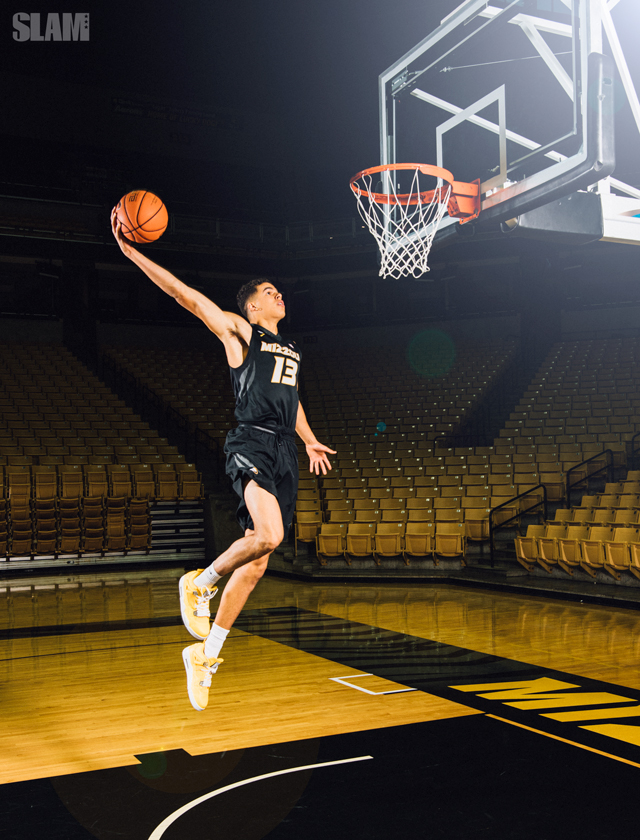 If anyone has recent experience in turning around a program it's MPJ, who, along with Jontay, helped flip Nathan Hale into the No. 1 team in the country just a year after the Raiders won three games in the whole season. And Porter Jr already sees some similarities between his new team and his old one.
"The thing about Nathan Hale is Brandon [Roy] was the coach and he brought people in with him to play with us, and I kind of view this as the same situation," Porter Jr says. "It wasn't just me turning that program around. Brandon had other players coming with him—and so here, after I committed, I was able to pull in more pieces with me."
He's referring to top-50 recruit Jeremiah Tilmon, a former Illinois commit, and top-100 recruit Blake Harris, a former Washington commit, who both agreed to join the Tigers this spring after MPJ came on board. When you add Jontay to the mix, that's four top-100 recruits that Mizzou welcomed just this fall.
With many considering MPJ a candidate for the No. 1 pick in the 2018 NBA Draft, mostly due to his super versatile scoring arsenal and deadly shooting touch from just about every corner on the floor—leading to plenty of Kevin Durant comparisons—there are some very high hopes this season in Columbia and beyond for the freshman stud.
If you ask Porter Jr, though, none of those expectations mean too much.
"For me, I don't really try to impress anyone. I honestly play for God and then I play for myself," MPJ says. "I have my own standards of how I should play. It's never for anybody else. It's because I've been given a gift and I want to show it—but I don't do it for other people, I do it for myself. There is some pressure sometimes—living up to the hype—but honestly I know if I keep working then there's no one that can stand in front of my path."
—
Franklyn Calle is an Associate Editor at SLAM. Follow him on Twitter @FrankieC7.
Portraits by Jonathan Zizzo
Video by Fathom Studios

—
Related
Bag Talk: Marvin Bagley III Is On His Way To Superstardom