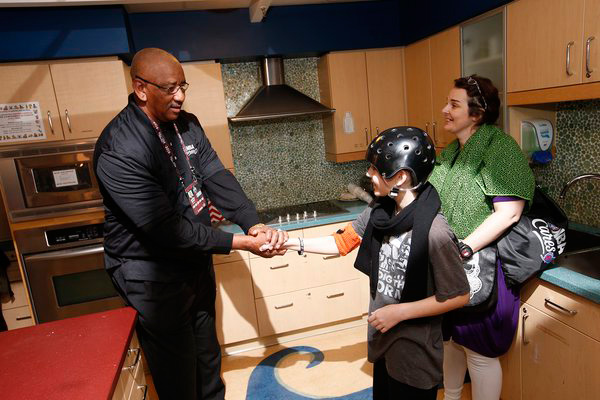 With the NBA All-Star Game about to take place in Toronto, festivities are in full swing. Brands are presenting their latest and greatest, celebrations are highlighting schedule books and the glitz and glamor of one of the best weekends in basketball are just about to be unleashed.
But quietly, away from the red carpets and mobs of fans and paparazzi, a few former players are playing other games.
Jason Collins, a former NBA center, is in Marnie's Lounge playing air hockey with person far less imposing than he's seen in the post during his career. He's a short, young boy in a pair of pajama pants and a t-shirt.
The boy is up for the challenge and Collins escapes a loss with a last-second goal before the air shuts off. He gives a gracious high five. The boy's smile shows he doesn't seem to care that he caught the loss.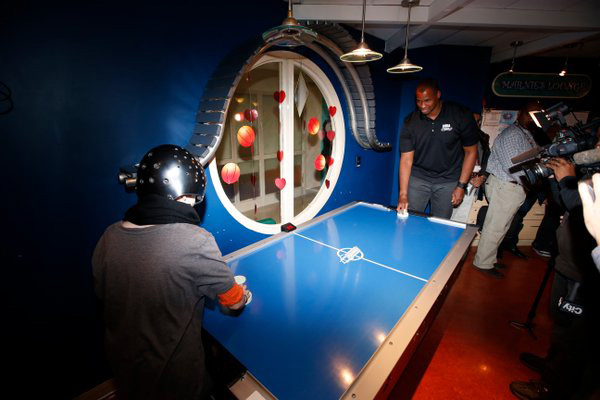 Collins, along with Hall of Famers Bob Lanier and George Gervin and a few other former NBA and WNBA players, are at the Hospital for Sick Children in Toronto. They are ambassadors for NBA Cares. They are bringing the All Star Game atmosphere to the kids who will be spending this weekend, like a lot of others, in the hospital.
To these kids, who weren't born when most of these former players were lacing up their shoes to play, their careers are footnotes to Google some time later. They didn't seem overly concerned that one had three Championship rings or had been an 11-time All-Star over two leagues.
They were people in a room playing games with them, talking with them and helping them forget where they are and maybe what they've been through.
Because this is what true all-stars do.
Tammy Sutton-Brown, all 6-4 of her, bends down to get low to a pool table to take a shot. In a room full of people who are elbow-to-elbow that is probably not easy. She's got her opponent, a boy literally less than half her height on the ropes.
She releases her shot and bang—corner pocket. Game done. After the handshake she asks him if he wants to even up the score and he happily begins to rack up the balls, oblivious to the fact that Sutton-Brown is the only Canadian player in WNBA history with a championship ring. He doesn't care. He just wants to get a chance to beat her.
Sutton-Brown is happy to have the All-Star Weekend happening in her hometown, but she's not lost on what being at the hospital is all about.
"[We] come out for a few hours, we play with the kids and really it puts stuff into perspective," Sutton-Brown says. "It's all about putting a smile on a child's face and with everything going on it's the least that we can do."
The little boy, who has already interrupted one of Tammy's interviews and is waiting with his pool cue in hand, is sitting with his mother beside the pool table. Tammy turns to him and asks if he's ready for round two. He leaps off his mom's lap beaming with excitement. He might have a cancer or he might be waiting for an organ transplant but that smile on his face as he waits for Sutton-Brown to take her shot has erased all of that.
The NBA does care and though there is nothing Tammy, or any of the former players can do to help him or any of the kids in the room get better now, that moment, that game, that smile is just want the doctor ordered.