Rob Gray Jr was moments away from the biggest basketball moment of his childhood. At the ripe age of 10, he suited up for a scrimmage as a part of an AAU team tryout. At that point, he had been enjoying the game his father introduced to him six years prior, spending much of his time in the gym and on the court. All the fun and games led up to this.
"I had about 48 points," Gray Jr reminisces. "That's one memory that sticks out to me. It showed me I have what it takes to push myself and be really good."
After his show-stopping performance in the scrimmage, young Gray Jr knew he had to start taking basketball more seriously. During his high school career, where he bounced around between East Rutherford (NC) and Christ School (NC) before graduating from West Oaks Academy (FL), he kept his scoring average in double digits before heading off to Howard College in Big Spring, TX, and then the University of Houston, where he is currently a senior.
"I don't really have anything else that I would say I'm interested in as much as basketball," Gray Jr says. "[I] dedicate myself to my craft."
Last season, Gray Jr made First Team All-American Athletic Conference after leading his conference in scoring with 20.5 points per game. The talented scorer also brought it on the defensive end and led the team with 1.2 steals per. He plans to improve on those numbers this season. But his main focus to end his senior year with a bang and lead the Cougars to the NCAA Tournament for the first time in seven years.
"[I want] to give all these people and all these fans a really good program to keep up with and give the university a good representation," Gray Jr says.
He's off to quite a good start. In October, Gray Jr was selected to the Preseason All-AAC First Team. Soon after, the 6-2 guard dropped 25 points and dished out 11 assists in an exhibition match against Baylor—a game set up to send proceeds from ticket sales to the Hurricane Harvey Relief Fund. While it was just an exhibition, it highlighted how competitive Gray Jr can get no matter what game he's participating in.
"I try to keep composed as much as possible. I always want to dominate whoever is guarding me," Gray Jr says of his mindset during a game. "I always want to beat the other team and…try to make it look easy. I'm always on attack mode and always trying to be aware of what's going on around me so I can make the right play and do what's best for my team."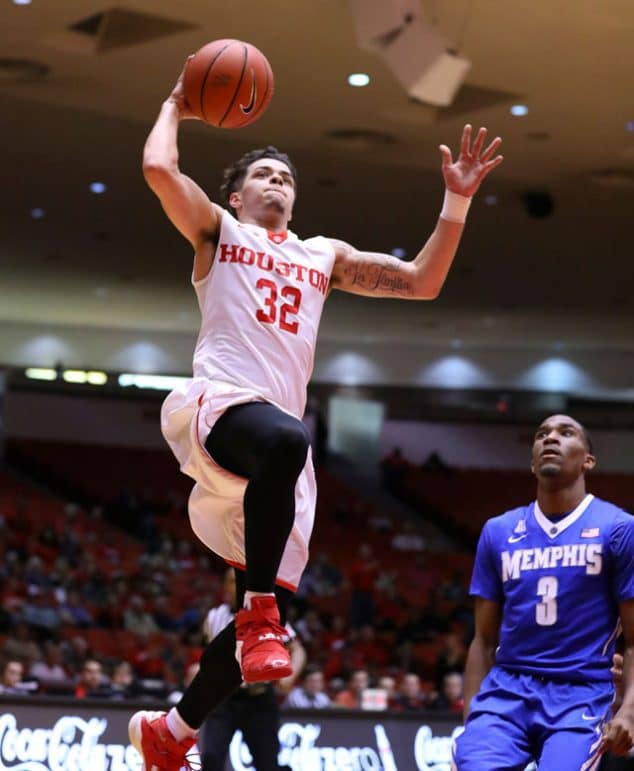 When on the hardwood, Gray Jr puts his strengths on full display. He's a prolific scorer and shooter who hit 47.3 percent of his shots as a junior. He knows where his teammates are on the court in relation to him, so he can set them up for some stellar plays if he's not the scorer himself. Although he says he hears Deron Williams comparisons often, Gray Jr tries to do his thing and keep his game his own.
"I think I have some certain aspects of my game I try to copy or take from other people," says the guard. "But overall, I feel like I'm a pretty unique player. There's no one specific I try to model my game after."
Maybe no single player—but person in general, yes. In that sphere, Gray Jr could call someone his role model: his great-grandmother Josephine, whose name he has tattooed.
"She's an example of how humans should live," Gray Jr says. "Very kind to everyone, very loving, spreads love. She's a very good example to follow and how to live life."
Following her example is exactly what we see Gray Jr doing. Coaches look to him to be the guy that gets paired up with new recruits on campus as a mentor and overall fun person to be around.
"I wouldn't be this far if there weren't kind hearts that helped me," says the senior. "So I want to be one of those people who's able to give back and impact other lives positively."
Rob Gray Jr's journey is far from over. Although he is entering his final year of college basketball, the plans for his future are just beginning.
"[I want] to continue to get better, continue to learn from others, continue to play the game I love at a high level," he says. "God-willing, the NBA."
That's a phrase Gray Jr says is oft-repeated in his vocabulary.
"I like to believe everything happens for a reason—God's plan," Gray Jr says. "Do your best with everything that's thrown at you. You can't control what happens to you, you can only control your attitude and effort."
It's with that steadfast effort that Gray Jr heads into his final collegiate season to get the Cougars a championship. It's the same effort he played with in the scrimmage when he scored 48 points as a 10-year-old. And it's the same effort he hopes to lay out on basketball's biggest stage in the very near future.
Rob Gray Jr is dedicated to his craft, and that can take him all the way to the top.
—
Habeeba Husain is an Editorial Assistant at SLAM. Follow her on Twitter @HabeebaHusain
Photos via Getty Images
4,019