By Jake Appleman (Italics) and Russ Bengtson (regular font)
Live from New York New Jersey, it's Saturday Night.

Starring: The Port Authority Bus Terminal; Gary Sussman; Big leads that disappear into thin air; Pictures; A Scalabrine homecoming; A dagger.

Featuring: Al Jefferson; Richard Jefferson
Musical guests: The Vengaboys followed by the cha-cha slide during a one minute span in the first half–THE VENGABUS IS COMING!
A cartoon by Ryan Gomes

And your hosts: APPLESON
A few things worth mentioning before getting into the battle for Atlantic Division supremacy. Er, better make that mediocrity. (And that's still being polite. Sure, the Nets are atop the division, but they're still a far cry from .500. Which is seriously pathetic.) But anyway:
1) We could have gone to Knicks/Bucks. After all, we've already tag-teamed the Celtics once this year, and we haven't seen the Bucks. However, we also hadn't done a Nets game yet, and we're almost a month into the season. Stop, Meadowlands time.
2) I'm sick. Been sick for the entire week—cold, sinuses, throat, you name it. Haven't left the house really, except to eat. Which means my temper is a little on the touchy side. So if these notes seem even more mean-spirited than usual—good.
We take the bus out from the Port Authority on 40th and 8th. Built in 1950, the Port Authority is about as attractive as a cinderblock, and as easy to navigate as an anthill. What a crappy building. It's only $9 roundtrip to the arena, at least. And there were two pigeons walking around when we were standing in the line for the bus.
Pregame:
There's a cluster of players in the Celtics locker room—Kendrick Perkins, complete with foot cast, Paul Pierce, Al Jefferson, DeLonte West and Wally Szczerbiagdyeedsak (exercising his injured ankle on a Schwinn stationary bike)—and hardly anybody else. Weird. I exchange pleasantries with Pierce, but that's about it. Mainly because my head feels like it's stuffed with wet cement and wrapped in a blanket. And this is the best I've felt all week.
I ask Perk about the amenities in the visiting locker room, and he gives a very honest response: "garbage." Aesthetically, the shape of the room just screams "accidental injury."
A bunch of young Celtics are eating Mickey D's before the game. Leon Powe is indulging in some chicken strips and fries, Gerald Green is enjoying some nuggets; I'm also pretty sure Tony Allen and Allan Ray participated in the "I'm Lovin' It" pregame chow down. I'm not sure if I agree with eating McDonald's before the game, but whatever.

We decide to wander over to the home side.
This is something of a mistake. Because while Richard Jefferson, Boki Nachbar and Antoine Wright watch a rebroadcast of Larry Bird's 1993 retirement speech in the outer "lobby" of the locker room, there are exactly zero players in the locker room proper. Hip-hop still blares, street clothes are hung by the lockers with care, but it's merely a basketball still life. Through the little window of the trainer's room door, I catch eyes with Jason Kidd, who's getting taped. I tip two fingers, he tips two back. That's it. I mention to Jake that he should just sit down in Mile Ilic's locker and start putting on his uniform. Some people wouldn't know the difference.
While those Nets watch the Bird retirement ceremony on the flat screen, the flat screen, Jason Collins, is on the court talking to Brian Scalabrine.
When I was 13, my grandpa's company got courtside seats to a game at Continental–then Brendan Byrne Arena. Back then the starting unit for the Nets was: Chris Childs, Ed O'bannon, Armon Gilliam, P.J. Brown and Shawn Bradley. So I ask Sussman if he can dig up some old 95-96 game tape from this stellar matchup, coincidentally also a Nets-Celts tilt. As you'll see from the box score, Chris Childs served up a manly 26 and 16. However, one of his two turnovers occurred when O'Bannon (I think) forgot to flash to the ball up on the wing, and Childs threw a pass right at my face. I caught it. Anyway, I tell Sussman an abridged version of the story. His response (and I'm paraphrasing), "You'd have a better chance of seeing Jesus Christ in the flesh."

As you can see from the picture, Mille Illic has a definitely doesn't have very much underarm hair. Since he's only 22 and doesn't have much pit hair, does that mean he's still growing? I bring this up and Russ is, "horrifically disturbed."
So we head out to the court, get settled behind the Celtics bench. For some reason, this is the side the Nets are warming up on tonight. Is this a change for the whole season? There aren't many Nets out anyway—Marcus Williams is working on his pull-up threes (which must make Vince Carter happy) and the aforementioned Mile Ilic is shooting threes from his seat on the bench. He doesn't hit any, but comes close a few times. Hard work.
In the stands beyond the basket, towards the visitors locker room. Rajon Rondo sits with an older woman, probably his mom. Kind of funny. The Cs are out in force on their end, and as Brian Scalabrine comes back towards the locker room, he hoists a pull-up three on the basket the Nets are shooting at. Water. He chats for a little while with the assembled Nets personnel, before retreating back to the line for another three. Net again. He's got a bit of a corkscrew release, and one of the Nets guys—presumably a shooting coach—gives him a hard time about it. "I see you went back to your shot," he says.
I wonder which NY metro area NBA assistant/former center had a better statistical career: Herb Williams or Bill Cartwright. And the answer is: Cartwright, as Russ asserted. Though, in fairness to Herb, it'd be closer if he didn't spend all of those years with the Knicks in the mid to late 90's as a glorified assistant coach.

Its noted on the telecast that, if Jason Kidd gets a triple-double toinight, he'll pass Wilt Chamberlain for third on the all-time list. It's also noted that his last one, the 38-14-14 against the Nets, was the highest total (if you add up all the numbers) triple double since Wilt. Of course Wilt's was 53 points, 32 rebounds, and 14 assists. Yikes.
Of course, the first thing Nets PR guru and microphone checka Gary Sussman says to me has to do with the food. This happens every time I see him, over something I wrote roughly five years ago. To say it's getting old would be an understatement. A LARGE understatement. That being said, the food tonight is just OK (and no worries, my tastebuds are working). Potatoes au gratin—I think, the sauce seems to be all cream and no cheese, which is kind of gross, some sort of steak that's pretty decent, and a broccoli/cauliflower/carrot mix that I skip for religious reasons (not really—just didn't look appealing). The salad, mixed with a huge amount of crumbled blue cheese, is aces, and the hot dogs are of course consistently excellent. Overall? Probably a B-, C+. Somewhere in there.
My food review:

Cauliflower: I ate it, and it was fine. Grade: B
Steak: Tender, but not of the highest quality. Grade: C+
Potatoes Au Gratin: I agree with Russ. How are we to know what's in that sauce. Grade: C+
The remaining steak sauce mixed with the remaining au gratin sauce: This was one of those times where the only stuff remaining on your plate congeals into random deliciousness. Grade: A-
Hot Dogs: The staple. You can't go wrong. Grade: A-.
Bonus points: Having a Vitamin Water refrigerator is clutch. (Lang, how could you not include this in your last media room review?) Addition: Plus 10.
Demerits: Sussman hyped the steak, raising expectations to an unnecessary level. Subtraction: Minus 5.

Overall: B. B- without the Vitamin Water fridge.
(The photo is of Jake's hot dog—one of his two.)
I have Jay Z's "Show Me What You've Got" stuck in my head as we're walking into the arena. 45 minutes later, it still hasn't gone away. "Show me what you got, lil mama, Show me what you got perty lady." This is bothersome. ARGH! So I tell Russ I'm going to flip my Ipod on shuffle and the first song that comes up will be what I try to ruthlessly sear into my consciousness. The first song up: Tupac, "Fuck the World." Well, now…that's not very happy.

Perk, Olowokandi and Theo Ratliff are all inactive. That's 20 feet 8 inches of inactivity right there.

As the Celtics warm up at the basket in front of us, Jim Jones' "We Fly High" comes on, and completely on cue Ryan Gomes starts mouthing the chorus. That's my signal to go say what's up.
It's a pretty decent crowd tonight. There aren't any empty sections—which is nice, given that the two teams are a combined 12-24. Go, Atlantic Division! Tony Allen and Al Jefferson are in the Celtics's starting lineup, replacing Perk(isabeast) and Wally Szczvdf;isbvnluerfgerhlcvzvjiak. Incidentally, the "presented by Vonage" stuff gets old after roughly three minutes. In case you were wondering. When you get hammered by fewer "commercials" when you watch the game on TV? Time to start figuring out another way to make that cheddar. No complaints about the pregame highlights set to AC/DC's "If You Want Blood?," though. Good stuff.
This is how the scoring starts: Nenad Krstic, Vince Carter (VC uses Tony Allen's body for support as he drives to the basket not guarded by anybody. Dunk.), Krstic again, Richard Jefferson, Jefferson again. You'll notice something of a pattern there, and that would be that there are no Celtics listed. It's 12-0 Nets with 5:35 to go in the 1st quarter, and following a pair of threes by Antoine Wright and Carter, it's 18-0 with 4:21 to go in the 1st, and people are starting to yell for a shutout. Somewhere in there VC had two pretty bad turnovers as well, so it should probably be more like 22-23 to zip. Safe to say that the guys in green are suffering through some morale difficulties. Finally, at the four-minute mark of the first, Ryan Gomes stops the bleeding. Sheesh.
I've never really noticed this before, but Sebastian Telfair looks a LOT like the little baller in Fresh who gets shot for showing up the gangbanger on the court. Weird.
The lead stretches to 20. Which is bad enough to begin with in the first quarter, but is even that much worse when the team in the lead has only 22 points. This is the point where we start to wonder out loud why the hell we chose to come out to New Jersey.
Paul Pierce and Al Jefferson double-handedly get the Celtics back in the game. Um, into the game for the first time, actually. They're still down 16 at the end of the 1, but at least they're in double digits. Better than a goose egg. And Pierce looks confident. He gets Marcus Williams to bite on a pump fake, takes the contact, and wets the jumper. And one. Paul ain't worried.
SECOND QUARTER
Brian Scalabrine, who was received quite modestly when he checked in during the first quarter, airballs a three. STOP SHOOTIN'!
Delonte West misses, and Scalabrine tracks down the rebound and converts, while getting fouled by Richard Jefferson. 29-16, Nets. Little more time, a Gerald Green three cut it to eight, 29-21. Then it's 33-25. 35-28. 35-30. 37-33. And, after Carter misses a straightaway three, Jason Collins levels Delonte West with an arm across the face. Flagrant foul. West hits both, then on the ensuing possession wets a three. So, with 3:43 to go in the second, the C's are all the way back in this, up 38-37. It's a whole new ballgame.
To say that the Celtics weathered an early storm would be offensive to weather. To say that the Nets "coughed up" an early lead would be offensive to Robitussin.
Telfair drives the lane, and is either popped in the chest or runs into a heavier patch of air that stops his forward motion. The refs opt for B, and don't blow a whistle. Telfair, scoreless to this point, blows up, and gets called for a T. Outraged by this bit of unfair officiating, Jason Collins fouls Delonte West to make up for it.
The Boston Snackbar, who has been relegated to the bench of late, sips on his Gatorade and thinks about his lack of minutes in Slovenian.
Blah blah blah, other things happen. Pierce blocks Krstic underneath as the half comes to a close, and it's 48-45 Nets at the break.
THIRD QUARTER
Two things happen at the start of the third that could very well be related: Ryan Gomes hits a jumper, and Jake somehow stabs himself in the palm with his pen. The Nets can't stop the bleeding, and now Jake can't either. Good times.
During a timeout, I'm clapping my pen to my hand along with the beat. My hand, during one beat, makes contact with the pen in a way that loosens the cap. I don't realize. When I swing the pen back away from my hand, the cap flies off, but I'm paying attention to something on the court so I don't notice. I proceed to violently (and accidentally) stab myself in the palm with the sharpened tip of a ballpoint ben. Inside the miniscule hole in my hand, a black ink dot is visible. I use the first quarter box score soak up the leaking blood (sounds a lot worse than it actually was; thanks for your concern, though). Like Colin Quinn after a bad joke, that's my story and I'm sticking to it.
The Nets have also been committing defensive three-second violations like mad. Most likely this is Jason Collins's fault. He's definitely Collins The Lesser at this point. Because if his defense is bad, he's of no use to anyone.
I'm guessing that if you added up all of the three second violations and defensive three second violations from Saturday night's game, you'd end up with a shot clock violation.
Vince Carter has this habit of driving the lane, allowing the defense to collapse on him, then hoisting a shot in the general direction of the basket while throwing up his arms and looking pained. It works this time. Foul, Tony Allen.
Hey, another Nets defensive three-second violation. That's four.
Eddie House gets fouled by Gerald Green, and the ball winds up in Delonte West's hands. He flips it up towards the basket, where it sticks between the rim and the backboard. Vince scowls up at it, and it falls into his hands. Seriously.
Eddie House is letting out these primal screams whenever he gets hit. I try to nickname him Eddie "Mortgage" House, but I'm shot down.
Jason Kidd drives the basket with Paul Pierce back, and Kidd performs an exquisite ball fake that leaves Pierce standing still and Kidd with a wide-open basket. Somehow he still misses. Badly. Pierce jogs back up the court, a big smile on his face, giving Kidd shit. In relief, no doubt. Because otherwise that would have been a YouTube highlight.
It's hard to believe the Celtics started this game on the wrong side of an 18-0 run. Because now they're tracking down every loose ball and looking every bit the better team.
Then, a little later, with the Nets up two, it's the Marcus Williams show. First he finds Jefferson with an alley oop from beyond the three-point line. Then he drives into the paint, gets trapped, and flicks an over-the-shoulder dime to Hassan Adams on the baseline for an easy layup. Ridiculous. And after a Scalabrine and-1, he jukes Green with a crossover, goes straight down the middle, and passes up the easy lay-in to dish it up for Adams again, this time for a two-handed hammer. Kid can play.
Nets up after three, 72-68.
FOURTH QUARTER
Hey, it's Brian Scalabrine missing another three! STOP SHOOTIN'.
The Nets stretch their lead to seven with under nine minutes to go. Scalabrine and Al Jefferson both have four fouls for the C's, and with Perkins and Michael Olowokandi out with injuries, they're running out of bigs.
This, of course, is where Al Jefferson takes over. Two straight buckets after a pair of free throws, a block and a board, and the Celtics are back within one. They take a brief one-point lead, the Nets run it back to four. The Celtics tie it back up, then take a three-point lead on a Delonte trey.
Oh yeah, Sebastian still has zero points.
Remember Vince's move? Driving into traffic and just throwing up his hands? He does it again and gets called for an offensive foul. His fifth.
With under a minute left and the game tied, Sebastian takes a shot that just isn't that good. Kind of like all of his shots tonight. Possessions are traded, and the Celtics end up with the ball, in their own backcourt, with 7.4 seconds left. Time out. Telfair gets the ball and makes a wise decision—giving it to Pierce on the left wing with under five seconds to go, Kidd on him. Pierce backs Kidd in a step, before turning and firing a 20-foot fallaway. Buzzer sounds, net rips. Ballgame.
Silence. Pierce stalks towards the Nets bench, pops his jersey once, before being overrun by his Scalabrine-led teammates. Damn. When you take into consideration all of the circumstances (the degree of difficulty, the timing of the move, the arc needed, the time running out), I'll just reiterate: DAMN! Final score, 92-90, Celtics. Pierce finishes with 17 points, and 4-18 from the floor has never looked as good. J-Kidd and Marcus Williams combine to shoot 2-17 from the floor.
Talking point: Nets slumber: Almost predictably, the Nets have gotten off to another slow start. (They started 7-9 last year.) Jersey is the type of team starts slow and hits their peak during the dog days of February and March. Inevitably, they will win the division and face a beatable team in the first round of the playoffs. The balance of rookies with veteran energy conservationists makes November and December a tougher time for a team like Jersey because they still need to gel and find the right pace. Consider this the "feeling out" stage, and don't say I didn't tell you.

That said, a loss like this is horrible because it highlights Jersey's inability to step on a weaker team's throat and close them out early. They could have been up 30 early in the second quarter if they hadn't relaxed. The second unit, which played decently down the stretch, didn't really know what to do with itself with such a big early lead.
And I'm pretty sure Lawrence Frank didn't sleep much on Saturday night.

Talking point: Jersey's lack of interior defense: Al Jefferson did whatever he wanted. The way he abused Miki Moore and Nenad Kristic was stunning. I know Kristic isn't a good defender per se, but his efforts against Big Al were lacking, even by his average standards. Part of it was Jefferson's ability to hit shots, gain confidence and not look back. But another part of it was the fact that neither of those dudes put a real body on him or did anything to discourage him from going right at them—a hard foul, some trash talk, anything…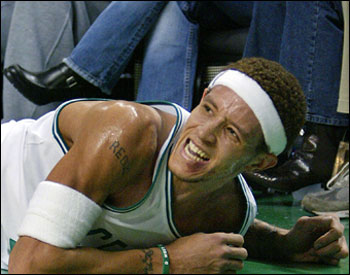 Talking point: Delonte West: I've seen him play live three times this year and I can't figure out how valuable he'll be for Boston in the long haul. As far as his effect on the game is concerned, he appears to be maddeningly inconsistent, but he's good enough when he's on that I wonder whether or not I'd want him on my team. His shooting, in part due to an early slump, has plummeted to 36% from the floor this season. For a two guard that needs to provide an offensive spark, that's not very good.
POSTGAME
Needless to say, Doc Rivers is psyched on the win. And the last shot. But he's psyched most of all on Al Jefferson, who finishes with 29 points and 14 rebounds. "We told Al he could get his name back. He was just Al, now he's Big Al again." Of course the Celtics are still 6-13, and while that's just fine and dandy in the Atlantic, it's not really good in any other sense. Doc knows this. "You look at our record, and it's not a good record. You look at our heart, and we have a big heart." Um, sure?
The C's locker room is a pretty happy place. Rajon types away on a green Sidekick. Unfortunately it's more metallic green than Celtic green. Szczernncjevbuyerbcdasliak talks to Gomes about Monday—"We gotta be ready." And Al J. is talking to a big crowd of media. "Hopefully we proved tonight that we can play defense. I think that defense is at the heart of everything." And Pierce, of course, talks about his shot. "I saw that JKidd was on me, so I just got to my sweet spot, elevated, and hit that shot."
We don't stop by the Nets. Although we do catch Richard Jefferson in the hallway, paying his respects to Doc Rivers and Peter Vecsey.
Me? I just want to get home.