It's every young New York City baller's goal to make it to the bright lights and big stage of Madison Square Garden. St. John's sophomore point guard Shamorie Ponds' dreams were no different, except, unlike so many of his peers, the Brooklyn native made it there.
"This is like the Mecca of basketball," says Ponds at October's Big East media day. "I think every kid should want to play at Madison Square Garden. It's like a dream come true."
Ponds' history with the Garden dates back to his high school days. As a senior at Brooklyn's Thomas Jefferson High School, Shamorie led the Orange Wave to its first PSAL city championship since 1954 on the big stage. In the fall, the point guard nicknamed Slick moved from his home borough of Brooklyn to Queens to take over as point guard for the Red Storm.
In his first season on campus, the 6-1 Ponds lived up to his billing as a top-50 recruit with averages of 17.4 points, 4.4 boards, 3.1 assists and 2.1 steals a game for the 14-19 Red Storm. The lefty also set the St. John's freshman scoring record with 573 points and led the conference in swipes per game. While the Red Storm struggled to get wins, Ponds gave his opponents fits.
"First of all, he's quick and he's fast," says Villanova point guard and Big East preseason Player of the Year Jalen Brunson. "He's a really good player. I actually really enjoyed watching him last year—he was fearless as a freshman. He has a bright future. It's definitely not easy going up against him, but he's super fun to watch. We have a lot of respect for him."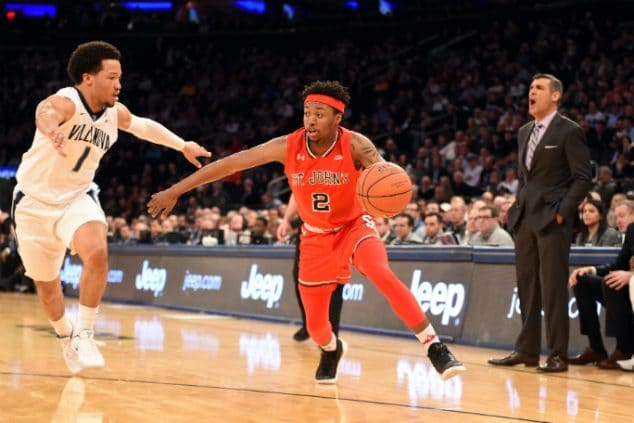 Coming into year two, Ponds will have a target on his back as he hopes to get St. John's back to the NCAA Tournament for the first time since 2015.
"He's gotten stronger—physically he's done a good job in the offseason and his pace has picked up in drills," says St. John's head coach Chris Mullin. "I'm looking for him to have a really good year. The basketball part for him is natural. He's got a great feel for the game and great instincts. He's got a wonderful personality, his teammates love him and he's a gym rat. He's going to score the ball, but we need him to do more. We need him to play defense each and every night. He had a great year last year, but each year is tougher to match."
To get ready for the season, Shamorie worked on his game by hooping at the buzzworthy "Black Ops" runs headed by Chris Brickley and Carmelo Anthony. The games were a learning experience for Shamorie, who got to play with the League's brightest stars and see first hand what it takes to make it at the next level.
"It was good to go against NBA players and to see how hard they work, even in pickup games and to see how they just keep going," says Ponds. "The games were nonstop. It was a great experience, it was a lot of fun."
This season, Ponds won't be sneaking up on anyone in a tough Big East conference. Other guards in the league are fully aware of what makes the Brooklyn native so tough and will be focused on shutting down the Red Storm's top player.
"He's a real smooth player, kind of like myself," says Seton Hall guard Khadeen Carrington. "[He's a] lefty, he can shoot if from deep—it's tough to guard him at times. He's grown up a lot, he's gotten better in his pick and roll game and with his range. He's definitely one of the guys on that team that we focus on."
"He can shoot and he can get to the rim, and he has a pull-up so you have to keep him honest and stay in front," adds Creighton guard Marcus Foster. "I think the best part of his game is he can shoot and he's so quick, he can pump fake and go right by you. Last year our emphasis was to shut him down. We always put our best defender on him at any time."
St. John's was ranked sixth in the Big East preseason poll and should see more improvement in Mullin's third season. Along with Ponds, the Red Storm are bringing back talented backcourt mate Marcus LoVett (15.9 points, 3.8 assists per game last season), forward Bashir Ahmed (13.4 points), and transfers Marvin Clark II (Michigan St) and Justin Simon (Arizona).
"I'm real, real confident," Shamorie says. "I told my teammates that I'm really fighting for this. This is the most confident I've ever been in my life. I feel like this is our time to make a run. If we didn't make it to the Tournament, it would be a bust. I'm sticking with that."
—
Peter Walsh is a Senior Editor at SLAM. Follow him on Twitter @peter_m_walsh.
Photos via Getty Images