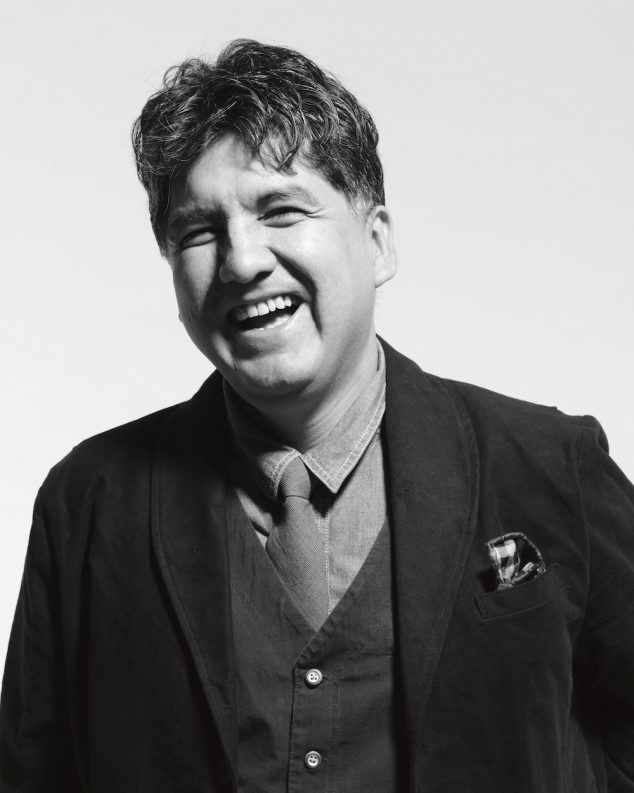 Whether he's writing poetry like "Why We Play Basketball," short stories like What Ever Happened to Frank Snake Church, or novels like the classic The Absolutely True Diary of a Part-Time Indian, author Sherman Alexie has found life-long literary inspiration in hoops. The National Book Award winner fell in love with the game while growing up on Washington's Spokane Indian Reservation, and it has informed his work ever since. Earlier this year—before the end of the 2015-16 NBA season, as some references will make clear—fresh off the release of his first children's book, Thunder Boy Jr., and with his first true memoir coming soon, Alexie spoke with us about the intersection of hoops and literature, his undying love of the Sonics, and how his own game has held up.
SLAM: Basketball has been a huge part of your writing, from your novels to your short stories to your poetry. When did you first fall in love with the game?
Sherman Alexie: My dad was a serious player growing up, so part of it was simply genetic. We grew up on a reservation where it's pretty poor—our first hoop was a Folgers coffee can nailed to a pine tree, and we shot with rolled-up tape. Even when we were little kids, the games could be pretty brutal. My dad and my older brother didn't take it easy on me.
In fifth grade, I was still on the rez, and we had quick games at halftime of the high school games; they pretty much just sent all of us out there, and it ended up being 18 or 19 fifth- and sixth-grade kids all out there. It was quite a melee.
At the time, I was actually pretty bad. I had health issues when I was a baby, seizures until I was 7. Now I know the term is "low muscle tone." Overnight, between seventh and eight grade, I went from serviceable to pretty good. Then I transferred, and I went to the white border-town school, and I think because I wasn't defined anymore, it did something psychologically. I think because I was different, they assumed I was a shooter, and so I became one. I had "rez range." I was way out there in Ray Allen-ville.
SLAM: There's a lot of seemingly autobiographical stuff in your writing that hints at your high school playing days—just how good were you?
SA: I was all-league. Some community colleges were interested. I would've been the ninth man on a community college team, which, considering I was academically focused, seemed like it would've been a foolish pursuit. I went to Gonzaga first, and I played pickup with the basketball guys. I ended up running with the guys on their team, and I held my own.
SLAM: You're 49—did you overlap at all with John Stockton?
SA: He was gone before I got there, but I did play against him. He would come back and play in pickup games. The difference in skill levels… I would see him do to Division I players what Division I players did to me. I blocked his shot once on a fast break, and then he just destroyed me. I'm just some dork kid, and after that he followed me for 8 or 9 plays in a row. I couldn't even breathe. I also played against [former Sonic] James Bailey once, at an outdoor court in Seattle. I did my patented spin move, and he read it completely and blocked it about 1,000 yards away.
SLAM: How would you describe your game?
SA: I had a lot of junk in the post. I wasn't a leaper, I was never an athlete, more like Zach Randolph in the post, using both hands, weird angles, 87 pump fakes. I had an old-man game when I was 15.
SLAM: Were there players whose game you tried to emulate?
SA: No, I was such a non-athlete. My favorite player at the time was Dr. J, but I can't even think of a game that would be more opposite from what I could do. I bet I could beat him at a game of 3-point shooting, but nothing else. But I was always into the big guys. I was into Kareeem, the Sky Hook. I liked the Sonics of course, so I really liked DJ, Dennis Johnson. So I did gravitate to sort of the lesser athletes in the league. Even though they're some of the best athletes in the world, of course.
Now, I really like watching Kyle Korver, or the perfect old-man game, Andre Miller. I figure if he had been playing in the '70s he probably would've been my idol.
SLAM: Acknowledging the absurdity of asking you to speak for all Native Americans, how do you explain the appeal of basketball on reservations?
SA: Number one, it's the cheapest sport to play. All you need it something resembling a basketball and something resembling a hoop. I think it serves the same role as soccer in the rest of the world—it's the sport of poverty, the sport of outcasts. Because (Native Americans) are the ultimate outsiders, I think that really appealed to us.
We would play from sunrise to sundown, even after that—we would pull up cars and get the headlights going. The rule was the game ended when someone got smacked in the face because they couldn't see the ball. I killed a bat once with a jump shot. That's when the night ends, too, when someone kills a bat.
SLAM: How much do you still play?
SA: I have a group of friends, we play at least twice a week. It's a mix of former high school stars, a few guys who played in college, a few guys who played pro overseas. It's a really good run. We played city league last year for the first time in a long while, and considering I was playing against guys who could be my sons, we did well. We took second or third in the league. You know, I rent an apartment that I use as an office, and the building has an indoor court.
SLAM: Is that one of the reasons you chose it?
SA: That was the only reason. And the court is full-court, but like half size, so it's perfect for an old man with an old-man game and a long jumper—I can pull up from halfcourt.
SLAM: Presumably you're on the road a lot—do you try to find games when you travel?
SA: I used to. I'd do a lot of university gigs, so I would end up in some English prof's game at lunch time. It's was always fun, because there's always a ringer. Because of who I was, they would really get in my face. Suddenly you have English professors who turn into Rick Mahorn.
SLAM: You're a Seattle guy. Have you gotten over the Sonics leaving?
SA: No. I'm gonna be one of those Brooklynites still pissed off the Dodgers are gone. My favorite holidays are Christmas, Thanksgiving, and whenever the Thunder's season is over.
SLAM: Would you ever allow yourself to root for OKC?
SA: I have dropped two real friends because they keep rooting for the Thunder. I booted them out of our pickup game. It's probably the only thing I'm fundamentalist about.
SLAM: What's your hope for another NBA team in Seattle someday?
SA: Only if it's expansion. I can't even think about treating another city and group of fans like we were treated.
SLAM: How much NBA do you still watch? Is there anyone you root for, players or teams?
SA: I hate-root, really. I root against players and teams. I have a serious anti-Kobe thing. He's my Darth Vader. I was one of those guys who hated the Spurs, hated Duncan. But he keeps going. His longevity has outlasted my hatred of him.
I hate the Clippers, and I really don't like Chris Paul. I hate him because of how epically he choked against the Thunder a few years ago. Like, if you'd taken out the Thunder, I could've been on your side.
Mostly I end up rooting for former Sonics. I always rooted for Ray Allen. And I would turn on LeaguePass to watch Earl Watson sit on the Jazz bench.
SLAM: Last thing: We have a feature in every print issue called "Vaguely Literary," in which one of our writers, a high school English teacher, makes book recommendations to NBA players based on their game and personality. If you were going to recommend one of your books to an NBA player, which book, and which player would you choose?
SA: It's funny, Phil Jackson would give one of my books to some of his players; he gave Reservation Blues to Sasha Vujacic. In his retirement, I would recommend Reservation Blues to Allen Iverson. It's about finding a new way to be, using your talents to escape rather than stay in the same place.
—
Photo via Lee Towndrow