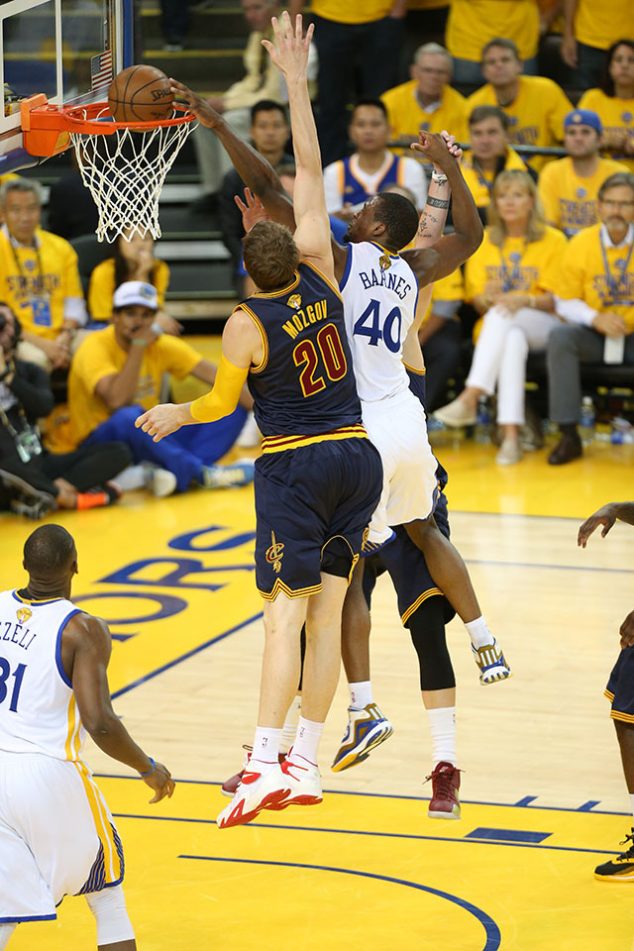 History will view the 2015 NBA Finals as the Finals that nearly did away with centers, as Andrew Bogut went from playing 28 minutes in Game 1 to consecutive DNP-CDs in Games 5 and 6. Evolutionary basketball. But history will not be telling the entire truth. Cavs counterpart Timofey Mozgov averaged 32 minutes over the course of the series–a number that would have been higher were it not for his nine-minute appearance in Game 5 when David Blatt tried to match Steve Kerr's smallball. The Cavs lost the game and two nights later, the series.
It wasn't Moz' fault. If anything, there's a chance they don't make the Finals at all without him. He was a pick-and-roll savant on offense and a massive roadblock on defense. Facing Draymond Green, Mozgov made stop after stop after stop.
But the law of averages said someone would get through. It happened to be Harrison Barnes, who delivered one of his only 11 two-pointers over both a late-arriving Mozgov and a shouldn't-have-even-bothered-arriving Mike Miller. Too bad Blatt didn't give Moz the whole night off after all.
https://www.youtube.com/watch?v=rUU08EuWJG0