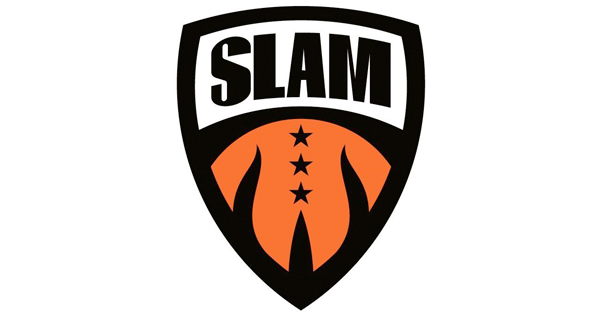 The prize isn't a National Championship or the Larry O'Brien trophy, but rather some serious dough. One million dollars of dough, that is.
For the second annual "The Basketball Tournament" (TBT), a hoops tournament where anybody can play, SLAM is sponsoring a solid squad, one that will hopefully reach the the championship game that is televised August 2 on ESPN. Ninety-six teams, 5 on 5, two 18-minute halves, one champion—winner take all.
Our team is loaded with ex-NBA and overseas pro-ballers, all brought together by GM Ross Burns. Suiting up for SLAM this year is:
Forwards:
Erik Murphy – Florida – Chicago Bulls/Finland National Team
Josh Boone – UConn – New Jersey Nets/China
Donell Taylor – UAB – Washington Wizards/Italy
Justin Burrell – St. John's – France
Bryant Dunston – Fordham – Greece
Tremmel Darden – Niagara – Greece
Guards:
Sundiata Gaines – Georgia – Utah Jazz/Italy
Matt Walsh – Florida – Miami Heat/Turkey
Nate Brown – St. Peter's – NBA D-League
Talor Battle – Penn State – L.A. Clippers Summer League/Belgium
Donnie McGrath – Providence – Turkey
Burns, who anchored last year's tournament's runner-up with Team Barstool, has fielded a team largely made up of his former TBT team. Burns is a former walk-on guard on the UMass Minutemen men's basketball team and was a part John Calipari's Final Four team in 1996. He is currently a skills trainer for Pro Hoops, an organization that helps pro ballers work out in the offseason.
For Burns, the chance to organize a squad to play in a competitive tournament was a no-brainer, especially due to the fact that most of his players haven't played with familiar faces in the crowd since their college days. "A lot of these guys don't have a chance to play in front of their family and friends back in the states and here's a platform to do that at a high level with high stakes," Burns said. "Getting them to play in The Tournament isn't the hardest sell, as opposed to playing for a summer league team—it's more about obviously having a chance to play." Burns helped headman Team Barstool last year, who went all the way to the 'ship before losing to the Notre Dame Fighting Alumni.
This year he's reloaded and added depth to his roster. "The strength in our team is our balance," Burns said. "We have guys who play different styles. It's the kind of versatility we have. If we need to go small, we can. If we need to bigger and match up, we can do that. I think that our versatility is key."
The versatility starts with perhaps the team's most decorated player, ex-UConn 2004 National Champion and former New Jersey Nets forward Josh Boone. Boone, a 1st round pick by the Nets in 2006, played four seasons in the NBA before bouncing around overseas, most recently with Bahrain's Al-Manama. Boone, who hooped for Team Barstool last year, is ready for another shot at the cash prize.
"Most of these guys on the team are high level players," Boone said. "They all know what to expect as far as what the intensity level is going to be—we're gonna keep each other in check." Boone believes it's that versatile, free-flowing style of offense so prevalent overseas that will propel SLAM to the winner's circle. "We were better when we were in the open court," he said in reference to his team last summer.  "We definitely had a team that flowed more when we could get in fast break."
To quarterback that fast break, SLAM acquired floor generals Nate Brown, formerly of St. Peter's University and the NBA D-League's Austin Spurs, and Sundiata Gaines, an ex-Utah Jazz guard who currently plays for Italy's Sidigas Avellino.
Brown, who played in TBT last year for the Peace Players, plans on bringing that experience of playing in the bracket last year to Team SLAM. "The fact that I played in it last year and I know what it takes to win makes me super excited," Brown said. "Anytime you put this monetary stance on full blast, I think everybody is locked in on this type of winnings."
Gaines, who you may remember as the D-League call-up who sunk the Cavaliers with a fade-away three at the buzzer in 2010, is ready to pounce on The Tournament's college three-point line. "For the most part, I'm used to playing behind NBA three-point lines, so you know the college three is more of me doing a pull-up jump shot," he said.
Gaines, a Queens native, will be feeding another NYC-native, Justin Burrell, in the post all tournament long . Burrell, a St. John's alumnus, grew up in Manhattan and played his home games for the Red Storm on MSG's hardwood. Burrell has played most notably for Cholet Basket in the French League and has been waiting for a shot to play back in his hometown. When Burns, a friend for over a decade, approached Burrell with the chance to play for SLAM, Burrell said it was a "no brainer."  To help him in the paint is fellow power forward Erik Murphy, who is showcasing his talents for the first time in The Tournament after sitting out last year.
Murphy, who joins Boone, Gaines, Donell Taylor (Washington Wizards) and Matt Walsh (Miami Heat) as the only SLAM players to ever see NBA action, can simply do it all. Murphy starred at Florida for four years and was drafted by the Chicago Bulls in the second round of the 2013 NBA Draft, but was later traded and unclaimed off waivers. Most recently playing for the Finnish National team, who he will rejoin in late August, Murphy has range that'll the group will be relying upon. "I think we have a team that can really shoot the ball—that's big in this tournament," Murphy said. "You can't come in with any expectations for yourself or come in with any kind of ego, but with a team-first mentality."
Apart from repping SLAM, Murphy and the team are playing for something much more important: Pencils of Promise. PoP is an organization that helps children in underprivileged school systems receive a better education. By funding student scholarships, teacher support programs and health initiatives, PoP has teamed up with SLAM for this year's TBT. If we do take it all, a portion of the $1 million dollar prize will be donated to PoP, an extra incentive that is not lost on Murphy. "If you win, a part of that money goes to the team's charitable organization," Murphy said. "Obviously the money is an added bonus, but you're doing it for good reasons, too."
SLAM TBT gear is available to anyone who'd like to rep the cause right here—and we'll keep you updated with our team's progress on SLAMonline over the next few weeks.