Outside, the sun had just begun to rise, but inside the walls of Michigan State's practice facility, the man who in July had signed an $85 million contract was already hard at work. Dribbling up and down the court with both hands, then in and out of cones. Sometimes he'd use a medicine ball. Afterward he'd move on to floaters and then three-pointers. "Keep your elbow up" his former Michigan State teammate and current trainer Travis Walton would bark out. Or, "Now that you're rich you ain't grindin' no more?" if he felt the effort was lacking.
The air in the gym was thick, warm and sticky. Most of the time Draymond Green arrived just as the building doors were being unlocked, before the AC could begin churning. Within minutes, pools of sweat would streak down his forehead and penetrate his Spartan green shirt.
The previous Championship season had been a grueling grind, one he wanted to both revel in and recover from. And that he did. There were the Championship parades and a celebratory trip to Vegas with high school teammate and current NFL linebacker Lamar Woodley. There was an NBA-organized visit to China and time spent with family and friends.
He considered how far he'd come. From the gang- and drug-riddled streets of Saginaw, MI's north side to Michigan State. From pudgy 268-pound freshman to the NBA. From second-round pick to role player to Defensive POY runner-up.
"I didn't come into this League with a top-10 tag," Green says over the phone one evening in December. "Everything I got I had to earn on the defensive end. Getting stops was the only way I could stay on the floor."
That mentality had delivered him so much. Minutes, opportunities, a ring, and of course, millions of dollars, enough money that he could retire tomorrow and still know that his future grandchildren, and maybe even great-grandchildren, were secure.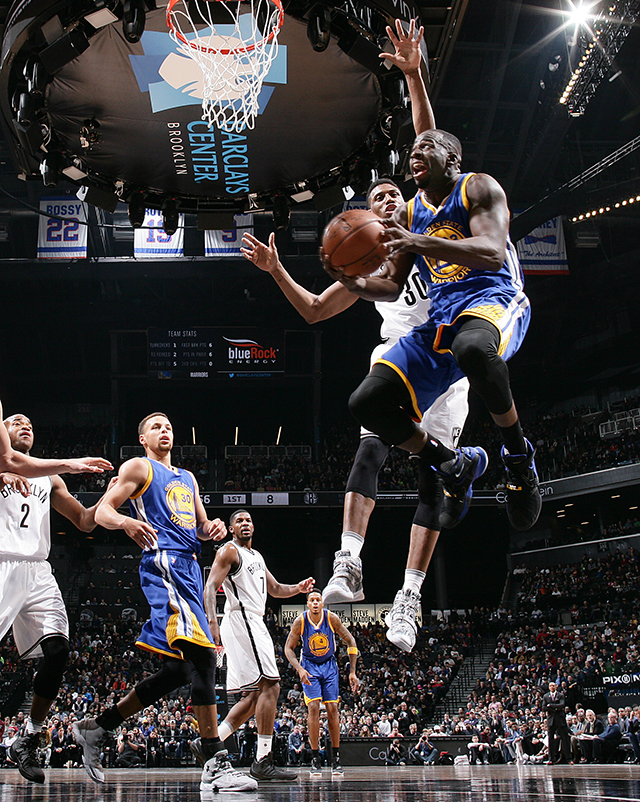 But in early August, Green arrived in his adopted hometown of East Lansing with a new set of goals. As an 8-year-old, he was once thrown out of a rec center for jumping on a pool table after a loss and throwing balls at anyone who tried to pull him down. In middle school he broke a Nintendo 64 controller after dropping a game of Mario Kart to his brother Torrian. "He was always a sore loser," Torrian says. "But now he's able to control and use that edge."
In other words, complacency was never something Green was going to succumb to, no matter how high a peak he reached.
***
NBA history is littered with champions who have fallen prey to what Pat Riley famously labeled "the Disease of More," the idea that rather than solving problems, a title actually creates myriad new ones. "Success is often the first step toward disaster," he wrote.
This year, the Warriors have faced no such issues, instead coming out looking even more potent. They set a record by winning their first 24 games of the season. Their small ball five-man lineup is outscoring opponents by a historic 60.3 points per 100 possessions. A 73-win regular season, which would be a record, is in play.
All of Golden State's success starts with the team's baby-faced, three-point sniper. But it is Green's diverse and distinctive skills that allow the Warriors to make so many games look like scrimmages against the JV.
"There's no one in the League better than him at guarding positions 1-5," says an Eastern Conference executive. "And on the other end he's so versatile. His skill set is really rare."
Green, 25, has been flummoxing opponents with his defense for almost two years. He's able to use his strength and wide base to bang with bruisers in the paint and his quick feet and IQ to keep up with the energizer bunnies on the perimeter. He allows the Warriors to always play small and keep the floor spread, to avoid tough defensive rotations and instead switch on pick-and-rolls.
But Green, whom friends say pays attention to everything written about him, didn't want to be known as a stud on just one end of the floor. He wanted to be an All-Star and an Olympian. He wanted be on a 70-win team, and of course he was desperate to be crowned once again. So over the summer he put a microscope to his offensive game.
"One thing I've always hung my hat on is my basketball IQ," Green says. "But you can always get better with that stuff."
Watching film always came easy to him. At Michigan State, he'd frequently stay up until 1 in the morning talking basketball in Coach Tom Izzo's office. "He's one of the smartest players I've had," Izzo says.
Green dove into cut-ups from Synergy Sports to see where he could improve. He noticed that when running pick-and-rolls, opponents tended to give him the three-pointer from the top of the key or a lane to throw a lob. "I saw that I'm open more than I thought," he says. "Those are shots I need to take to keep the defense honest."
Now, after adding some arc to his jumper, he's scoring a career-high 15.2 per game and hitting a career-best 43.3 percent of his shots from deep. He also worked on a floater as a counter to giants like Timofey Mozgov, who in last year's Finals gave him all sort of fits.
He always set backbreaking screens—Izzo says he teaches how to set a good pick by showing clips of Green—but armed with an improved repertoire, Green has morphed into one of the NBA's premier pick-and-roll partners. The p-and-r with him Curry is one opponents have yet to figure out how to stop.
"You just gotta pick your poison," says the Eastern Conference executive. Warriors guard Ian Clark uses the exact same phrase. Adds big man Marreese Speights, "There's no good answer."
But it was his ballhandling that received the most off-season attention. Green realized that at times he was either reckless or missed open teammates last season because he was moving at full speed.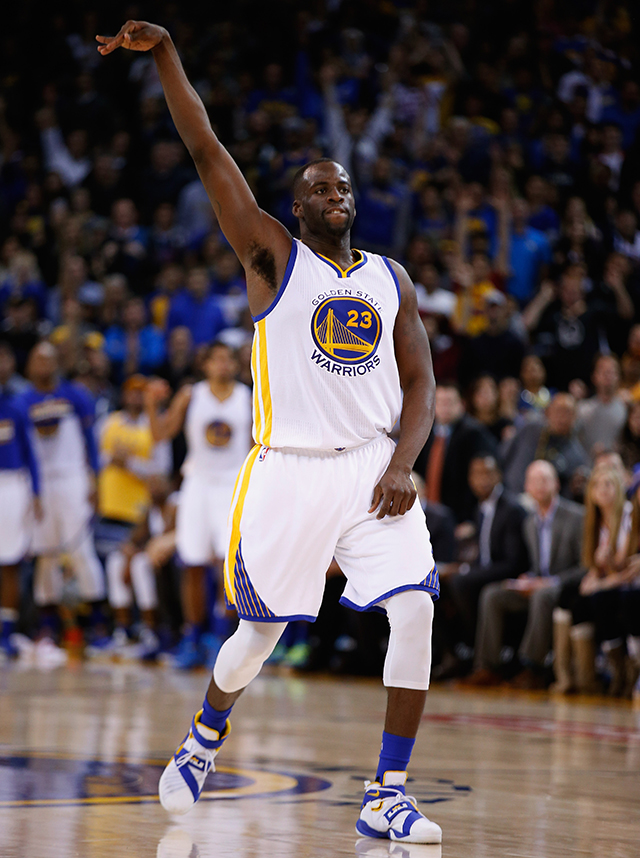 "Now I usually don't push the ball as fast as I can," says Green, who's averaging a team-high 7.3 assists per game. "Instead I'm pausing and surveying more—even at that speed I'm still faster than most big men.
"Most big men are taught to run back and protect the paint, so when they do that, a guard picks me up, which leaves our shooters open. That's the stuff I saw from watching film from last year. Now, instead of going flying into the paint, I come down the court ready to make a jump stop at the foul line and hit that pass."
***
It's a December evening in Brooklyn and Green, after corralling a defensive rebound, is pushing the ball with his right hand up the floor. Klay Thompson is running alongside him and makes a beeline for the corner. Green begins to slow as he approaches the foul line before hitting Thompson square in the chest for a wide-open three. Nothing but net. The Warriors take an early 3-2 lead. The Barclays Center crowd, full of more Warriors blue than Nets black, responds with a boisterous cheer.
Later on Green will intercept a Jarrett Jack pass around half court and take it all the way for a dunk. He'll connect on two three-pointers: one off a pick-and-pop with Curry, the other a pull-up from the top of the key. He finishes the game with 22 points, 9 rebounds and 7 assists. Three of them come in transition off defensive rebounds that he reeled in. One is on a pick-and-roll where the Nets trap Curry and then swarm to Green, leaving Festus Ezeli open on the block.
The Warriors walk off that night with another win, this one by a score of 114-98, making them 22-0. Not that the game was all smooth sailing. After jumping out to an early double-digit lead, Golden State allowed the Nets to climb back and even move ahead by 5 points in the third quarter.
Trash talking has always been in Green's blood ("You can't ever get him to shut up," says Dubs' swingman Brandon Rush, laughing). Since arriving in Golden State, the Warriors—and specifically GM Bob Myers—have asked Green to be as vocal as he can. "In order to be a good team, you need someone to be that guy and there aren't many guys on our team who are talkers," he says. "For me the key has been learning everyone's personalities, what buttons to push and when and how to push them."
During the Western Conference semis that meant taking a momentarily struggling Curry out to a Memphis bar for a beer. On this night Green feels a pep talk should do the trick. They're an NBA team, too, he tells them. There's nothing to worry about, he adds. They made their run, now it's our turn to fight back.
"That's why he's the voice of the team," Clark says afterward. "He's the one willing to call people out and willing to pick them up."
Some of the non-stop chatter is self-serving, too. The more Green talks, the more he has to back up. The more he has to back up, the more motivation he has.
"Sometimes I start things up just because I think that's needed," he says. "Bringing the energy, that's part of my role on this team."
That it is, along with guarding point guards and big men, rebounding, pushing the ball, passing, setting screens, creating offense off the dribble and hitting shots from inside the paint and behind the arc.
Green says he wants to be an All-Star and Olympian. For the first time ever, he may be setting his sights too low.
—
Images via Getty
108