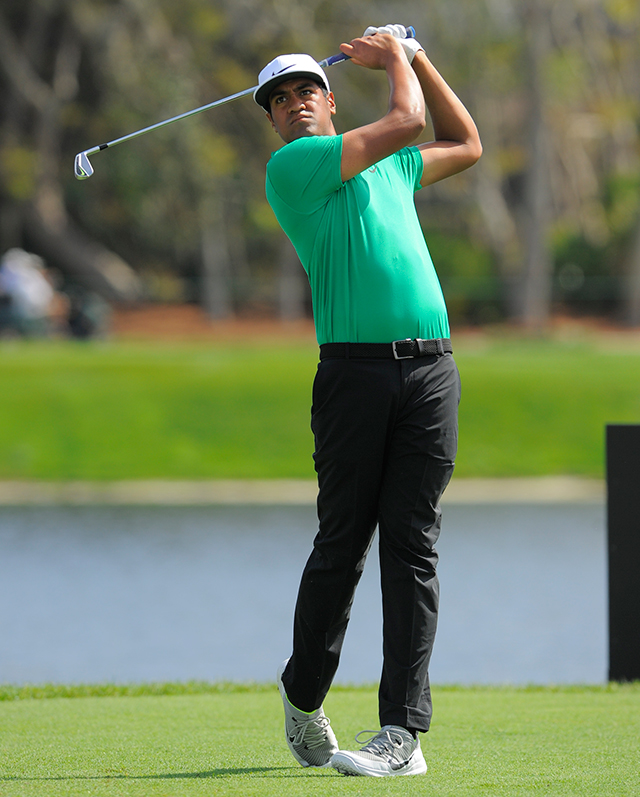 A cool, stylish, hoops-loving golfer with NBA bloodlines, Tony Finau is the type of athlete SLAM roots for. We caught up with Finau—the first person of Tongan/American Samoan descent to play on the quietly diversifying PGA Tour—hours after his practice round at the Valspar Championship, and days after one of his favorite games of the season…and days before his first PGA Tour win. Watch out for Tony—and his fly gear—this weekend at the RBC Heritage and all season long.
SLAM: Where'd you play high-school ball, and what type of player were you?
Tony Finau: I went to West High in Salt Lake City and played through my senior year. I'm 6-4 now but then I was just 6-3, playing center against guys six inches taller than me. But I was the leading rebounder in the state my senior year!
SLAM: And you got basketball scholarship offers?
TF: Yes, from Utah State and Weber State, which are kind of a big deal if you're from Utah. And a bunch of DII.
SLAM: What if the Utes had offered?
TF: [Chuckles]. I don't know. As much as I enjoyed playing, I think there's a reason I'm on the golf Tour instead.
SLAM: I saw that clip on Instagram [@tonyfinaugolf] where you threw down a dunk from a flat-footed position; I guess you got those rebounds with athleticism?
TF: I am pretty athletic, but I also knew how to use my body and track shots.
SLAM: Do you still play now?
TF: Yes! I still play once or twice a week whenever I'm home.
SLAM: One of the ways we tracked you down was through your relationship with SKLZ, who makes great training tools. Do you look at basketball as a way to stay in shape?
TF: Absolutely. I'm proud to have SKLZ as a partner, and I use their stuff for golf all the time. I haven't used their basketball stuff yet. Even though I know there are injury risks in playing basketball, I do think it's one of the best ways to stay in shape. It helps with cardio. I have a passion for it—it's really a great sport that has always brought my family together.
SLAM: Speaking of family, Jabari Parker is your cousin, right?
TF: He's my second cousin. My dad and his mom are first cousins, but they grew up in the same house so they're almost like brother and sister. I'm not as close to Jabari as some people think—we speak every once in a while—but I do follow him and the Bucks and it's very cool to have someone I share blood with succeeding at that level.
SLAM: What other teams do you follow?
TF: I'm watching Steph and the Warriors because I appreciate what they're doing. But historically, I'm a Laker fan. That's my team. I enjoyed that win over the Warriors the other night.
SLAM: Lastly, I wanted to ask you about kicks—you've been wearing high-top Nike Flyknit golf shoes?!
TF: Yeah man, Flyknit Chukkas. I'm newly signed to Nike Golf and I feel that I can embody what Nike is all about as far as embracing the modern athlete. They're trying to show cooler clothes, cooler shoes and move the game more in that direction. We need to do that to make it more accessible and interesting to young people.
SLAM: And I take it your off-course kick game is improving, too?
TF: Yes! My Jordan collection has gone way up in the last few months. My favorites now are Retro IVs and also the Air Force 1 Flyknit, but if you talk to me next month, I'll probably say something else.
—
Photo credit: Mark Sims Icon Sportswire via AP Images