Winter in Moscow can be grueling. Long, cold and dark, it's easy to feel the bitter punch of all those freezing nights adding up into months of unforgiving, intensely frigid weather.
But finding something to do, or something to believe in, on those icy evenings isn't that difficult. Flip on the TV and there's Dimitris Itoudis pacing the sidelines as the head coach of the world-renowned CSKA Moscow. Coach Itoudis,of the most successful coaches in Europe's history, is spearheading the next generation of greatness for one of the best teams Europe has ever seen. In its nearly 100-year history (Yeah), the club has won 65 combined championships.
Before Itoudis accepted the job, the legendary Ettore Messina was the head of the CSKA snake. Messina, who coached Manu Ginobili in Italy 15 years ago, is currently an assistant coach with the Spurs. Messina coached CSKA to its last Euroleague title in 2008.
The familiar names that have put on a CSKA jersey include Andrei Kirilenko, Alexey Shved, Nenad Krstic, Milos Teodosic, Darius Songalia, Pops Mensah-Bonsu, Zoran Planinic, Gordan Giricek, David Andersen, Sonny Weems and Trajan Langdon. But it's been ten years since they last hoisted the trophy. Itoudis was brought in to change that.
"As a young kid, I was ready to teach," Itoudis says. "I was not that kind of player, playing in a big league."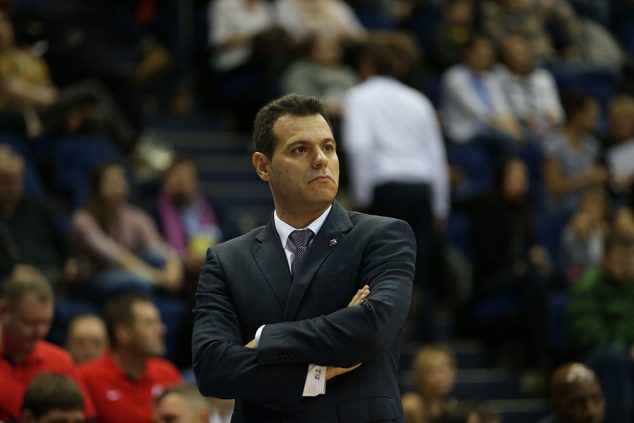 Itoudis grew up in Veria, Greece and ended up playing ball and studying teaching and physical education at the University of Zagreb, in Croatia. By the time he was 22, Itoudis had accepted a position as an assistant coach with KK Zagreb, a local team in Croatia which became dominant in the last 20 years, thanks in part to Itoudis.
Instead of kidding himself and chasing playing time on the court, Itoudis dedicated himself to learning as much as possible about basketball. He wasn't just watching basketball because it was something to do. He was teaching himself, so he could teach others.
"I believe that when you go for the analysis of others, then you really can learn a lot of things," Coach says. "When you're really analyzing and just not watching the game, but when you see things. Watching and seeing are two different things."
Itoudis studied Arvydas Sabonis, Drazen Petrovic and Toni Kukoc when he was younger. "Players that made that move overseas and really had a tremendous impact into the NBA game," he says.
Through five years of learning as much about the game as possible, and coaching in Croatia and his native Greece, Itoudis caught a major break when Zeljko Obradovic hired him as head assistant before the 1999-2000 season. Obradovic had just accepted the head coaching position at Panathinaikos, the best team Greece has ever seen. By '99, Obradovic had established himself as one of Europe's top coaches.
"I got a lot of influence from [Obradovic]," Itoudis says. "Watching, talking, idolizing and spending a lot of time explaining how the game is.
"When Zeljko called me, at that time, my father was in the hospital. He was in intensive care for three days. My first thoughts were what an honor, privilege, but at the same time I know what responsibilities going over there and working with Panathinaikos and Zeljko. We never thought, when we talked, we were gonna stay that long."
The pair stayed for 13 years, winning five Euroleague Championships and reaching nine Final Fours. Itoudis coached legends like Sarunas Jasikevicius, Dejan Bodiroga and Dimitris Diamantidis during those years.
"I learned a lot about the game from the players," Itoudis says.
"I have to be ready to give the right answer and the right strategy on the floor. And the strategy that will work for such players. If you don't have such players that are ready to be focused and ready to be dedicated and to receive information, and fulfill all the theory into a game then regardless of who you're talking to, this cannot work."
Obradovic became a no-nonsense coach in Panathinaikos, demanding the best from his players, lurking on the sidelines, looking ready to sub himself in. It translated to Itoudis, too.
Itoudis now patrols the sidelines with a Ron Artest-like-ferocity (much respect to Ron/Metta), even more into the game than Obradovic. He needs to win. Excellence drives him.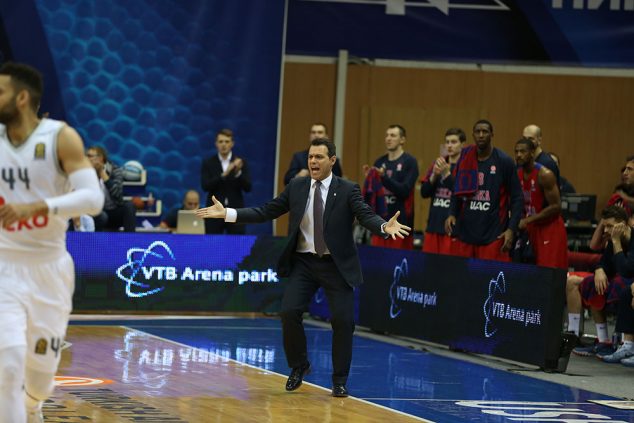 All those years examining the game when he was younger, everything he learned, he's channeled it. As a head coach, as of press time, Itoudis has an .887 winning percentage.
All the winning through all those years has made the NBA take notice. The Pistons, 76ers and Magic have brought Itoudis in during the past few summers to pick his brain about the game and have him on the bench during Summer League games.
With his contract in Moscow set to expire after this season, and NBA teams circling, the generally expressive Itoudis doesn't shed any light into what he's thinking about for the future.
"The next part of the plan is to wake up in the morning, scout our next game. Go into practice, have a good practice. That's how short is our future. I gotta think about the next day and that's it," Itoudis says. "We'll talk when it happens," he says about his expiring contract.
"Recently I read what Gregg Popovich said about being a coach," Itoudis says. "It's not only the end when you raise the trophy, but it's about the journey. It's about the routine that we have as a team and the coaching staff. It's the analysis of games. It's the strength and the mental concentration that requires. And the dedication that requires our profession. It's all that."
It's all that, and more, that has helped Itoudis and CSKA stay warm and winning on those cold, cold Moscow nights.