The road wasn't always easy for Tyson Hartnett, but he never stopped following his hoop dreams. As a young boy, he always envisioned himself playing professional basketball. He chased that vision with everything he had, dedicating his time and life to the game.
Through the years, Tyson discovered that things do not always go according to plan, and that one must cope with failures and mistakes. His long and difficult basketball journey brought him to a Division I school, a Division III school, and three different countries overseas. It recently culminated with a 2014 Full Court 21 Championship. In the end, Hartnett battled hardship and adversity and came out on top.
Read Tyson's first person account of his inspirational journey to redemption through basketball in his new book, Hoop Dreams Fulfilled. The story highlights the pressure many athletes feel to succeed and how hard it is when there are bumps along the road. More than anything, however, Hartnett's story demonstrates how one can overcome tough challenges to fulfill their biggest dreams.
Buy the book on Amazon.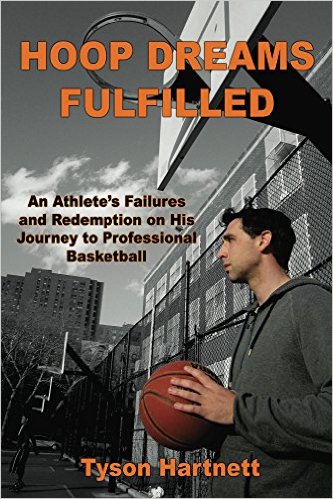 65