Where were you when the lights went out during the 2013 Super Bowl?
Remember? It was the 3rd quarter and Ray Lewis and the Ravens had the game in hand. Young Bey had just killed it during halftime with a performance that–you had to wonder–might've killed the power in the Mercedes Benz Superdome. It was a big deal at the time: Twitter set a record for activity during a sporting event.
The delay lasted 33 minutes, during which, as someone tweeted, all those rich folks got to feel what it was like to be in that building in the dark, and catch a glimpse of what thousands of New Orleanians went through during the aftermath Hurricane Katrina. Oh, right, that happened, too. How did you feel watching it?
Me? I was happy. I mean, I was like just-won-the-trifecta-euphoric times ten, the kind of high only surpassed when your kid is delivered safely into this world. For the previous nine months, I'd been working on a book about New Orleans, where I live. As the city moved from post-Katrina to what some called the "new New Orleans," a lot of people predicted the game would be a time for New Orleans to shine, for the world to see how far we'd come. Super Bowl Sunday was the last of 100 days I planned to describe in the book, a time period where I asked folks, "How far have we come?" The results were mixed. New residents, new restaurants, a resurgent culture, an ambitious mayor: yes. Endemic poverty, rising cost of living, resilient murder rate, the demolition of the projects: yes. New Orleans, I knew, wasn't all bright lights and major sporting events.
And then the lights went out in the Superdome. I screamed like a One Direction fan. My boy sidled up to me as I lifted my hands in the air. "Guess you got your metaphor, huh?"
The book, New Orleans Boom & Blackout: One Hundred Days in America's Coolest Hotspot, came out in January; in March, it was named the One Book New Orleans selection for 2015, meaning there will be programs citywide to encourage folks to read it in this, the 10th year since the levees broke. The response so far has been humbling. (You can read excerpts here and here.)
And it never happens if I don't email Lang Whitaker in 2003 and invite him to East Village Radio for my "Toney Blare Show." Lang sent Ryan Jones instead (I think to get the official cosign), and then Lang, Khalid, Omar and Sam showed up the next month for "SLAM RADIO." History was made. In 2006, I returned to New Orleans, where I went to college, just in time for the Chris Paul era. I remember riding through the Lower 9th with Ben, Aggrey, and Khalid during All-Star 2008, trying to explain what happened. Ben mentioned that SLAM could always use game notes, so Aggrey and I formed Greytone, the single greatest game notes tag team the league has ever known. We covered that wild '07-08 season from the baseline, where I learned the intricacies of professional sports, and the way to write amid the fireworks. That's when I became interested in how New Orleans–the brand–was employed by the Hornets/Pelicans and Saints, what was sold and to whom. When Super Bowl XLVII came to town, Ben and Abe asked me to cover player parties for TD Daily, and Lang hooked me up with a GQ party headlined by Lil Wayne; all of that's in the book. I also covered the announcement of the Pelicans name change, something that represented the "new New Orleans" as much as anything; the book includes histories of the team and owner Tom Benson, himself worthy of a novel.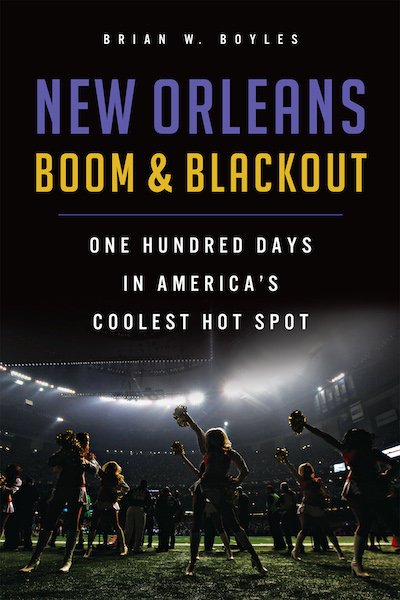 On August 2, the family and I will be in NYC for a book party at Turnmill, yet another SLAM connect. It'll be good to thank everyone in person. Hope y'all can be there.
Where: Turnmill, 119 E. 27th Street
When: Tuesday, 8/4, 7pm-10pm
Facebook invite here
If you can't make it to the party, be sure to order your copy of the book here.
79