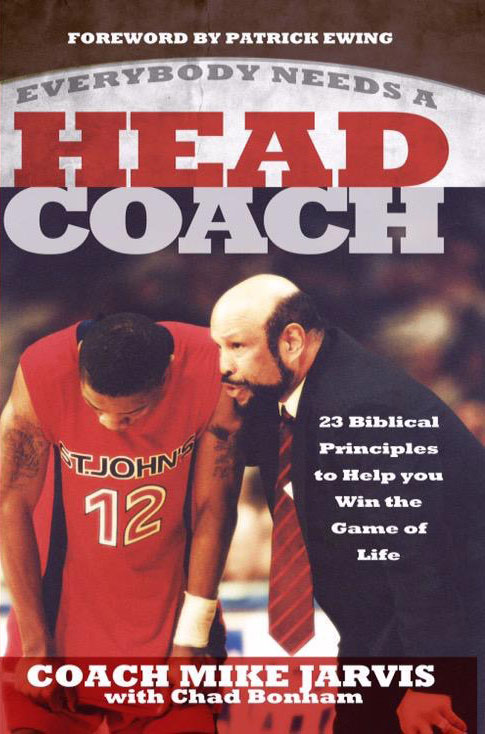 Longtime NCAA Division I head coach Mike Jarvis' newly released book, Everybody Needs a Head Coach: 23 Biblical Principles to Help you with the Game of Life (written with Chad Bonham), is about much more than basketball.
The inspiration for Jarvis' "God-inspired" second book came to him while on vacation in Greece with his wife, as the pair traveled in the Apostle Paul's footsteps.
The spiritual journey had the Cambridge, MA, native thinking he wanted to write another book, a more personal explanation of his career that he repeatedly refers to as a "blessing."
"I didn't want to write an autobiography," said Jarvis from his home in Florida. "We decided that the book would be about my journey but be about God's story and all of the great people God put in our path along the way."
The goal of Everybody Needs a Head Coach, according to Jarvis, is to spark meaningful dialogue for readers of all types: coaches, players, parents, fathers and sons, mothers and daughters. There are 23 stories accompanied by the same number of Biblical references.
The book opens with a scene at The Journey Church in Boca Raton, FL, where Jarvis is speaking to the congregation about his journey as a basketball coach and more importantly as a man, father and husband.
The book includes stories about his mother, father, wife of 48 years Connie, former players Shawnta Rogers and Michael Jordan, who Jarvis coached along with Patrick Ewing at the 1981 McDonald's All-American game in Wichita, KS.
Jordan famously did not get the game's MVP award despite setting what was then an all-time scoring record 30 points and hitting the game-winning free throws. "I thought [Jordan] was going to win it," said Jarvis. "In a game that we won 96-95, [Jordan] made our last six baskets."
Former Maryland Terp Adrian Branch would be awarded the trophy instead. This was another example of determination after a letdown that Jarvis refers to.
The book is not all good feelings, however. Jarvis and co-author Bonham make sure not to gloss over the episodes that lead to Jarvis' departure from St. John's despite making the Elite Eight in 1998, winning the NIT in 2003 (the Red Storm's only banner-worthy moment since the 1985 Final Four) and winning 110 games during his tenure.
Jarvis is no longer interested in coaching, at least not in the way he had done previously during his 46-year career as an assistant and head coach (Jarvis won 364 games as a head coach).
"The way I'm going to coach, hopefully many people, is through this book and through public speaking," said Jarvis. "I want to encourage everybody that they have a story worth sharing and my hope is maybe in my very small way I can get people to do just that."
One of Jarvis' favorite players while at St. John's was former Christ the King and NBA point guard Erick Barkley. There's a chapter about second chances that refers to the issues that led to Barkley, leaving school earlier than he needed to in order to not face an NCAA suspension.
"I love Erick and am very happy he has gone back to St. John's to get his degree," said Jarvis. "There's a chapter in the book about everybody needing a second chance and Erick is the main character in it."
"There's something in the book for everyone," Jarvis said.
The book, currently only available in paperback, includes pictures of Jarvis' family, former teams and players. Find it on Amazon and autographed copies can be purchased via Jarvis' website at shop.coachmikejarvis.com.
151