SLAM friend/contributor Mark Hostutler's new book, The Eulogy of Pittsburgh's Schenley Spartans, examines how private and charter schools are tearing at the fabric of traditional high school basketball. Below is an excerpt from Chapter VII. The Anatomy of a Contender, which introduces the players the book focuses on.—Ed.
With only one senior in their rotation, the Spartans had a foundation of youth that had originally been laid when the boys were seven and eight years old and first getting to know one another in The Hill. At 6-6 and almost 250 pounds as a junior, DeJuan Blair was the fulcrum of an offense that punished on the inside and ran with the horsepower of a stock car on the outside. Regardless of whether it was in high school, college, or the pros, Blair has always played bigger than his height would allow, courtesy of broad shoulders, a seven-foot wingspan, and outlandish strength that opens up paths to the bucket.
Blair's current prowess on the highest level of basketball is remarkable, considering how he tore the ACL in each of his knees as a freshman and sophomore at Schenley and was sidelined for 16 months.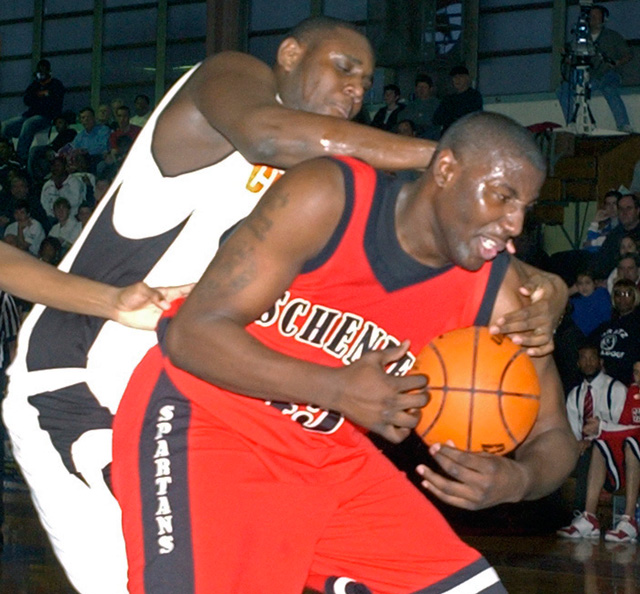 "I can still see DeJuan as a ninth-grader, hopping around the gym on one foot, trying to show everyone that he could still dunk," Skrocki said. "His knee eventually healed, but the next year [in the state quarterfinals], he hurt the other one. For him to come back the way he did as a junior, it was just incredible."
DeJuan and his other siblings gather their inspiration from DeMond, their brother who died when he rolled off the bed at three months old. And they got their game from their parents, Greg and Shari Blair. Greg, a teammate of Darrick Suber, graduated from Schenley in 1991 and played for Skrocki, while the former Shari Saddler averaged 20 points and 20 rebounds a contest at Serra Catholic in nearby McKeesport.
"I was never a troublemaker, but I don't know where my life would be without basketball," he said. "I'm glad my mom and dad put one in my hands."
As a youngster, DeJuan was a fixture at the Ammon Recreation Center and at Kennard Park in The Hill, just like his future Schenley teammates were. It's where they cut their teeth and inherited the swagger of their predecessors who never gave them any credit and swore they would never be as good.
As a 6-5 junior, D.J. Kennedy was a crafty southpaw, as resourceful as MacGyver, and a triple-double threat in every game he played. His father, David Kennedy Sr., won a PIAA title alongside NFL lineman Sam Clancy at Fifth Avenue High School, which shuttered in 1976.
(To address concerns about de facto segregation in the 1970s, Fifth Avenue and Gladstone merged to form Brashear High School, which welcomed more than 5,000 students to its new building on Crane Avenue in Beechview. Fifth Avenue had educated students in the Lower Hill, while Schenley's territory included the Middle and Upper Hill. Kennedy and Clancy's Archers earned a national ranking as high as No. 2, despite the uncertainty surrounding their 1975-76 season. The strike by the Pittsburgh Federation of Teachers spanned 56 calendar days and 33 school days in December and January, and jeopardized Fifth Avenue's last crusade before it even began. It eventually got under way, and the Archers, a nickname inspired by their school's Gothic-style architecture, won all 15 of their games on the path to the crown. "The strike was really a drag," said Clancy, Pitt's all-time leading rebounder. "We knew we were good but never had the chance to prove it. Maybe that's why the [PIAA] tournament meant so much to us. We were glad to see the strike end, but I'm not sure the rest of the state was.")
An accomplished quarterback, the elder Kennedy concentrated on hoops in college at Cincinnati, and the Dallas Mavericks took a flier on him in the eighth round of the 1981 draft, although he never made the League.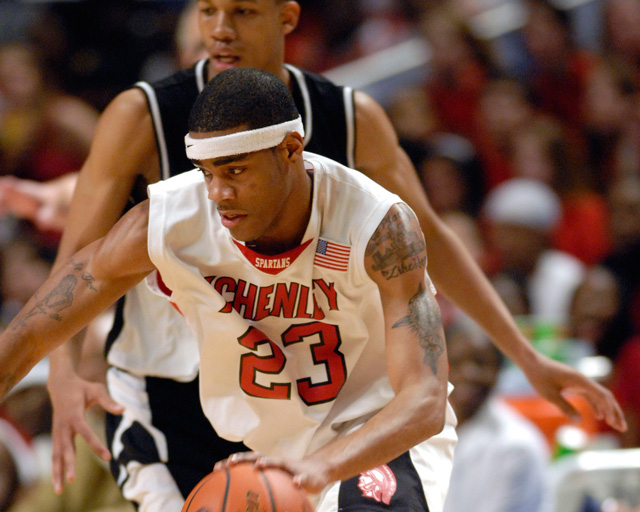 "I had a lot of motivation early on to live up to my father's name," said D.J., who lived with his mother growing up. "I was always hearing from older dudes about how great of an athlete he was, but he didn't push me. He gave me space to choose my own way.
"I looked up more to my brother [Derrick Holliday]. He was four years older than me, and didn't make the best decisions with his life. He's always had good intentions, but he got caught up in a lot of bad situations. Regardless, he always shielded me from the streets and did whatever he could to keep me on the right track."
Jamaal Bryant, nicknamed "Onion" since he was a tyke when one of his youth coaches said his head looked like a bulb, stood just 5-9 and weighed 140 pounds as a junior. An artist at the point, he used the floor as his canvas and mesmerized crowds with fancy ballhandling and no-look passing. The mercurial playmaker saw the floor as clearly as anyone in Western Pennsylvania back then and could toss alley-oops to Blair and Kennedy in his sleep.
"My role?" Bryant asked. "To do whatever it took to win. I had to win, needed to win. I couldn't stand losing. It was like coming face to face with death. I used to cry for hours after a loss."
As a sophomore at Schenley, DeAndre Kane tried to use every minute of the 2005-06 season to make up for lost time. Kane didn't play as a freshman, because he refused to carry the upperclassmen's bags, perhaps foreshadowing some of the troubles he'd have later on in his career.
"DeAndre had the mentality that he didn't have to listen," said Bryant. "He was definitely uncoachable at first."
The enigmatic Kane blossomed into a 6-4 point guard at the next level. But as a 10th-grader, he was a few inches shorter, playing off the ball, and carving out his niche on the team, all while trying to not get swallowed up by the streets.
Like Kennedy, Kane had championship blood coursing through his veins, as his father Calvin had steered the Spartans to their last state crown 28 long winters ago.
"Life was difficult in The Hill," Kane said. "Everywhere you looked, there were cautionary tales, examples of someone who could've been the one to make it big, but the streets took over. It would've been easy for me or any of my Schenley teammates to get stuck in that life and end up dead or in jail like so many others.
"Growing up, we were stupid, young and stupid. We'd go to parties wearing red bandanas, thinking we were gangbangers. With all the stuff I saw and what people were into, I'm fortunate to still be here."
Kane had a girlfriend and another friend who were murdered in separate incidents during his youth. The former was killed in a drive-by shooting, and Kane made it to the scene in time to see paramedics covering up her body. The latter died when he and Kane were at a party, and tempers began to flare. They left the house just before shots rang out, and were running toward their car when Kane's friend caught a bullet in the head.
Kane was and remains best friends with the last piece to Schenley's puzzle.
At 6-2, Greg Blair Jr., another sophomore, never sprouted like DeJuan, but his appetite for physicality may have exceeded his brother's.
"I was the guy who gave us the spark," Greg said. "When we needed a hard foul, I was the one to do it. And I loved that role.
"I always played basketball in DeJuan's shadow, but having him there was a blessing, because it took the pressure off me."
Schenley's offense fired on all cylinders when DeJuan was drop-stepping through traffic, Kennedy was gliding to the rim from seemingly impossible angles, Onion was slicing up his defenders with his crossover, Kane was bombing from distance, and Greg was whooping it up and bullying the opposition.
Mark Hostutler is a former award-winning journalist at the Delaware County (PA) Daily Times and the author of Heads of State: Pennsylvania's Greatest High School Basketball Players of the Modern Era, a book that profiles the best scholastic players in the Keystone State's illustrious history. His new book, The Eulogy of Pittsburgh's Schenley Spartans, examines how private and charter schools are tearing at the fabric of traditional high school basketball. To contact him, e-mail guruhoss@yahoo.com.
Photos courtesy of Eric Hartline