In this day and age, with technology providing access to more outlets via social media, it may be difficult to remain humbled when in the public eye from such a young age. In the world of sports especially, where all personal accolades are promoted on all sorts of platforms, one may lose sight or may be easily sidetracked. One girl in Connecticut, however, has kept her humility through all the accomplishments and publicity.
Kiah Gillespie, straight out of Meriden, CT, is wrapping up her senior year at Capital Prep and will be heading to the University of Maryland in the fall to play under Coach Brenda Frese. She looks to follow in the footsteps of hoopers like Kristi Toliver, Alyssa Thomas and Crystal Langhorn, all former Terrapins who are now playing in the WNBA (Toliver and Langhorn being a part of the 2006 National Title team). Gillespie hopes to cement her own legacy however, and definitely has the skill-set to make a great one.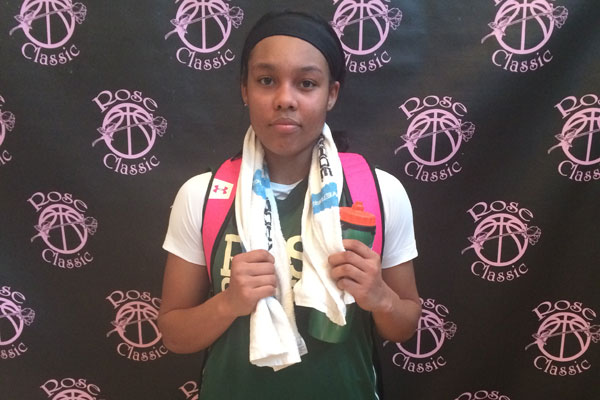 Standing at 6-3, Gillespie has the build of a forward with the skills of a guard. She is able to play in the post but also has the ability to sink it from midrange or behind the arc. She handles the ball very well, and is an excellent shooter from the free throw line. Among the honors under Gillespie's belt are Connecticut Gatorade Player of the Year in 2014 and 2015, and an invitation to the prestigious McDonald's All-American Game. In the Class L Connecticut State Championship game, she led her Capital Prep Trailblazers to their third straight state title (second in Class L), defeating Northwest Catholic 87-59. She had 42 points and 22 rebounds in that game.
With all of those accomplishments and more, it would be expected for one to be feeling themselves just a tad bit. Gillespie, however, is as humbled as one can be. On the court, no sense of entitlement or superiority, only the mindset needing to do whatever it takes to help the team win.
As great of a player as she has become, she did not always think that she would excel so much in the sport. "I didn't really think it was for me," says Gillespie. "I had to reflect on myself, I thought I was going to be a swimmer or something, but when I got to high school and started playing to my potential that's when I realized, you know, this could really be it for me."
And she has definitely molded that potential well.
Her motivation on the court has always been to do her part to get her team the victory. After losing the state championship her freshman year at Capital Prep, she realized she never wanted to experience that feeling of disappointment again.
"I lost the state championship my ninth grade year, and it took a lot out of me," recalls Gillespie. "And from that day forward it kind of motivated me to never be on that losing side."
She went on to win the state championship every year since.
With her skill-set and personality, she is every coach's dream.
Chez Williams, head coach of the girls' team at Bishop Loughlin Memorial High school in Brooklyn, NY and of New Heights, an AAU program in New York City for which Gillespie has played for, will be the first to speak on how much of a pleasure is to have her on the team.
"My experience coaching Kiah is one of the greatest coaching experiences that I've had," said Williams. "Not only is she a good basketball player, she's a great person, and coaching somebody like that… you don't get kids like that."
When Williams talks about her value to his team, it isn't even about her on-court production. "The value she's been to my team? Showing my girls how to stay humble even when you're in a high place. My kids admire her. She's not one of those kids you have on the team and thinks it's all about Kiah."
Taking that humble and winning mentality with her to College Park in the fall, Gillespie is ecstatic to go up against the likes of Iowa and Rutgers in the tough Big 10 conference. "I'm excited!" she says. "I actually watched them play a lot this year and they just looked good–they looked like they were having fun and especially against that great competition."
Of course, every player that plays collegiate ball wants to win that coveted National Title, and Gillespie is no different. For now, she can only hope to give Breanna Stewart and UConn a run for their money.
"Honestly, if we work together as a team and we play like we did last year but just a little bit better than in that Final Four game, then I really think it's possible," Gillespie says. "But we have to work because UConn is UConn."
With her high school career in the books, the five-star prospect looks to hone her skills in the offseason, as she prepares to embark on her biggest basketball challenge yet.
164