With this year's NCAA Tournament well under way and the round of 16 continuing tonight, no team remaining will have an easy path to the title game. Looking at some of the teams that have pretty difficult paths in this year's Tournament made me take a closer look at some of the toughest paths to the Championship in the last 20 years. That search led me to the 1997 Arizona Wildcats, who went on a crazy run the year they won it all.
When it comes to that particular Arizona team, most people remember the legendary white hair of the now iconic hoops coach Lute Olson or the stud Miles Simon or freshman phenom Mike Bibby and his now famous Nike Foamposites.
But I'd like to share some more context around what led to the make up of the team, the incredible teams they beat on the way to the title, and the season as a whole, as they would go on what is quite possibly the greatest NCAA Tournament run of all time.
Heading into the 1996-97 season, the Arizona program had tough shoes to fill. They would be losing four upperclassmen, including big man Joseph Blair who led the team in scoring, an oft-forgotten transfer by the name of Ben Davis who left Kansas for Florida, then Florida for Arizona and became the team's second leading scorer and leading rebounder. Point guard Reggie Geary was also a force, as he led the team in assists, blocks and steals, leading to a First-Team All-Pac 10 selection, along with Davis. There was also a senior by the name of Corey Williams who had some nice contributions as well.
In the 1996 Draft, thought to be possibly the best ever, Blair was selected 35th overall by the Sonics, Davis went 43rd to the Suns and Geary 56th to the Cavs. All would have pretty short NBA careers, but played a lot of overseas ball, as did Corey Williams who would go on to play 12 years of pro ball all over the world.
The 1997 Wildcats would be a young team, with incoming freshman Bibby, sophomore Terry and juniors Miles Simon and Michael Dickerson as their leaders. The team was up and down throughout the season, but they never lost more than two games in a row and finished with a 19-9 regular-season record. They did, however, finish with a mediocre 11-7 record in conference play. Good for fifth in the Pac-10. Dickerson would be the only Wildcat selected to the All-Pac 10 team, with Bibby being named Pac-10 Freshman of the Year.
The Cats would head into the 1997 NCAA Tournament as a 4-seed in a pretty tough Southeast region, behind No. 1 seed Kansas (Roy Williams), No. 2 seed Duke (Coach K) and No. 3 Georgia (Tubby Smith).
Their first game would be against the 13-seed South Alabama, where they escaped with just an 8-point victory, by a score of 65-57.
In their second game, the round of 32, Arizona would face the 12-seed College of Charleston, led by Senior Thaddeus Delaney, who was the Atlantic Sun player of the year. The Cougars had a 27-2 record coming into the game and were riding a 23-game winning streak. Their point guard was junior Anthony Johnson, who would go on to play 15 seasons in the NBA after being selected 39th overall by the Kings in the 1997 NBA Draft. The Cougars had just upset the 5-seed Maryland Terrapins, coached by Gary Williams and now had their sights set on Arizona.
In that game, Simon dropped 20 points and Bibby added 18, as Arizona knocked off the Cougars by just 4 points.
By beating Charleston, it would set up a Sweet Sixteen rematch between Arizona and the team that knocked them out of last year's Tournament, the No. 1 overall seed, Kansas. The Jayhawks were the powerhouse of the Tournament. They had only lost one game all season and that was just a two-point loss, 96-94, to Missouri over a month before the Tournament. The Jayhawks consisted of future NBA players in All-American Raef LaFrentz, Paul Pierce, Jacque Vaughn and Scot Pollard.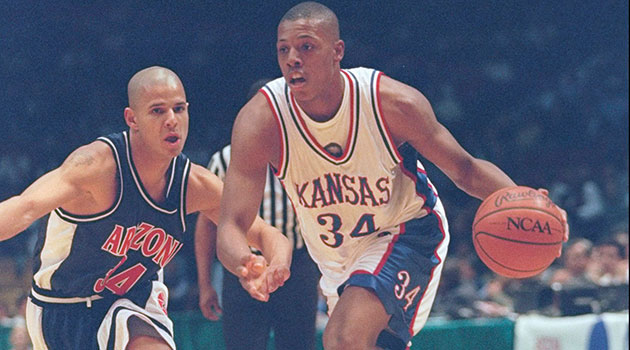 Against Kansas, Arizona would get a very balanced game out of their stars with Bibby dropping 21, Dickerson 20, Simon 17 and sophomore center AJ Bramlett adding 12 points and 12 boards, en route to a 85-82 upset that shocked the college basketball world, sending the Wildcats to the Elite Eight.
Their Elite Eight matchup would be against the 10-seed Providence Friars who consisted of future NBA players, big man Austin Croshere and God Shammgod, along with Sebastian Telfair's brother/Stephon Marbury's cousin Jamel Thomas. The Friars were an underdog, Cinderella team that had beaten No. 2 seed Duke to advance to the Sweet Sixteen and then knocked off the 14-seed Chattanooga to reach the Elite 8 where they would face Lute Olson's squad.
It would prove to be a great match up and a high-scoring affair that went to overtime, but Arizona would prevail 96-92, behind Mile Simon's 30-point game and five other Wildcats scoring in double figures. Arizona would now move to the Final Four, to play the No. 1 seed from the East, North Carolina.
North Carolina had some great talent with Vince Carter, Antawn Jamison, Shammond Williams and Ed Cota. Their team was stacked. They were led by one of the greatest coaches ever, Dean Smith and had just spanked legendary coach Denny Crum's 6-seed Lousiville Cardinals by 23, 97-74, in the Elite Eight.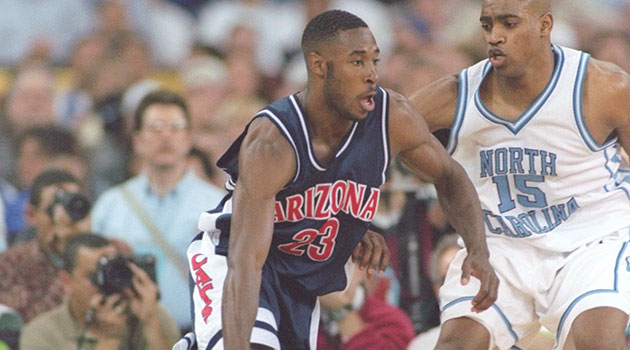 Tar Heel studs Carter and Jamison combined for 15-32 shooting totaling 37 points, while Williams, Cota, Serge Zwikker and Ademola Okulaia combined to shoot 8-42, a terrible 19 percent from the field, totaling just 19 points.
They couldn't overcome the poor shooting night, as Bibby and Simon again led the Cats to victory, 66-58, knocking off their second No. 1 seed in the tourney to advance to the title game, where they would play their third 1-seeded opponent, and defending Champion Kentucky Wildcats, coached by Rick Pitino, who had just beat No. 1 seed Minnesota Golden Gophers 78-69 to get to the final game.
Heading into the Championship game, there was a ton of buzz around Arizona's run, but Kentucky was still the favorite, looking to repeat, as they had won it all the year before with Antoine Walker, Tony Delk and Walter McCarty. Hall of Fame coach Rick Pitino, would try to get his second ring behind the likes of future NBA talent Ron Mercer, Derek Anderson, Scott Padgett, Nazr Mohammed and Jamaal Magloire.
Prior to 1997, the last five NCAA Champions had been No. 1 seeds, and Kentucky looked poised to take it again, rolling to the title game with a 35-4 overall record with no one giving them too hard of a test along the way.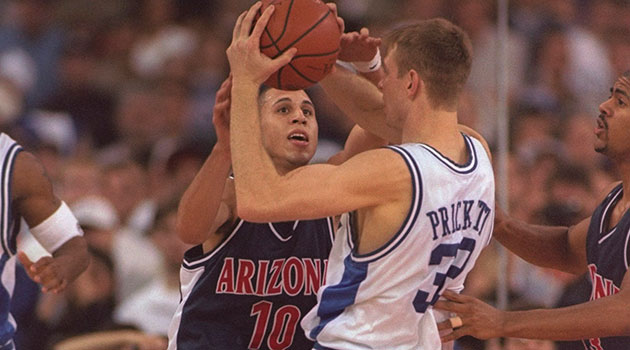 The title game between Kentucky and Arizona—a battle of Wildcats, played on March 31, 1997 in Indianapolis—was a great game. Two great teams, peaking at the same time, in the biggest games of the players' lives. There were 18 lead changes in the game, which turned out to be a great fight to crown a champion.
Arizona led 42-41 at the half and the game went back and forth for all 40 minutes and ended tied 74-74 at the end of regulation.
In overtime, Arizona outscored Kentucky 10-5, with all 10 of their points coming from free throws. Simon had a huge title game, dropping 30 points and was named the tournament's Most Outstanding Player. The championship game capped off an incredible Tournament run, beating some super talented teams, including three No. 1 seeds stacked with future pros.
In the post-game press conference, Olson said, "What a great game. What a great effort from both teams. I'm very proud of the toughness of this group that no one thought should be here, no one thought could do it. Three No. 1 seeds went down. This is one tough, young group of Cats!"
The 1997 Arizona Wildcats finished the season with a 25-9 record, but their journey—in this writer's opinion—goes down as the greatest NCAA Tournament run of all time. They are still the only team to beat three No. 1 seeds in an NCAA Tournament.
The nucleus of the team, Miles Simon, Mike Bibby, Michael Dickerson, AJ Bramlett and Jason Terry all returned to repeat the next year but were upset, ironically as a 1-seed in the Elite Eight of the 1998 Tourney by Utah, who eventually lost in the title game to Kentucky. All five players would go on to be drafted in 1998 or 1999.