The Mary Kline Winter Classic is an extension of the Mary Kline Classic, a spring-time all-star charity event with an emphasis on cancer awareness. Founded by Alex Kline, the game has amassed $102,000 going toward cancer research. The Winter Classic came about in honor of the 10th anniversary of the passing of his mother, Mary Kline. Held at Archbishop Wood High School, the event provided a great basketball atmosphere for a worthy cause. Here are some of the players who stood out: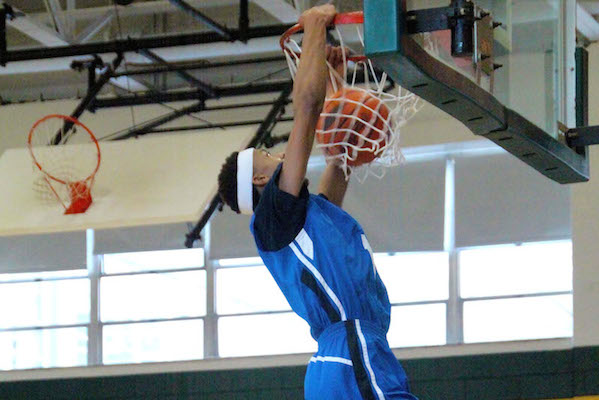 Trey Lowe, 6-5, G Ewing (NJ) HS 2015 (above)
Lowe was nothing short of superb as he scored 31 points and garnered Co-MVP honors as he led his team to a 74-63 win over Salesianum (DE). Known mostly for his offensive prowess, Lowe and his teammates used a very sound defensive effort to stay in control throughout the game. Many of Lowe's points came in either transition or by scoring off of Salesianum turnovers. The senior guard is blessed with a long, athletic frame that makes shooting through passing lanes for steals almost effortless. Offensively, Trey hit threes, dunked emphatically in traffic, and made plays for others-which we found most impressive. There were several instances Lowe either drew two defenders and kicked out to an open teammate, or made good passes in transition. Added strength and a mid-range jump shot will ensure Lowe contributes early once he touches down on Temple's campus.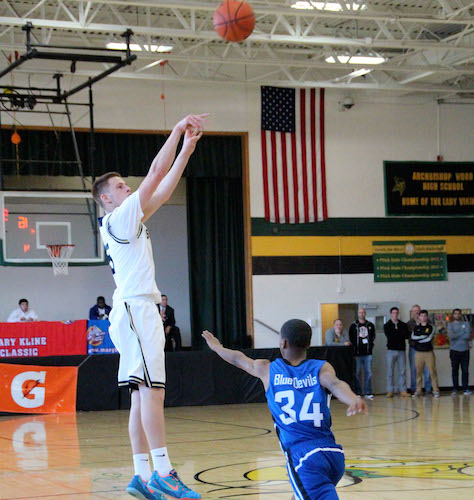 Donte Divincenzo, 6-4, G Salesianum School (DE) 2015 (above)
Although he experienced defeat at the hands of his AAU teammate, Divincenzo did everything within his power to keep his team in the mix. While being dogged all game by Ewing's relentless defense, Donte showed flashes of brilliance. His ability to stroke it from deep, maneuver around multiple defenders, and create space to get his shot off are some of many reasons he will fit well into Villanova's system next year. Divincenzo also was elusive in transition, using a combination of euro-steps or pro-hops to creatively finish at the rim.
Traci Carter, 6-0, G Life Center (NJ) 2015
Traci Carter doesn't pay much attention to what they critics say about him being a scoring guard. In fact, he uses the constant critiques as fuel to prove he's a complete guard. Carter's stat line of 17 points, 7 assists and 2 steals certainly resembled such. Although his team took a 68-63 overtime L to Pope John XXIII (NJ), the South Philly guard showed why he's coveted by some of the top programs in the nation. Carter is at his best when attacking, but also showed that he can consistently find open teammates in transition or in the half court. The young man simply makes plays, and knew when to make them appropriately. Defensively, he has the capacity to be a good on ball defender given his natural athleticism and ability to anticipate.
Malachi Richardson, 6-5, G Trenton Catholic (NJ) 2015
Richardson scored a game high 29 points, and helped his team rally back from a 16 point deficit only to fall to Imhotep Charter (PA) 73-68 in OT. Richardson is a more than capable scorer, drilling shots from behind the arc- most times with a man draped all over him. He also flashed hints of a sharp handle which caused his defender to have an "Earth touching" moment before nailing a step back J. A strong, athletic build helps him finish his drives to the hoop with either a bucket or a drawn foul. Richardson possesses an "alpha dog" mentality that should definitely help him when he takes the floor at Syracuse next year.
Players of Intrigue
Richmond Aririguzoh, 6-9, F Trenton Catholic (NJ) 2016
Although he was in foul trouble most of the game, Richmond's impact was felt on both ends of the floor once he finally got into the flow. He manned the paint, alternated shots, and grabbed crucial rebounds down the stretch. Aririguzoh also excels in the classroom as he's receiving Ivy League interest.
Daron Russell, 5-10, G Imhotep Charter (PA) 2017
This speedy, pint-sized PG packed major scoring punch. He attacked the paint, finished amongst the trees, and nailed triples if his feet were set. Russell also played great on-ball defense. The sky is the limit if he adds strength and shows he can make others around him better.
Nysier Brooks, 6-10, F/C Life Center (NJ) 2016
Brooks put for a great defensive effort against Pope John's Moustapha Diagne. He played with a bit of a mean streak that most college coaches want out of their big men. He consistently changed shots, and rebounded on both ends. With added offensive development, Brooks could help any low to mid major program.
(Photo Credit: Carmella Photography)