In a departure from the usual cut-and-dry evaluation of prospects, there was actually some genuine intrigue surrounding the game itself among the 100-plus NBA personnel in attendance for the practices leading up to Saturday's Nike Hoop Summit in Portland. The USA and World teams were so evenly matched that the scouts and executives who stayed for the annual all-star game at the Trail Blazers' Moda Center were also curious about how the contest would pan out, in addition to the performances of several youngsters regarded as potential 2016 lottery picks.
The event lived up to the hype, as far as competition, with the World team holding off the U.S., 103-101, in a tight-knit affair, behind Canadian combo guard Jamal Murray's game-high 30 points, as Arizona-bound scorer Allonzo Trier missed a contested corner trey that would have won it at the final buzzer. Here are some players from each squad who stood out throughout the week, as well as a few quick notes related to the proceedings:
USA:
Jalen Brunson, 6-1 point guard, Stevenson (IL), Villanova: Brunson wasn't the quickest or most athletic player on the U.S. team, but the pure point guard's high I.Q., ability to get to the foul line and ball distribution led to him scoring 12 points and passing for seven assists in an efficient fashion. The son of former NBA point guard and assistant coach Rick Brunson is a floor general who can run the show and get teammates involved, but also score when necessary. Brunson should make an immediate impact at 'Nova and be a fixture as one of the Big East's top players at his position for years to come.
Brandon Ingram, 6-9 small forward, Kinston (NC), Undecided: One of my favorite prospects from last summer, Ingram, for whatever reason, seemed a bit underappreciated nationally. That's quickly changed with his performances thus far on the all-star game circuit, including scoring a smooth 12 points in Portland, to go along with consistently strong performances in practice sessions beforehand. The lanky wing has received the requisite Kevin Durant comparisons because of his scoring ability and crazy wingspan, but for those of us who can remember Tayshaun Prince in his Kentucky and prime Detroit days, Ingram (one of the more sought-after uncommitted players in a group of a handful of elite prospects) has some definite similarities, from his better-than-advertised toughness and defensive versatility, to his deep range and above-the-rim finishing ability.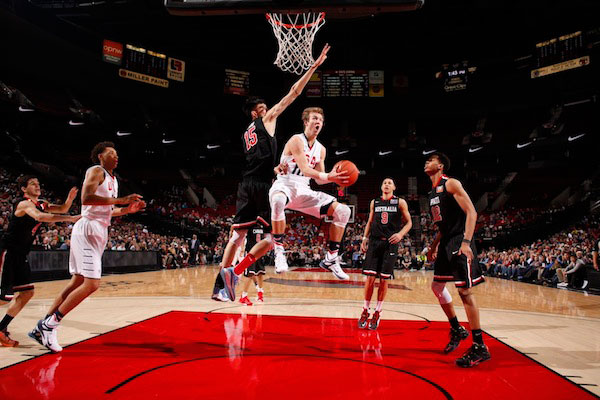 Luke Kennard (above), 6-5 shooting guard, Franklin (OH), Duke: Kennard isn't Ohio's career all-time leading scorer in high school basketball (breaking LeBron James' record in the process) for nothing, as evidenced by his team-high 22 points. While spot-up shooting is his strong suit, Kennard also has a mid-range game off the dribble, has enough size to get to the rim and can finish in transition. With the champs likely losing many, if not all of their talented freshmen from this past season, expect Kennard to get early playing time at Duke and put numbers on the board.
Malik Newman (below), 6-4 shooting guard, Callaway (MS), Undecided: A pure scorer in the vein of current pros fellow Jackson natives Monta Ellis and Mo Williams (shout out to former NBA player James "Hollywood" Robinson, too), Newman can get buckets off the dribble, in transition and from outside. While Newman, who scored 10 points in the game, doesn't have great size for his position, he makes up for it with his crafty game, and with his ballhandling ability, it's easy to envision him developing into an instant-offense scorer who can play on and off the ball, a la Lou Williams and Jamal Crawford. Yet another prospect with a long list of college options late in the recruiting process, Newman is likely to be a go-to guy right away wherever he lands.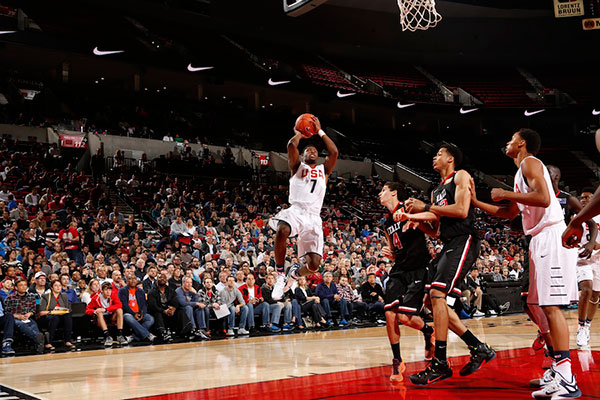 World:
Cheick Diallo, 6-9 power forward, Our Savior New American (NY), Undecided: A native of Mali, Diallo lived up to his reputation as a tough, blue-collar competitor with athleticism and the ability to affect the game on both ends of the floor without requiring a ton of touches, similar to Taj Gibson. Diallo isn't a polished post-up scorer at this stage of his career, but he does have a nice touch on his mid-range jumper and effective footwork when facing the basket, though his strengths as a scorer are finishing at the rim, sprinting past even guards on the break for easy opportunities and crashing the offensive glass. Long, with a solid frame, Diallo went for 12 points, six boards and three blocked shots in the game, demonstrating his defensive aptitude and active rebounding, which will allow him to make his presence felt at the school of his choice after making a decision sometime this spring.
Skal Labissiere, 7-0 center, Reach Your Dreams (TN), Kentucky: Labissiere, who survived a tragic earthquake as a kid in Haiti before moving to Memphis, was the biggest beneficiary of the event, as he went from a highly-regarded prospect not many NBA personnel had seen in person, to a candidate, albeit very early, to be the top pick in 2016. It sounds ridiculous, but after observing his occasionally-dominant practice performances and going for 21 points, six boards and six blocks in the actual game, it's hard to say there's a player with a higher ceiling in the class than Labissiere. After Kentucky's exodus of early entries to this year's draft, Labissiere's combination of explosive athleticism, defensive presence and a raw, yet skilled offensive game that includes dynamic face-up and back-to-the-basket moves, elevation and range on his jumper and being a factor in transition will be on full display next season after going under the radar at a newly-created prep school this past winter.
Jamal Murray, 6-4 shooting guard, Orangeville (ON), Undecided: A two-time participant in the event, Murray, a junior reportedly considering re-classifying to the class of 2015 in order to play college ball next season, showed vast improvement from a year ago. Once basically a spot-up shooter, Murray is now a legitimate combo guard, handing out five assists to complement his gaudy scoring in the game. Murray is noticeably stronger, enabling him to finish better at the basket, while also diversifying his game by being able to get to the rim more easily, knock down pull-up jumpers and showing the potential to be a big scoring point guard.
Ben Simmons, 6-10 small forward, Montverde (FL), LSU: Simmons, the nation's top prospect, didn't disappoint, as the Australian almost notched a triple-double, scoring 13 points, to go with nine rebounds and assists apiece. A unique point-forward type, Simmons' game brings back memories of a young Billy Owens (for those of you old enough to remember him at Syracuse, prior to the NBA) and even some Lamar Odom, as the LSU signee's court vision, open-court speed, ballhandling ability for his size and overall feel for the game are uncanny. As a scorer off the dribble capable of skillfully operating off ball screens, while also using his strong frame to post up smaller players and make an impact on the glass, it's clear why Simmons is seen by many as the next big thing in the game.
Notes:
–Caleb Swanigan, a rugged and skilled power forward out of Indiana, committed to Michigan State, surprising many observers Friday, as many believed he would pick Cal in a package deal with Oakland big man Ivan Rabb and Atlanta wing Jaylen Brown, both of whom are still undecided. The Spartans, coming off the momentum of a Final Four run, are a perfect fit for the husky Rabb, following Tom Izzo's tradition of talented, hard-nosed big men, such as Zach Randolph and Draymond Green. The husky Swanigan could certainly improve on his conditioning, but his physical, vocal demeanor, nimble feet, rebounding instincts and touch on his jumper are likely to make him an outstanding player in the Big Ten. Add in the fact that he'll be playing alongside his AAU teammate and fellow McDonald's All-American Deyonta Davis, a 6-9 athlete, not to mention that the Spartans are returning key players like the versatile Denzel Valentine, and Michigan State could be poised to again make noise next winter.
–Monday night, Rabb, who I've had the pleasure of watching up close several times this season now that I live in The Town, will choose between Arizona, where several players from his Oakland Soldiers AAU team have attended, and hometown Cal. Honestly, he can't go wrong either way, as he's explained numerous times: Arizona is the traditional power, there's playing time available with fellow Bay Area native Brandon Ashley declaring for the draft and the Wildcats would still be the cream of the crop in the Pac-12, as well as at least a top-25 team nationally, even with several top players departing the program; Rabb would be a legend if he went to nearby Berkeley (it seemed like half of Oakland was at his dramatic state-championship win at Cal's Haas Pavilion), the Golden Bears would have a shot at making a run next season (even without Swanigan, as star guard Tyrone Wallace will be one of the nation's top returning players if he bypasses the draft and the consensus No. 2 prep prospect in the country, the aforementioned Brown, has Cal on his long final list and has visited the campus) and he'd clearly be the team's top interior offensive option. A long, athletic shot-blocking presence with strong finishing ability and a soft touch on his mid-range jumper, Rabb is also a great kid and regardless of what school he picks, he's a candidate to be a one-and-done player in college and a long-time pro, especially after adding some bulk to his slender frame.
–Aside from Simmons, 7-0 power forward Thon Maker might have been the most highly-anticipated prospect on the World team heading into the practice sessions. However, Maker, who has been described as having a Durant-like skill set, had an up-and-down week and scored only two points Saturday(though he did snatch 10 rebounds), not making a shot from the floor. Obviously one performance won't make or break Maker, who is originally from Sudan, started playing ball in Australia and has attended school in Louisiana, Virginia and now Canada, but with him reportedly considering re-classifying from the 2016 to 2015 class, it might be pertinent for him to further define his game sooner than later. Adding strength is a must, but after being billed as a big small forward with the ability to handle the ball and knock down deep jumpers, perhaps focusing on his mid-range, face-up post game and defense will serve him well both now and in the future.
(Photo credit: USA Basketball / www.cameronbrowne.com)