Over a three day period, over 12,000 fans assembled at Cape Henlopen High School in Lewes, Delaware for the Slam Dunk to the Beach showcase. Hosted by the Delaware Sports Commission, the event attracted some of the nation's best high school basketball talent. With this being the second year of its return, the commission ramped up the talent pool by locking five schools listed in MaxPreps Xcellent 25. Here are a few of the players that stood out.
Isaiah Washington 6-0 PG St. Raymond (NY) 2017
Basketball purists say that point guards are born, not created. During his two games at Slam Dunk to the Beach, Isaiah Washington played as if he was well aware of his birthright. In his team's win over Friendship Collegiate, Washington notched 17 points, 7 boards and 8 steals in a highly anticipated matchup with Temple-commit Alani Moore. He also finished with 17 points, 6 rebounds and 4 steals in a loss to St. Elizabeth. Washington's playing style is reminiscent of a throwback, New York City point guard with exceptional ball-handling and slick passing ability. The Harlem native played with a calm demeanor, handled pressure well, scored and dished to open teammates. Washington's list of suitors may increase if he limits his turnovers and improves his shooting efficiency.
Sidney Wilson 6-7, SF, St. Raymond (NY), 2017
Wilson is a highly energetic, supremely athletic, versatile forward who is at his best when he attacks the basket. The junior forward went ballistic against Friendship Collegiate's bigger frontline by scoring 31 points, and followed up with 21 points, 17 rebounds, and 4 assists in a losing effort to St. Elizabeth. Wilson was amazing in transition, but also operated well in the high post, and short corners. Defensively, he proved to be a great weak-side defender as he displayed great timing when blocking shots. While he is currently more of a face-up forward, with continued development and added strength, Wilson should make a smooth transition to the wing. Wilson is currently receiving interest from several programs in the American Athletic Conference, Big Ten, and Big East.
Luke Garza, 6-10, PF, Maret (D.C.), 2017    
Garza set the tournament ablaze with back-to-back 32-point performances. The first came in an overtime win against Appoqiminimink (DE), where he shot 75 percent from the field. The second was in a lopsided defeat to nationally ranked Roman Catholic (PA). Garza is not overly athletic, but he compensates for it with his high basketball I.Q., and an endless array of scoring moves around the basket. Garza also demonstrated excellent footwork and body control by executing a Euro-step while driving to avoid a defender, and craftily pivoting around his defenders to improve his scoring position. This low post technician also has good form on his jump shot and can knock down three-point shots. Garza's skill set will attract the interest of mid to high major programs when it's all said and done.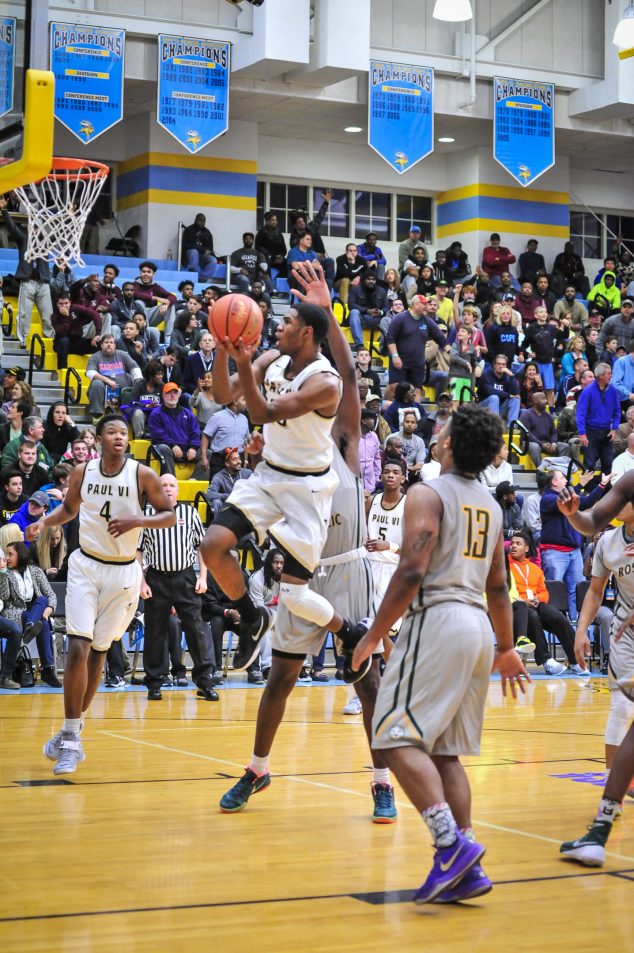 V.J. King, 6-7, SF, Paul VI (VA), 2016 (above)   
V.J. King got our vote for the most outstanding player of the event. He played remarkably as he scored 16 points and grabbed 7 rebounds, and then erupted for 28 and 10 to lead his team to two wins over Top 25 programs, Neumann-Goretti (PA) and Roselle Catholic (NJ). King is an extraordinary athlete who can shine in transition or a half court setting. His size and athleticism are perfect for slashing to the basket or elevating over defenders while draining mid-range jump shots. King also demonstrated an exceptional ability to make good decisions out of pick and roll scenarios. The senior possesses the intangibles, such as mental toughness and leadership that should allow him to make an immediate impact at Louisville next season.
David Beatty, 6-3, SG, St. Benedict's (NJ), 2017
Beatty was once considered an athletic guard whose main strengths were driving to the basket or finishing in transition. While he still possesses those qualities, Beatty has developed his jump shot to the point where his offensive arsenal has become almost lethal. Beatty dropped 19 points, 4 rebounds and 4 steals versus a talent-rich Westtown School on the opening night of the tournament. He followed that performance with 23 points, 6 rebounds, 3 assists and 3 steals in a win over USA Today #3 ranked team La Lumiere. The Philly guard showed tremendous growth by consistently making shots at all three levels. What was most impressive was his knack for creating space from defenders and making mid and long range shots. Beatty is also a good perimeter defender. Sharpening his decision making skills will help him in the long run. Beatty currently has offers from several mid to high major programs.
Mikey Dixon, 6-2 PG, Sanford (DE), 2016
The hometown hero put on quite a performance as he set the single game scoring record for Slam Dunk to the Beach by exploding for 39 points versus in-state rival, Dover. To prove his first performance was no fluke, Dixon led his team with 25 points and 10 rebounds in a thrilling overtime loss against nationally ranked La Lumiere. As a combo guard, he can get by his defender at will and can score from all three levels. Like most good scorers, Dixon is proficient at drawing fouls and converting from the charity stripe. Aside from his skill, what stands out the most is how passionately he plays. His energy was contagious. A great off-season strength program will prepare him for the rigors of college basketball. Look for Dixon to step in right away and contribute at Quinnipiac.
Best of the Rest
Matt Bullock, 6'4, SG, Roselle Catholic (NJ), 2016:
He's built like a linebacker but is a crafty scorer with sneaky athleticism. Mid major at the very least.
Makhi Mitchell, 6'9, F, Bishop McNamara (MD), 2019:
He's only a freshman but Mitchell has moves on the block and also protects the paint.
Photo courtesy of Slam Dunk to the Beach