You may recall that we put together an All-American team every spring at the end of the regular high school season as a way to pay homage to the nation's top young hoopers. This year, considering how important and expansive the summer youth circuit has become for both players and collegiate programs in the recruiting world, we have decided to now start compiling a Summer All-American team at the end of August as well. Our first ever team was no easy task, as there were too many players that can be made an argument for as being among the top-5 performers of the summer. From breakout players like Wenyen Gabriel and Markelle Fultz to impressive performances from the likes of Terrance Ferguson, Dennis Smith, Frank Jackson and D'Aaron Fox, these were all guys that made the list so much more difficult to compile. In the end, we went with guys that we thought showed the most consistency through it all. Congrats the inaugural SLAM Summer All-American team. The uniforms were designed by the Nando DiBiase, who used to put together our annual SLAM All-American uniforms in the past and whom we will have more on very soon.
Rawle Alkins
Middle Village (NY) Christ the King | G, 6-5, 220 | Class of 2016
Coming into the summer, Alkins had generated a buzz locally after leading Christ the King Regional HS to its third straight state title, the first catholic school in NYC to do so in 34 years. But nationally? That was still work-in-progress. Fast forward some four months and Alkins is now regarded among the top 15 seniors in the country. That's what happens when you win MVP at the adidas Uprising Gaunlet championship game with 34 points and at the adidas Nations Championship with 26 points. The physique of an NBA-ready prospect with the usual swag of a Brooklyn guard, a respectable jumper and great motor, NYC hasn't been this excited about a high school recruit since Lance Stephenson in 2009.
Harry Giles
Mouth of Wilson (VA) Oak Hill | F, 6-10, 230 | Class of 2016
Being that he was already considered by many as the top hooper in the Class of 2016, there wasn't much that Giles could really gain this summer—except reassuring folks that he has bounced back perfectly from his ACL, MCL and meniscus tear in his left knee a couple of summers ago and is deserving of the hype. Well, he did just that after averaging 18.2 points and 11.2 rebounds per game during the regular season of the EYBL, leading his Team CP3 squad to a league-best 15-2 record. The North Carolina native then traveled to Greece to help lead the U19 USA Basketball team to the FIBA World Championships gold medal and earned a spot on the All-Tournament Team after finishing third in the tourney in points per 40 minutes with 26.4. He then returned to the states and led his CP3 squad to the semifinals of Nike's Peach Jam, but not before being named MVP of the 2015 EYBL campaign.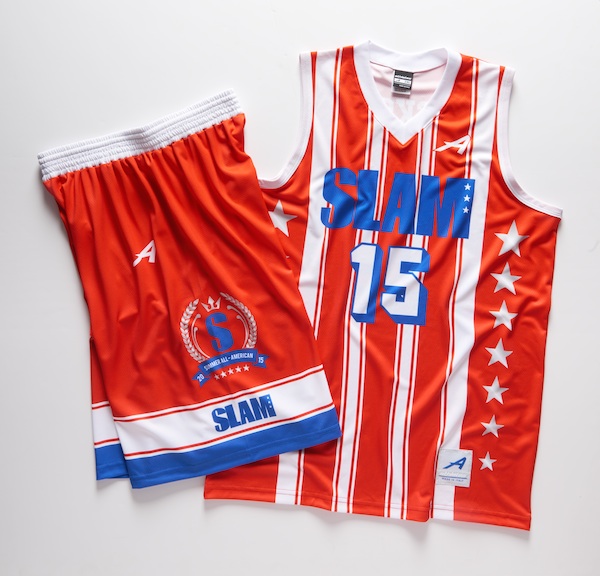 Josh Jackson
Napa (CA) Prolific | F, 6-7, 195 | Class of 2016
Jackson averaged 18.3 points, 10.0 rebounds and 3.3 assists this summer playing for 1 Nation on the Under Armour Association travel circuit, ultimately being named the MVP of the Baltimore-based company's league. Also a member of the U19 USA Basketball gold medal winning team this July, Jackson made headlines when he dropped 50 points at the Big Strick Classic in the Bronx, NY, obviously earning MVP honors as a result. Then just two weeks later, one night after winning the slam dunk contest at the 2015 Elite 24 festivities, he earned MVP at the 10th annual showcase after posting 12 points and seven rebounds during an epic showdown versus 2016 wing Rawle Alkins.
Jayson Tatum
St. Louis (MO) Chaminade | F, 6-8, 205 | Class of 2016
After averaging 19.5 points (fifth-best) and 8 rebounds per game during the regular season of Nike's EYBL, Tatum led his St. Louis Eagles team to the championship game of the EYBL Finals at Peach Jam in July, demonstrating his versatility in the process and why many folks consider him the most complete (and smooth) player in high school basketball. Then to cap off the summer, he attended the highly-talked about (in the recruiting/grassroots circle) Nike Bahamas trip where he led everyone in scoring with 18 points. Headed to Duke in 2016, Tatum had an array of incredible finishes over the past four months, including this jam over a Greek player during FIBA play, as well as this one.
Kassoum Yakwe,
Centereach (NY) Our Savior New American |F, 6-8, 205 | Reclassified to Class of 2015
Coming into the summer as a prospect barely in the conversation for top-100 ranking consideration in the Class of 2016, Yakwe put together one of the most impressive summer circuit performances this year. He led the prestigious talent-loaded Nike EYBL in cumulative blocks during the regular season with 46, and then led the Finals at Peach Jam with 5.8 rejections in four games while hooping with the PSA Cardinals of New York. At Peach Jam, he also finished second in rebounds after averaging 11.8 boards per outing. Coincidently, highly touted Kansas freshman Cheick Diallo, who like Yawke is from Mali and shared the frontcourt at Our Savior New American School, won the same EYBL defensive award last year before earning MVP at the McDonald's All-American Game as well as the Jordan Brand Classic. In a summer circuit system where scoring tends to be the main focus, Yakwe is a refreshing reminder of a player knowing his role and outworking everyone else at it. Just last week it was announced that Yakwe will be reclassifying to the Class of 2015 and will be enrolling at St. John's this fall.
362