If you read our year-by-year recap of the Elite 24 last week, then you already know it's something about this event that makes New York City participants take their game up a notch to another level. From NBA free agent Lance Stephenson and former Kentucky star Doron Lamb to newly drafted Brooklyn Nets guard Isaiah Whitehead, NYC natives have taken home MVP honors in four of the first 10 Elite 24 games.
Maybe it has something to do with the games being played in the Empire State, with the home crowd cheering their every move, or the fact that such games against the nation's top recruits offer the opportunity to quiet critics that claim NYC doesn't produce the same kind of high-level prospects it once did. But as the Under Armour prestigious summer all-star game turned the page into a new decade this past weekend, the results for New York guards remained the same.
This time it was another NYC-bred guard named Isaiah that took home MVP honors after scoring 36 points, just two points shy of Stephenson's all-time event record of 38 points. Isaiah Washington, who wasn't even listed on the rosters when the 24 selected participants were initially revealed, was a last-minute addition after being brought on board just a couple of days prior to Saturday's nationally-televised game.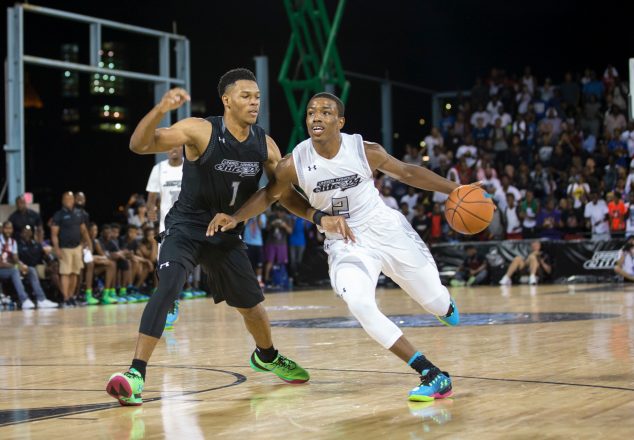 With a chip on his shoulder and the #jellyfam supporters seemingly making up for about half of the people sitting in the stands, Washington put together a memorable night that brought back memories to the 2013 E24 edition under the Brooklyn Bridge, which saw Brooklyn guard Whitehead and Denver Nuggets PG Emmanuel Mudiay battle it out one-one-one for multiple consecutive possessions, as the crowd instigated the back-and-forth action. In that game, it was the hometown guard against the number one guard in the country (Mudiay). This year's game, it was Washington (above, white), who has emerged this summer as a local online sensation and hometown favorite, against the top ranked guard in the nation, Trevon Duval (above, black). The Delaware native, known for his explosiveness and agility, hooped at Advanced Prep International last year but has said he will transfer to a different school (still to be determined) for his senior year.
Both caught each other with off-the-dribble moves to the rim, with Washington usually shaking Duval off with his superb ball-handling skills while Duval created space by using his superior athleticism and speed over Washington. In the end, Duval would respond to Washington's 36 points with 25 of his own to go along with a game-high of 9 assists.
This year's showcase also marked the first time in its 11 years of existence that the game ended up going to overtime. Alums like Will Barton and Mudiay returned as assistant coaches, while participants from last year's game like incoming Kansas freshman Josh Jackson and incoming Washington freshman Markelle Fultz took in the action from courtside.
One of the most impressive performers in this year's game was Zion Williamson (above), a 6-7 forward out of Spartanburg (SC) Day School, who went a perfect 10-for-10 from the field on Saturday night, making it look easy on his way to 23 points, six rebounds and the co-MVP hardware.
Only a rising junior, Williamson capped off a strong summer that saw him win MVP at the NBPA Top 100 Camp in June and many in the circuit now consider him a candidate for the top spot in the Class of 2018.
Another NYC guard in attendance was Hamidou Diallo, a 6-5 shooting guard from Corona, Queens, who's a rising senior at Putnam Science Academy in Connecticut. The high-flying, five-star recruit is highly regarded for his explosiveness and speed. He finished Saturday night with 22 points, six rebounds, 4 steals and a whole lot of dunks.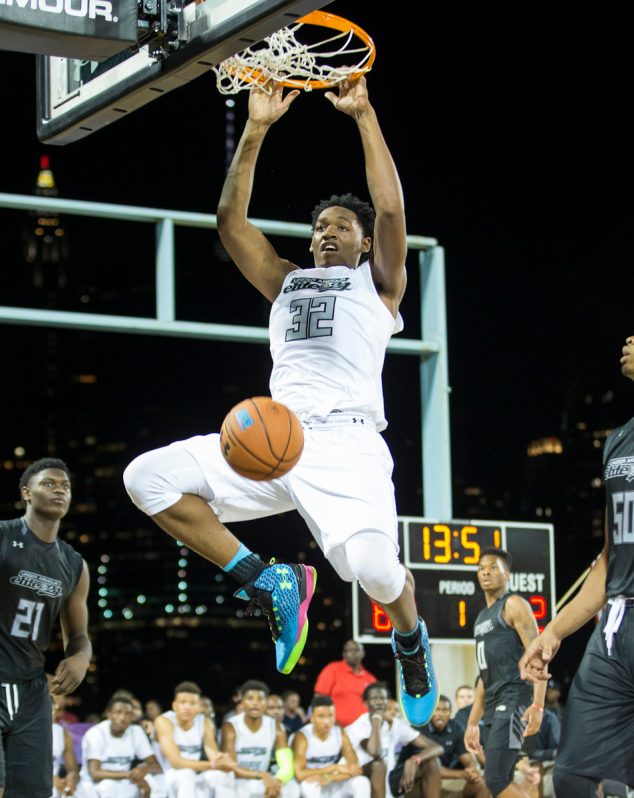 Auburn-commit Austin Wiley (above), whose both parents hooped for the Tigers in the 1990s, posted the only double-double of the night with 22 points and 12 rebounds. His mother, Vickie Orr, represented Team USA in the 1992 Barcelona Olympics, where the American squad took home the bronze medal. His father, Aubrey, led the SEC in rebounding in 1994 and has coached at Lawson State Community College for over a decade.
Bol Bol, son of the late Manute Bol, a 7-7 former NBA shot-blocking machine and renowned humanitarian activist, went a perfect 5-for-5 from the floor, finishing with 10 points.
From a defensive perspective, no one was more impressive than MJ Walker. The two-sport standout, who has collected collegiate offers in both football and basketball, could care less that it was an all-star game, refusing to give up any easy baskets throughout the night – all visible in the stat sheet, where he finished with game-highs in steals (6) and fouls (6) to accompany his 15 points and four assists. The 6-5 shooting guard out of Jonesboro in Georgia led the UA Association in scoring with 20.7 points per game this summer.
UNC-commit Jalek Felton, nephew of LA Clippers guard and UA endorser Raymond Felton, chipped in 16 points and four assists.
Photo Credit: Kelly Kline/Under Armour