Philadelphia University was the site for Elevate Hoops' Summer Showdown. The atmosphere there embodied the frenzy that comes with the July recruiting period. The event was well attended by college coaches who were trying to round out their recruiting classes as well as get the jump on the next brightest star.
The showcase provided an interesting mix of local teams as well as teams from the South, Midwest, and New England. What was great about this tournament was that it provided a platform for virtually unknown prospects to showcase their abilities – and that they did. Here are some of the top performers from the event:
Ejike Obinna, 6-8 Uncommon Bulls (VA) 2017
Obinna is a rugged power forward who proved he could play against taller, stronger defenders. In his epic match up with 7'0" Danish center, Asbjorn Midtgaard, Obinna used his quickness to his advantage to beat his man down the court in transition. In half court settings, he executed half-hook shots with either hand, and seemed to get his hands on almost every loose ball or rebound. Obinna holds offers from schools in BIG EAST, ACC, AAC, and Big Ten.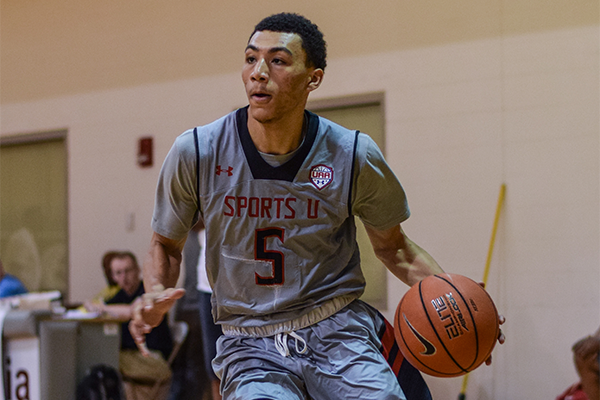 Jahvon Quinerly, 6-1 G, Sports U (NJ) 2018 (above)
The point guard position is the hardest position to play in the game of basketball. Point guards have the task facilitating an offense as well as scoring when needed. For most guards, finding the balance between the two is the difficult part. This was not an issue for Mr. Quinerly. Not only was he able to score when he wanted, Quinerly showed enough discipline to run the offense and involve his teammates. What was most impressive was his poise under pressure, and how he repeatedly finished over taller defenders. Already a hot name among elite level programs, Quinerly will make himself even more coveted if utilizes his floater and mid-range jump shot.
Asbjorn Midtgaard, 7-0 C, Global Squad-Denmark 2017
Upon seeing Midtgaard take court, I immediately thought of the Game of Thrones character, The Mountain. As a legit seven foot center, he is incredibly strong, and enjoys the physicality of playing in the post. Midtgaard also used his foot work and strength to establish position offensively, and fight for rebounds. Midtgaard's offensive game is a work in progress, but he showed flashes of its development. On the defensive end, the Dane would not be outworked. He displays a toughness that isn't normally seen at the high school level. Midtgaard does not have any offers at the present time, but that should change in the latter half of the evaluation period. Midtgaard could step in and help any mid-major to high level program.
Clifton Moore, Jr. 6-9 F Hoopdreamz (PA) 2017
One of the most intriguing prospects of the region, Moore is a long, bouncy athlete who primarily plays as a power forward, but has the potential to become very effective on the perimeter at the collegiate level. Moore has great form on his jump shot, and rebounds well despite being slight of frame. Defensively, the rangy forward showed the ability to defend on the perimeter or in the post. If he continues to develop offensively, Moore could an early contributor at the school of his choosing.
Jordan Pierce, 7-0 C New Jersey Roadrunners (NJ) 2017
Pierce continues to take leaps and bounds as the summer progresses. Blessed with a decent shooting touch, and a knack scoring around the basket, the lefty is beginning to turn the corner defensively. A play that continues stick out in my mind was seeing an opposing player attempting a lay-up only to have Pierce pin the ball to the backboard. The act itself wasn't the surprising part. It was the ferocity of Pierce's block that took me by surprise. If Jordan Pierce begins to consistently impose his will on both ends of the court, his list of suitors will increase. Pierce is currently receiving the most Temple and Florida Gulf Coast.
Matthue Cotton, 6-5 G Team Final (PA) 2018
Cotton scored the ball in a variety of ways this weekend. When he wasn't blowing by opposing defenders on his way to the basket, the energetic lefty stretched defenses by draining three point shots. Cotton also showcased his ability to shoot off the dribble. If Cotton remains consistent and improves his defensive focus, he could begin to garner attention from elite collegiate programs.
Bryan Antoine 6-5 G, Team Rio (NJ) 2018       
In today's game, most players usually try to establish themselves quickly on the offensive end. Such was not the case for Bryan Antoine. In his game against WeR1's 17U team, Antoine set the tone for his team's play by getting consecutive steals, and giving an assist to his teammate for an easy basket. In addition to hounding opposing ball handlers, Antoine did a good job of anticipating his opponent's next move and then intercepting the passing lanes. Offensively, he is capable of playing both guard positions, and scored well at all three levels. Antoine should gain the attention blue-blood institution as his high school career progresses.
Scottie Lewis 6-5 G, Team Rio (NJ) 2018
A supremely athletic guard, Lewis helped lead his team to two hard fought victories over Team Final and Baltimore United's 16U teams. Lewis shines in transition – where he is able to use his length and explosive leaping ability to finish over defenders. In addition to showcasing an effective pull up jump shot, Lewis also showed he could score in the post. He hit fall-away jump shots, and found open teammates as he posted up smaller defenders. Defensively, Lewis demonstrated cat-like quickness that often lead to blocked shots-whether closing out on a perimeter offensive player, or rotating from the weak side. The sky's the limit for Lewis if he remains consistent.
Best of the Rest
Keve Aluma, 6-8 F, Uncommon Bulls (VA) 2017
Under- the -radar power forward who craftily scored and rebounded against bigger defenders.
Kasper Christensen, 6- 9 F, Global Squad- Denmark 2017
Stretched zones with his three –point marksmanship, and can guard 3 positions defensively.
Jejuan Weatherspoon 6'3 G Hoops Select (OH) 2018
Smooth scorer on the wing. Covers a lot of ground defensively.
Sean Good 6'11 C, Team Final (PA) 2018
Good protected the basket by playing sound interior defense and rebounding. Developing offensively.
Austin Butler 6'3 G, PK Flash (PA) 2017
Gritty combo guard can fill it up, and locks in on defense. Great fit for the Patriot, or Ivy League.
Jake Biss 6'1 G, PK Flash (PA) 2017
Solid, high IQ point guard who makes good decisions. Low D1s should inquire.
Darius Kinnel 5'11 G Jersey Force (NJ)
Deadly from beyond the arc. Nailed four triples en route to securing a championship victory.
Kenny Jones 6'0 G Jersey Force (NJ)
Heady PG who still impacted the game even he wasn't scoring.