To ring in the New Year, Jordan Brand hosted its 3rd Annual Take Flight Challenge on the campus of Redondo Union High School in Redondo Beach, CA, this past saturday. The showcase featured 16 of Southern California's prep programs battling it out on the court before league play began and gave each team a glimpse into some potential matchups they'd see down the road in the CIF-Southern Section Playoffs. With eight games and over 12 hours of hoops, here's a look at some of the top performers from this weekend's event.     
Trevor Stanback, 6-9, C, Maranatha HS, Class of 2016:
The Stanford-bound big man will continue to create havoc when he arrives in Palo Alto. With an outstretched wingspan, Stanback is either sending layups into the third row of the bleachers or altering an array of shots. He moves well for someone of his size and his rim-to-rim running is superb. Stanback can also make double-doubles look like the norm every time he steps on the court as he had 26 and 12 in the second game of the day. He also has great vision and has his head on a swivel to pass to open defenders on the wing when players double-team him. Although he's still raw on the offensive side, Stanback likes that left-handed turnaround that will be his bread and butter in the years to come. He also displayed his activeness to rebound the ball as he had two thunderous put-back dunks.
Jonah Matthews, 6-1, SG, Santa Monica HS, Class of 2016:
Another Pac-12 signee, Matthews poured in 30 points as he led his team to a 61-47 win over Maranatha. The USC-commit demonstrated his ability to score at any given time—whether it was knocking down triples from a few feet behind the 3-point line or taking his defender off the dribble with his quick first step to the basket. Matthews finishes well through contact and when he's not filling up his stat line with points, he's helping fill up his teammates' stat lines courtesy of his unselfish playmaking ability.
Jemarl Baker, 6-3, PG/SG, Roosevelt HS, Class of 2016: 
You know that player that coaches stress to emphasize on containing during the pregame because if he gets hot it might be a long night for your squad? That's Jemarl Baker. With a textbook-like jumper, Baker, who finished with 30 points and Player of the Game honors, lit up Compton HS from the 3-point line. He's very poised, plays to his own speed and makes defenders pay if they reach or get out of position on the defensive end.  Baker can also take defenders off the dribble and finishes well through contact.
Lucas Siewert, 6-9, C, Cathedral HS, Class of 2016:   
Siewert and versatility correlate and that's noticeable within the first few minutes while he's on the court. En route to 26 points, he showcased his ability to play in the post or extend out to 20 feet. Very ambidextrous down low on the block, it seemed as if he was demonstrating a how-to-score-in-the-paint clinic with the plethora of post moves and stellar footwork he hit defenders with. After he was done serving opponents in the post, he extended out to 15-20 feet and displayed the pure form he uses to knock that shot down with ease.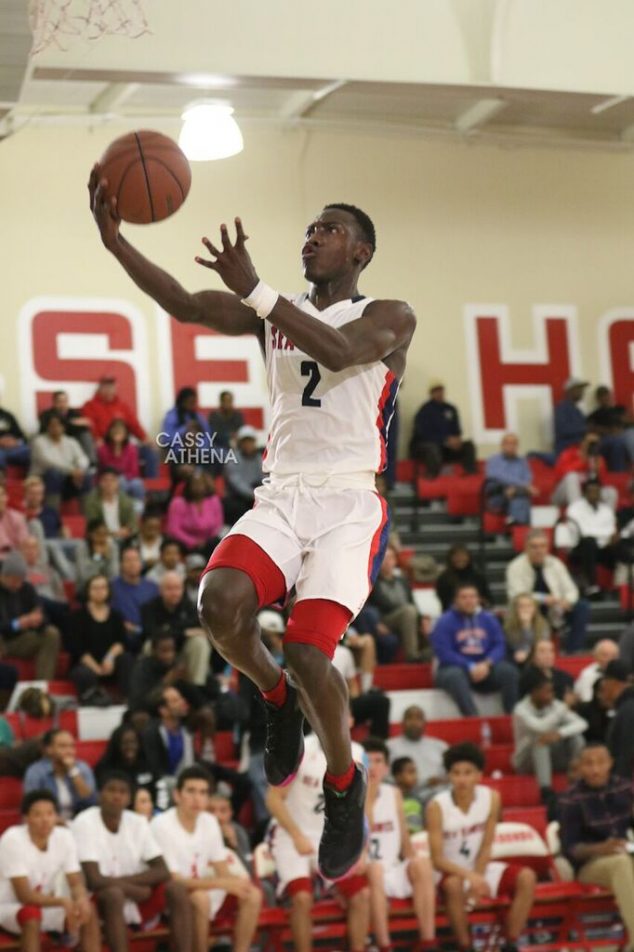 Leland Green, 6-1, G, Redondo Union HS, Class of 2016 (above): 
Green poses freakish athleticism and is hard to guard when he's attacking the basket. He uses every ounce on that frame to his advantage and outmuscles anyone who's in the way of him putting the ball in the hoop. Once he gets it going offensively—as he did scoring 19 of his 20 points in the second half in Redondo's 72-65 win over Santa Margarita—Green's a problem for any defensive scheme you throw at him. And he takes no plays off on the defensive end either as one Santa Margarita guard learned the hard way when Green had a LeBron-esque chase-down block that sent the gymnasium in an uproar.
Ethan Thompson, 6-3, SG, Bishop Montgomery HS, Class of 2017:
Leaving Ethan Thompson open from the 3-point line is bad for your team's health, but, most importantly, your team's record. Once he has any sort of room for him to let it fly from deep and has knocked down a few triples, it's going to be a long 32 minutes. Thompson has an extremely high understanding of the game, attacks the basket at will and finishes through contact to sometimes get three points the old fashioned way.
Jordan Schakel, 6-6, SF, Bishop Montgomery HS, Class of 2017: 
When Schakel is playing alongside Ethan Thompson, you can expect both bucket getters to take turns scoring the ball. Like his counterpart, Schakel is also lethal from anywhere along the 3-point line and I can rest assure that he makes that patented one-dribble pull-up jumper to the right in his sleep. He uses his height as an advantage to take a defender who matches up with him—height wise but lacks the lateral mobility—to the basket, or shoots right over undersized defenders.
Jacob Davison, 6-4, SG, Cantwell-Sacred Heart of Mary HS, Class of 2016:
Among the crop of top shooting guards on the West, add Davison to that list. The Eastern Washington-bound wing can shoot it from deep or orchestrate an offense and fill the void for the point guard. He has a score-first mentality and is one of the primary factors that get his team going into the right direction. He's also good in pick-and-roll situations and turns the corner leaving defenders looking at the numbers on the back of his jersey as he gets to the cup for an easy two. 
Luka Radovic, 6-7, C, Cantwell-Sacred Heart of Mary HS, Class of 2016: 
The Cardinals' post presence is a big load for opposing teams to endure when he's on the court. Radovic, who's very fluid, has a high motor and is looking to gobble up every rebound in sight. He also displayed his versatility in the open court as he led a fast break on one possession after grabbing a rebound.
104