The best high school basketball players with roots in Canada collided at the third annual BioSteel All Canadian basketball game in downtown Toronto on Monday, showcasing just how far the country has come at pumping out elite talent.
The game's rosters featured Canada's top homegrown players, both those born in Canada and born elsewhere who've migrated there to hone their game. In the crown event of a busy weekend, the 24 individuals plucked from across the country showed that they can run the floor with the best of them but aren't afraid to buckle down and play tough either.
It appeared as though an active White Team would punish their listless Red opponents early when they hopped out to a double-digit lead minutes into the ball game but their late-starting rival battled back to ensure a hard-fought contest through to the fourth quarter. In the end it was the Team Red that came out on top, 153-135.
The game featured some of Canada's most intriguing prospects but the MVP honors were distributed to two young ballers who managed to stick their noses into plays all over the court. See below for a detailed breakdown of how Luguentz Dort and Matur Maker dominated, as well as full-breakdown of the top performers:
Luguentz Dort, 6-4, SG, Conrad Academy (FL), Class of 2018
The combination of Dort's (below, red) deft shooting touch and raw dunking power made him one of the game's most memorable figures. When his team needed a jumpstart in the first half, Dort used his tight handle to initiate a series of drives from the perimeter and head-turning force reminiscent of Russell Westbrook to flush the ball through the net. The early highlight reel submissions fuelled what would go on to be his winning side's first-half rally.
Dort took home his squad's MVP trophy, dropping 30 points on 12 for 16 shooting. More important, however, was that the uncommitted two-guard was active everywhere on the court, equally confident pulling up from long range and penetrating through the middle regardless of whomever might be there to stop him. Dort's thick frame and explosive power make him a hard check for typical perimeter defenders and an intimidating force for anybody hoping to challenge his shot at the rim.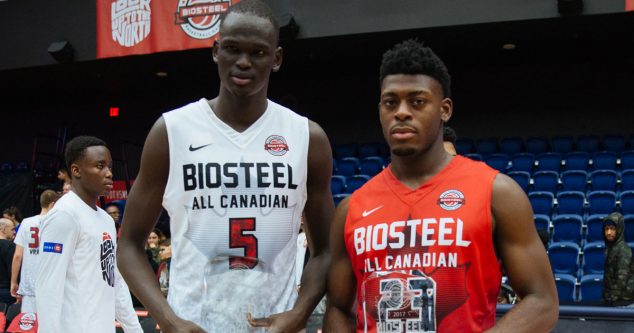 Matur Maker, 6-10, PF, The Tech Academy (ON), Class of 2017
There was no avoiding the comparisons to his older brother but Matur Maker (above, white) did everything possible to establish a name for himself. Previously assumed to be a hard working but less innately talented version of Thon, Maker teased a vastly advanced skillset over the course of the game. Maker finds himself in a unique situation lacking the combination of physique and athleticism to get by on size alone. The blossoming breadth of ball skills he demonstrated while dropping 25 points in 12 minutes Monday could be his ticket to the next level.
Maker played a significant role in his team's early lead, displaying on multiple occasions an ability to rebound on the defensive end, run the length of the court and, at times, finish. For his efforts he was named the MVP of his squad. Sure, he'll need to develop better command of his body if he wants more of his short field goals to drop but the fact that he's flashing the perimeter skills to put himself in position to score bodes well. Maker will need to continue to develop across the board but this was proof that he has a willingness to do so already.
Nickeil Alexander-Walker, 6-5, SG, Hamilton Heights Christian Academy (TN), Class of 2017
From the get-go Alexander-Walker danced his way through the paint, attacking the rim with reckless abandon and willing the ball to drop. It takes a gym rat to master the physics necessary for finishing some of the low slung reverse layups that the Virginia Tech commit managed to pull off and the kid's intensity was hard to miss. The kid they call NAW finished with 19 points on the night and led his squad with four assists.
Ignas Brazdeikis, 6-7, SF, Athlete Institute (ON), Class of 2017
It took a while for Brazdeikis to get going in the Monday showcase but it wasn't long before he made the necessary adjustments to start racking up points. At one point in the second half, Iggy almost single-handedly led his club's offensive effort, dangling footwork atypical of a young player his size. He finished with 27. When the lengthy but solidly built forward can spin his way to within feet of the basket, the chances of the defense adjusting are slim.
Oshae Brissett, 6-9, SF, Athlete Institute (ON), Class of 2017
It isn't hard to see why Brissett, a Syracuse commit, was such an appealing recruit and it starts with his size. The forward already boasts NBA height and is thick enough to stand his ground while fluid enough on his feet to serve as a legitimate perimeter threat. Brissett managed to flash both, his satisfying shooting stroke and ability to run the floor, on this night and it's that series of offensive tools that make him a difficult check at any level. Brissett finished the contest with 20 points and six boards.
Simisola Shittu, 6-10, PF, Vermont Academy (VT), Class of 2018
From the opening tip, Shittu's activity level was unmatched so when Team Red got going in the second half, the lengthy forward reaped the benefits. Over the course of the evening, Shittu showcased a penchant for being in the right place at the right time and never seemed to slow down. That combination and eagerness to run the floor put him in position to walk away with 21 points, 11 rebounds and the game's lone double-double.
Marcus Carr, 6-2, SG, Montverde Academy (FL), Class of 2017
Three seconds into the ball game Carr nailed his first triple and he never stopped splashing. Already committed to Pittsburgh for next season, the undersized two-guard took the Monday night showcase to demonstrate that he's not only money from beyond the arc but that he also boasts one of the quickest releases that defenses at this level will ever encounter.
Photo Credit: BioSteel All Canadian