Coach K. The Man. The Myth. The Legend. What else can be said about a guy who's done it all?
In his 40-plus years of coaching, Mike Krzyzewski has over 1,000 wins, 9 National Title game appearances, 5 National Titles, 2 Gold medals with the USA men's national team and has inspired an unbelievable number of people.
Last night I had the chance to attend "An Evening with Coach K" put on by Steiner Sports at the Hudson Theater at the Millennium Hotel in the heart of New York City. During the Q+A session hosted by Brandon Steiner, Coach K told a great story about his 2015 National Champion team.
After a player had transferred and another was dismissed from the team, Duke was down to a roster of eight. He said, "On the board that morning, I drew the number 8. I said, "Eight is enough." I looked at each one of the guys and told them why they'd be important.
I asked them, "What do you see when you see the number 8?" and they didn't have an answer. So I drew a sideways 8, which is the infinite sign. Eight is never-ending. It became a mantra for us. I told them that means every one of you is with us and important."
That team of course went on to win it all in dramatic fashion over a very tough Wisconsin team. Coach K also said, "This is so damn cool. The eighth man who averaged 8 minutes a game scored 8 straight points and we won the damn game."
So, with the theme of 8s, I decided to pick 8 Awesome Things from the Coach K event last night.
1. He never thought he was going to fail.
When asked if he ever thought the profession of coaching wasn't for him following a poor record in his first season in coaching, Coach K said, "No, I never felt that I was going to fail, although I was failing for a while. I was too young to think about failure. I was a head coach at 28 at the United States Military Academy and although we were 11-14 the first year, they had only been 7-44 the two years before that. So, I had a chance to really learn how to build a program. We ended up 73-59 at West Point, then at 33, I got a chance to coach at a great University (Duke)."
2. He helps send kids to college with a center inspired by his mom Emily.
Coach K's mom Emily never went to high school. She was a cleaning lady in inner city Chicago. Emily passed away in 1996, but not before inspiring Coach K to show the world some love in memory of her.
"I've been a lucky guy. I was lucky to have Emily as my Mom. She's been the best person in my life. She was there all the time for me and always gave me good advice. We have the Emily K. Center at Durham that services hundreds of kids. Those kids are going to be the first generation of their families to go to college. It's in its 9th year. It's really to show the kids there that, first of all, you should love your mom and dad and secondly, it was because of her that I'm first generation college in my family. We get kids from about 45 different schools that aren't getting the proper education, but they're talented. They come (to the Center) and all go to college and all get aid. So, it works. And it's a cool thing. It's one of the things we're most proud of."
3. The crux of his life is finding good people to be around.
"I love Coach (Bob) Knight. I love what he did for me. A lot of what I've learned about the game I've learned from him. I got to meet other great people. Mr. (Henry) Iba, one of the great coaches of all time, Coach Pete Newell, who is one of the great teachers of the game. So you meet all these people. You keep putting yourself in a position to be around good people and good things happen for you and that's really the crux of my life is finding good people to be around."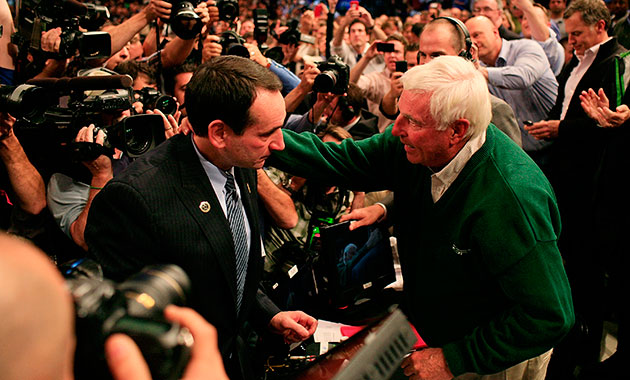 4. He looks for three traits in Duke recruits: talent, academics, character.
"What we try to do, we're in a constant search for kids that we feel fit our profile. They have to have talent so we can compete for Championships. Not everyone has to be a pro right away but they have to have good talent. They have to have academics. They have to have been touched by good academics. The third thing is character. Character is the separator."
5. He says Grayson Allen owns the best Duke moment ever.
"Of all the moments everyone has had for our program, to me the best moment thus far is what Grayson did in the Wisconsin game."
Regarding the freshman's title game performance, he said, "For every single game in the Tournament we had 3 Es—energy, effort and emotion—and he (Allen) knew we needed all of them."
6. He loves LeBron and thinks he is the most unique player to ever play.
"I love LeBron. I've been with LeBron since he was 20. He and I are very, very close. He, over these last 10 years, has learned to not just be a great athlete, but to use his other great qualities. He's so smart. He's such a good leader and talker. I love LeBron. He really is going to be the most unique player to ever play because he can play every position offensively and he can defend every position defensively and no one's been able to do that in the history of the game."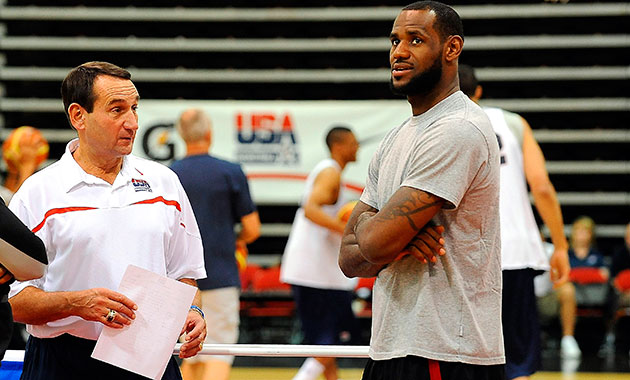 7. He picks a "leadership group" on Team USA and gets close to them.
"With the Olympic team, I'll pick a leadership group that I want to get close to. My first Olympic team, it was Jason Kidd, Dwyane Wade, Kobe and LeBron. I wanted to be close with them. With the (2010) World Championship team, you couldn't do that with the young kids, so I had Chauncey Billups. Actually on that team, you wouldn't believe this, a great leader for us was Lamar Odom. On the 2012 Olympic team, it was Chris Paul, along with LeBron and Kobe. In '14, for me it was James Harden, Steph Curry and Kyrie (because I had coached him before), but I try to pick out a leadership team, not just a leader."
8. He drops knowledge about winning Championships.
"There are a lot of programs in the country that put their hat on winning a game. There are very few programs that put their hats on winning Championships. The last 18 years or 19 years on the road, we've lost I think 57 games. In 48 of those games, they stormed the court. That means that was a Championship game for that school. There's a losing record for those teams in the next game that they play. That's not what our program is built on. Our program is built on winning a Championship and doing it the right way."
—
Coach K continues to share stories and inspire people all around the globe and there's no denying why. He lives his life and coaches basketball the right way and it shows in his success.
For more stories, feel free to follow me on Instagram @jordanhagedorn.
Images via Getty