When it comes to the 1996-97 Arizona Wildcats, most fans remember individuals, like legendary coach Lute Olson, scoring machine Miles Simon or freshman phenom Mike Bibby.
But for that Arizona group, as with many college basketball champions, the whole was greater than the sum of its parts. They accomplished something that no other team in the history of college basketball had ever done before or since, and they were defined as much by how they were assembled, how they came together as a team and how they defied the odds.
Heading into the '96-97 season, the Arizona program had big shoes to fill. They'd lost four upperclassmen from the previous season, including the team's leading scorer, big man Joseph Blair. Transfer Ben Davis, the team's second leading scorer and leading rebounder, was gone, too. Point guard Reggie Geary, a former high school teammate of Simon, had led the team in assists, blocks and steals—he and Davis were First-Team All-Pac 10 players. In the '96 Draft, thought by some to be the best class ever, Blair went 35th overall to the Sonics, Davis went 43rd to the Suns and Geary went 56th to the Cavs.
The Wildcats were a young, inexperienced team from the start. But Olson's strategy of recruiting solid team players who'd won a lot of games in high school would prove successful. He added Bibby, a McDonald's All-American fresh off a state title, to the combo of Simon (junior team captain) and sophomore Jason Terry—both of whom also won state titles in high school.
When Bibby arrived on campus, he oozed confidence and brought a fearless demeanor to the locker room that was instantly contagious.
"Mike Bibby brought that swag to our team because when he came in, he got the standard issued team shoe and right away he was like, 'Ahh, nah. I ain't wearin' these,'" remembers Terry of his introduction to the brash freshman. "He immediately went to the store on campus and bought a pair of Jordans. Then everybody followed and wanted the hottest shoe out. Mike Bibby spearheaded that shoe movement."
Arizona began the season with two-year starter and co-captain Simon on academic suspension, and its first opponent was the highly ranked North Carolina Tar Heels. Without Miles, the Wildcats beat UNC, 83-74.
"The win against North Carolina was a big win," Bibby recalls. "They had Antawn Jamison, Vince Carter, Ed Cota and Shammond Williams. Coming in, we just wanted to do good and no one expected us to beat North Carolina, but we took care of business in that first game and that catapulted us all."
"It was just crazy," adds then-sophomore AJ Bramlett. "The dynamics, when Miles came back, obviously there was an adjustment period. Mike [Dickerson] had to change his game a little bit, and Miles re-establishing himself with the team—that's when we went on a little bit of a rocky ride through the Pac-10. We lost a lot of games in the Pac-10, but the conference was rough."
Miles' return also meant taking time away from Terry. "I knew someone had to sacrifice and I knew my game was versatile," JET says now. "I knew I could start, but I welcomed the challenge to come off the bench. Lute told me my minutes wouldn't go down, so when he asked if it was something I was willing to do for the sake of the team, I told him yes."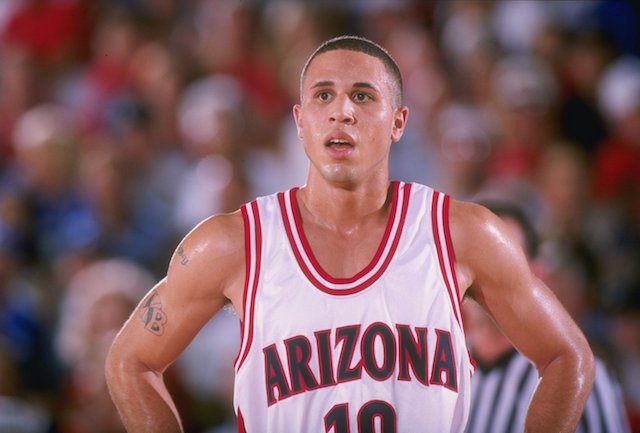 The unsung hero of the 1997 championship team was a walk-on freshman named Josh Pastner. After graduating high school, Pastner wrote over 1,000 hand-written letters to college coaches of all levels to say he could help their program by watching film with players and working them out. Only one wrote back: Olson.
As Bramlett explains, "Josh would open the gym at midnight or 1:30 in the morning. He was willing to do anything we needed to do to improve. He was always our positive, emotional leader. He believed in us from day one and when we were struggling, he picked us up. He was dedicated to our squad and was learning from Coach Olson. That was the start of his coaching career."
Pastner, of course, later became an assistant at Arizona before getting a head coaching job at Memphis. He's now the head coach at Georgia Tech. "We were playing pickup ball late at night and I brought the guys together and said, We're going to win the National Championship this year," says Pastner. "We had all these great players and I really believed we'd win the Championship. I was a walk-on. I had no clue—I just believed it."
Despite having a super talented roster that season, Arizona would finish with just an 11-7 conference record, good for fifth place in a stacked Pac-10. UCLA, Stanford, USC and Cal all finished with a better record than the Wildcats in conference play. (Save for USC, all of the aforementioned teams made it to the Sweet 16 in the NCAA Tournament that season.)
The 'Cats entered the 1997 NCAA Tournament as a 4-seed in a tough Southeast region. Their first game would be against 13-seed South Alabama, where they escaped with just an 8-point victory, 65-57. In the round of 32, they'd face the 12-seed College of Charleston, a school that came in riding a 23-game winning streak. Led by senior Anthony Johnson, who would go on to play 15 seasons in the NBA, the Cougars had just upset the Gary Williams-coached Maryland Terrapins.
Simon stepped up, dropping 20 points, while Bibby added 18 and Arizona narrowly escaped an upset, winning 73-69. With that victory, Arizona advanced to the Sweet 16 to face the No. 1 overall seed, Kansas. The Jayhawks had only lost one game all season, to Missouri, and had a roster littered with future NBA players, including All-American Raef LaFrentz, Paul Pierce, Jacque Vaughn and Scot Pollard.
Against Kansas, Arizona's stars shined. Bibby poured in 21, Dickerson had 20, Simon finished with 17 and Bramlett added 12 points and 12 boards en route to an 85-82 upset that shocked the college basketball world, sending the Wildcats to an Elite Eight matchup with Providence.
The 10-seed Friars, despite having future NBAers Austin Croshere and God Shammgod, were considered a Cinderella story after beating No. 2-seed Duke. Providence pushed Arizona to overtime, but without an answer for Simon (30 points) or anyone else (five other 'Cats scored in double figures), the clock struck midnight. All of a sudden, these unexpected Wildcats had reached the Final Four. There, they were met with a rematch of the season opener against the No. 1 seed from the East: North Carolina.
UNC had its same chock-full-of-talent team. They'd just spanked legendary coach Denny Crum's No. 6-seed Louisville Cardinals by 23 in the Elite Eight, and the Tar Heels were led by one of the greatest coaches ever in Dean Smith.
Carolina studs Carter and Jamison combined for 37 points, but even that performance couldn't overcome a poor shooting night by the rest of the team, as Bibby and Simon again led the 'Cats to victory, 66-58, knocking off their second No. 1 seed in the tourney to advance to the title game.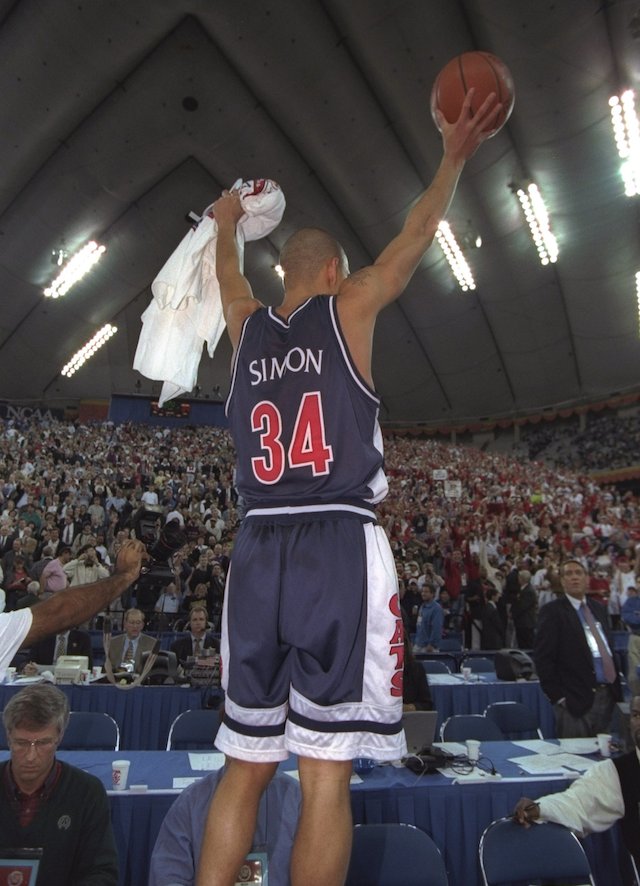 Their opponent? Another No. 1- seed. This time, the defending champion Kentucky Wildcats, coached by Rick Pitino. Heading into the Championship game, there was a ton of buzz around Arizona's run, but Kentucky was still the favorite, looking to repeat. UK had won it all the year before with Antoine Walker, Tony Delk and Walter McCarty. Pitino, a Hall of Fame coach in his own right, was one game away from his second ring behind the likes of future NBA talent Ron Mercer, Derek Anderson, Scott Padgett, Nazr Mohammed and Jamaal Magloire.
Prior to 1997, the last five NCAA champions had been No. 1 seeds, and Kentucky looked poised to take it again, rolling into the title game with a 35-4 overall record. No one had given them much of a test in the Tournament, either.
The title game between Kentucky and Arizona, played on March 31, 1997 in Indianapolis, lived up to its epic expectations. It was 18-lead-changes-in-the-game type good. Two teams peaking at the same time in the biggest game of the players' lives. A heavyweight fight to crown a champion.
After 40 minutes of battling, the teams were square at 74. In the overtime period, Arizona outscored Kentucky 10-5. Curiously, all 10 of the Wildcats' points came on free throws. Simon had a huge title game, again dropping 30 points, and was named the Tournament's Most Outstanding Player.
The cutting of the nets at the National Championship capped off Arizona's incredible NCAA Tournament run, which included wins over three powerhouse teams stacked with future pros.
With a rare chemistry, toughness, fearlessness and resilience, Coach Olson's team embraced the role of the underdog during that '97 Tournament, becoming the only team in NCAA history to beat three No. 1 seeds en route to a chip.
"One guy called us the Cardiac 'Cats because we were always trailing in the second half," Terry says of the '97 title team. "But we were able to withstand that and come away with victories when our backs were against the wall. We were together as a group. We're brothers."
"Our chemistry was the biggest thing," Bibby says. "Everybody got along. There were no riffs. Everybody's goal on the team was to win. That overruled everything. We got hot at the right time and everyone complemented each other so well on the court."
In the post-game press conference after the final game, Olson said, "I'm very proud of the toughness of this group that no one thought should be here, no one thought could do it. Three No. 1 seeds went down. This is one tough, young group of 'Cats."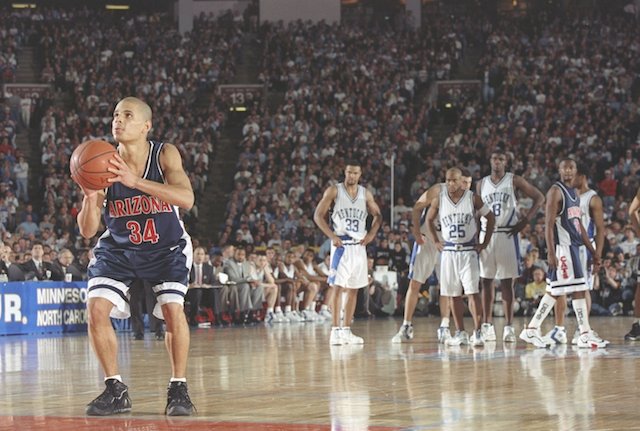 Says Pastner, "I love those guys. Those guys are my best friends. That whole team, I just love those guys. I would do anything for them."
"It was so special to do it for Lute Olson. It solidified his legacy, because he's an all-time great," says Simon. "It's still unimaginable because it was such an amazing run. It was so much fun to do it with great people, coaches, teammates and some of the best college basketball fans. For how much of an underdog we were the whole tournament, it's amazing and we take so much pride in it."
—
Photos courtesy of: Arizona Athletics, Allsport