As he was finishing a remarkable high school career at St. Mark's School in Southborough, MA, Alex Murphy faced a decision that would have a significant impact on his basketball career.
He had received plenty of interest from college coaches; Arizona, UConn, Georgetown and Indiana each extended scholarship offers. So too, did Kansas, Syracuse, West Virginia and a host of other schools scattered across both sides of the Mississippi. He had his pick of the litter, but two big-time programs separated themselves from the pack.
"Duke and Florida were at the top of my list by a mile," Murphy said.
In the end, he played for both.
Nobody would have been surprised if he chose Florida out of high school. His older brother, Erik, was in the middle of his own career as a power forward for the Gators. The idea of forming a Murphy-brothers frontcourt in Gainesville was intriguing.
But so was the thought of playing for legendary head coach Mike Krzyzewski in front of the Cameron Crazies at Cameron Indoor Stadium.
Murphy chose Duke, and that's where the 6-8 forward's long, strange trip began.
Immediately after he arrived in Durham in 2011, Murphy suffered a concussion in one of the first practices. Ultimately, his time with the Blue Devils never materialized as some had hoped it would.
Five games into his redshirt sophomore season, Murphy decided to hit the reset button and his career took a turn. Although Erik had already finished up his career with the Gators, playing for Florida head coach Billy Donovan still fascinated Alex.
"Having a familiarity with the program from when Erik was there, I knew a lot of the players and the staff," he said. "I always loved Florida. That's not to say I didn't love Duke, but when I decided I needed a change, Florida was the spot."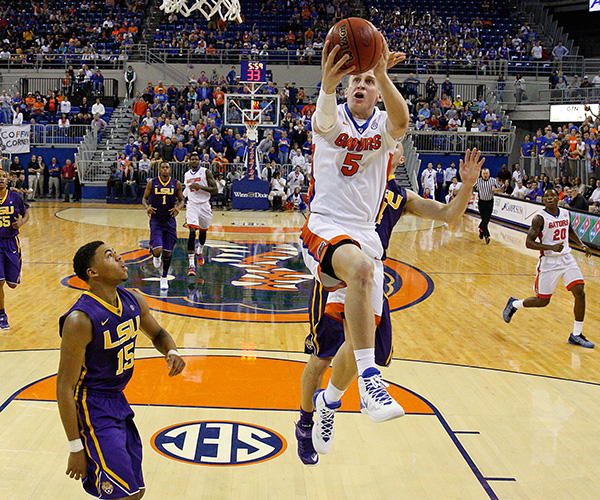 After making strides in his first season with the Gators, Murphy hit another road block when he suffered a torn planter fascia in the first exhibition game last year. He re-injured his foot in one of his first practices back, and only played one more game at Florida.
Murphy felt his collegiate career couldn't end that way, so he applied for a waiver in hopes the NCAA would grant him one last year of eligibility.
"It was a long process," Murphy said. "The thing I kept hearing from the NCAA and everybody involved was, 'A decision is coming soon. You'll know soon.' But it was never soon."
Murphy received plenty of support while he awaited for a decision from the NCAA. His family, friends and former teammates wished for the best. Coach K gave his backing, too.
"He wrote a letter on my behalf, a recommendation in support of my appeal," explains Murphy. "When I read it, I was shocked. The things he wrote about me were some of the nicest things—some things I didn't even know he felt about me."
The call finally came on September 20. The NCAA ruled in Murphy's favor, giving him one last chance to lace them up.
"Knowing this was going to be my last year of college, I wanted to come closer to home," Murphy said.
Murphy ended up choosing Northeastern University in Boston. He had a strong relationship with Huskies head coach Bill Coen, who was an assistant at Boston College, where Murphy's father, Jay, played from 1980-84.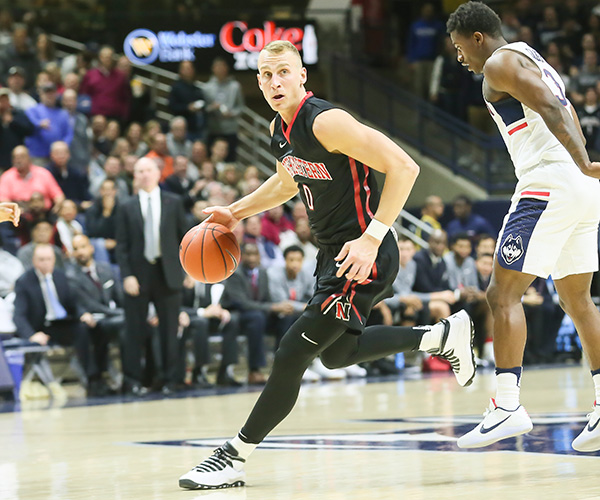 The youngest Murphy brother, Tomas, is committed to join Northeastern next year.
"I had the idea of Northeastern in my mind all the way back to last spring, when I decided I was going to apply for a sixth year," he said. "Coach Coen seemed all-in, so it was a no-brainer."
This season, Murphy has shown what he can do when he's healthy and on the floor. He's averaging 14.2 points and 5.9 rebounds for the Huskies, who currently hold a 14-14 record.
He has scored 20 points or more five times, but his most memorable performance came when he scored 18 points in Northeastern's 81-73 victory at Michigan State on December 18.
Being a key contributor during a major upset is a memory he won't soon forget.
"That's pretty much where I was my entire time in college, on the other side of games like that," Murphy said. "I've lost a couple of games at Duke and Florida to teams like us. To be on one of the teams that has a big upset win… That was the most fulfilling win of my college career."
While stunning the Spartans may be the highlight of his final season, Murphy said he is blessed to be back in action.
"It's been a great year," he said. "I've dealt with a lot, in terms of transferring, sitting out, and then obviously injuries and that sort of thing. I'm just thankful and grateful to be playing."
His college career has been quite the voyage. It has included both highs and lows. Still, even though there have been bridges to cross and hills to climb, Murphy is happy with the road he traveled.
"I wouldn't change a thing," he said.
Photos courtesy of Northeastern Athletics and Getty Images