EDITOR'S NOTE: This feature was written weeks before the COVID-19 pandemic led to the suspension of the NCAA season.
—
Aliyah Boston, 6-5 freshman linchpin of the dominant South Carolina women's basketball team, has always been ahead of the pack when it comes to her decision-making.
A native of St. Thomas, she played and excelled as the lone girl in a boys (ages 9-11) league, but it became obvious that she needed a larger challenge. AAU provided that, but it meant moving to Massachusetts as a 12-year-old, along with her older sister, Alexis, then 14.
So when she sat down with her parents, Cleone and Algernon, they hesitated to send their younger daughter hundreds of miles away. Aliyah, though, didn't pause for a moment.
"So my mom was like, 'Oh, would you guys want to move?' And I was like, 'Sure, why not?'" Boston recalls. "I don't think I really was affected by the move initially as my parents were. Because they're letting their daughters move to the States, and we were just 12 and 14. But I was fine. I was excited. I was like, This is cool."
She's certainly made herself at home, though it's important to note St. Thomas is a US territory: by this past summer, she was a starter and key player on USA Basketball's U19 team that won gold at the U19 World Cup. No one would be surprised to see her debut on the senior squad before her collegiate career is complete. The USA Basketball head coach, after all, knows a little about her game: it's South Carolina's Dawn Staley.
If there's a throughline in Aliyah Boston's career so far, it is a maturity beyond her years. She's a freshman big who uses an ability to see the floor like a veteran point guard to dominate. She's a young player whose voice carries as a leader on a senior-laden South Carolina team. And even as she's just begun her collegiate career, she sees where her game has to go to turn her into what she visualizes for the future: a star in the WNBA.
"Something I'm really trying to work on is my outside game," Boston explains. "I'm starting to shoot midrange jumpshots a lot better and a lot more. That's what I'm going to continue to work on. And then I just have to continue to get stronger in the post, that battling through contact."
It is an astounding thing, the idea that Boston is merely scratching the surface of how efficient she can be offensively. Through the end of the regular season, Boston has made 61.4 percent of her attempts from the field, good for 22nd in the country. A thing every South Carolina superstar until the end of time will have to deal with is getting compared to A'ja Wilson, but Boston doesn't seem fazed, having already exceeded Wilson's field-goal percentage (54.2 percent).
Boston's offensive mastery has surprised even Staley, who knew she'd be great, but not this quickly.
"I did not think Aliyah could score as efficiently as she has," Staley says. "I did not, because when I saw her play, I saw her miss a lot of layups. I mean right at the basket. So I'm like, Oh, we're going to have to work that, going to have to get her more efficient down near the block. I really underestimated her ability to shoot from the outside."
It's been that kind of production that reinforced the eureka moment she had with the media early in her freshman season. Staley recalled the shocked faces from those who cover the team when asking Boston about Wilson.
"She said, 'I want to be better than A'ja Wilson,'" Staley says. "Those are her words. 'I don't want to be A'ja Wilson, I want to be better than A'ja Wilson.' And those are really strong words around these parts."
It's not hard to argue that Boston's on track to do that already. The WNBA has a different set of rules for early entry than the NBA. Players must turn 22 the year of the WNBA Draft to leave early. Otherwise, it's four full seasons from their high school graduation. Accordingly, with a December 2001 birthday, Boston will be in Columbia for four years.
Every WNBA talent evaluator I spoke to said if Boston could be a one-and-done player like in the NBA, she'd get chosen in the first round. One GM even said if a team needed a big, Boston could be the first overall selection among a crop that includes Oregon's Sabrina Ionescu and Satou Sabally, Baylor's Lauren Cox and Princeton's Bella Alarie.
"I'm super happy, encouraged, blessed to know she can't leave early," Staley notes wryly.
From a matchup perspective, Boston isn't simply a scorer either. The maturity of her game manifests itself across the box score, something Purdue head coach Sharon Versyp saw up close earlier this season in an 85-49 loss to the Gamecocks. Boston finished with 10 points, 6 rebounds, 4 blocks, 4 assists and 2 steals.
"The level of maturity is what stood out most," Versyp said afterward. "You'd never know she was a freshman. Her mind, her motor, the level of things she can bring to the game…and she doesn't force it. Just extremely impressive."
This was no one-off performance, either. Her rebounding percentage of 19.2 ranks 50th in the country heading into conference tournament season. Her block rate is 8.9 percent, 41st in the country, and she's managed a 2.5 steal percentage playing out of the post—making signature deflections and stepping into passing lanes with a defensive understanding beyond her years.
The blocks come not from the typical freshman production—overt athleticism overcoming limited understanding—but rather from patience. She logged 10 blocks as part of a triple-double in her very first game this season, a triple- double against Alabama State, and the blocks often came from waiting—waiting for the right moment, and then striking with that scary wingspan.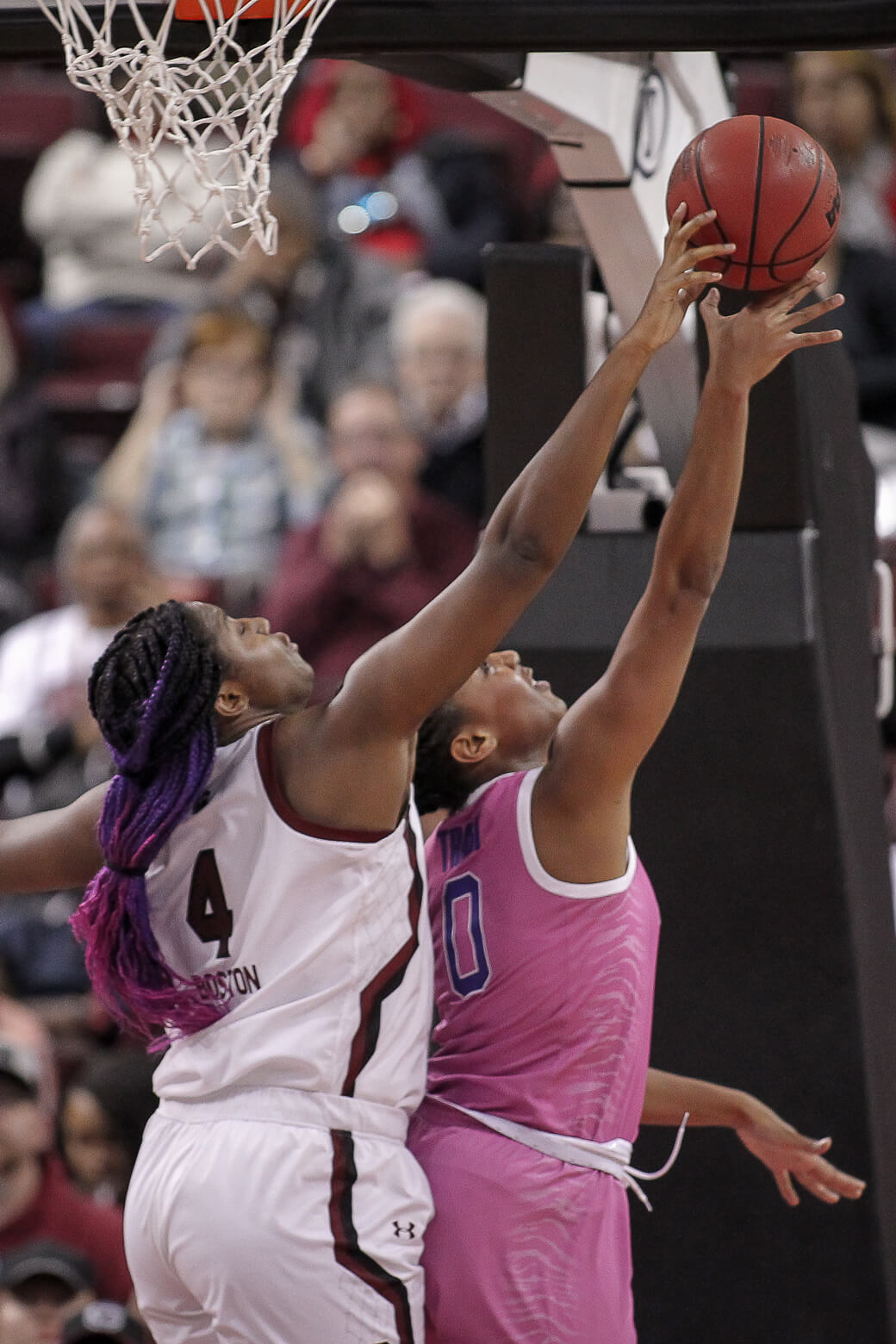 "It's patience," Boston says of how she gets her blocked shots. "I just wait. I just watch, and then when I know that they're going up, then I go. A lot of them come from helping, or if they're directly one-on-one in the post, I just read their body and how they're going, and then I just follow them."
It's nothing like bragging when Boston says it, but she doesn't shy away from either her goals or her confidence in reaching them. It's something Staley pushes her on, too.
One of the reasons Staley believed Boston would be not just one of the best, but "by far, the best" of any freshman in this national class was how much she was talking with her teammates, communicating on both ends of the floor, in high school. In her first week of practice with South Carolina, though, Boston wasn't that same boisterous figure.
"So then I'm like, Aliyah, let's go, let's go!" Staley remembers. "Talk about what you're seeing out there. And from then on you hear her the loudest. Not just in drill work. You hear her in shooting drills, you hear her while we're getting water, you just hear her! If I had any quality that I could give to a young person it is that. The ability to communicate what they see."
As Boston puts it, "Once I started to talk during the drills, I just never stopped."
That communication extends well beyond the court as well. Staley's Gamecocks have, for this season and the next three, a coach on the floor.
It's just Boston's MO. She didn't want to be Wilson, but she grilled Staley over what her relationship with Wilson was like, to know how she can pattern her time in South Carolina after the pathway Wilson paved. And there's no such thing as too much information for Boston when she's preparing for opponents.
"We have dialogue with our scouting reports and she can recite everybody," Coach Staley says. "Everybody from the point guard to the fourth person off the bench. She knows all the personnel, all of it. Everybody. And she knows it in the game. She knows what people are going to do…[She knows] the little integral details of somebody always wants to go, left-hand drive downhill, she knows that. She knows if a post player likes to shoot with heir left hand over the right shoulder. She'll get a headstart on knowing that is what their strength is and she takes that away and she'll wait for it. She'll be patient and wait for it, and then, she makes incredible plays. Honestly, I've never been around a young person that is that intelligent."
Even for the lone opponent to defeat South Carolina this season, Indiana, the key wasn't finding a way to stop Boston. It was to get her off the floor.
"One of the keys for us was getting Aliyah into foul trouble," Indiana head coach Teri Moren said. "I think early in the season, that's when you want to catch a team like South Carolina. South Carolina's a terrific team, a Final Four kind of team. But we're quite proud of being the lone one to knock them off." Moren said she thinks it set the stage for their entire season. And Boston hasn't played as little as she did that day, 14 minutes, in any game since. She played a season-high 37 minutes in a win over Connecticut.
That's right, a win over Connecticut. Just another way Boston's managed, already, to best Wilson's remarkable legacy at South Carolina. And she's just getting started.
"I'm glad that people think so highly of my game, but I know that I can't just stay at this level," Boston says. "I have to just continue to work on different aspects so that I can continue to get better."
—
Howard Megdal is a contributor to SLAM. Follow him on Twitter @howardmegdal.
Photos via Getty and South Carolina.